The talk will be held virtually via Zoom and in-person at 107 Norman Smith Hall, UMaine.
Speaker: Aislinn Sarnacki, outdoor journalist, Bangor Daily News and Maine Public
In recent years, outdoor professionals have reported a major increase in the use of parks, public lands, trails, and other recreation areas. More than ever, people are turning to the outdoors for entertainment, fulfillment, education, and exercise. That's great news, but it has also caused challenges and raised questions about people's role in the wilderness. How do we balance enjoying wild spaces and conserving them? How do we avoid "loving the wilderness to death"? And why is the human-wilderness relationship key to our health and well-being? In this talk, Aislinn will share how she has navigated these questions as an outdoor journalist and registered Maine guide.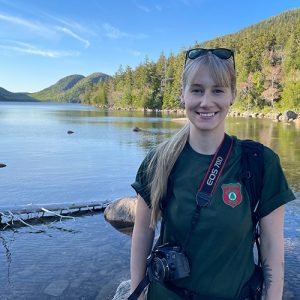 Aislinn Sarnacki is a lifelong Maine resident who has worked as an outdoor journalist since graduating from UMaine in 2010. For over a decade, she worked as a full-time writer and editor at the Bangor Daily News, and she continues to write a weekly column for the newspaper's Outdoors section. She has published three hiking guidebooks through Down East Books. She's also a Registered Maine Guide, leading trips up mountains throughout the state. Most recently, Aislinn became the host of the new outdoor show "Borealis" on Maine Public Television. She also teaches a few journalism courses here at UMaine.