Talk – Rendezvous for Sustainability: Creating space for science-based collaborative solutions
September 27, 2021 @ 3:00 pm

-

4:00 pm

|

Free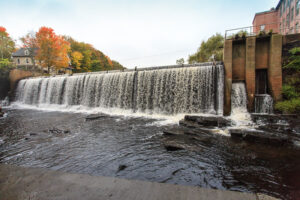 The talk will be held virtually via Zoom and in-person at 107 Norman Smith Hall, UMaine.
Speakers:
Catherine Ashcraft, Assistant Professor, Natural Resources and the Environment; Faculty Fellow, Carsey School of Public Policy, University of New Hampshire
Weiwei Mo, Associate Professor, Civil and Environmental Engineering, University of New Hampshire.
The United States is one of the most heavily dammed countries around the world. The US National Inventory of Dams maintains a list of more than 90,000 dams, which does not include an additional 200,000 dams that are too small to make the list. Historically, dams in the U.S. provided benefits, such as hydropower, water supply, and recreation. As dams age, they provide fewer benefits and require more maintenance and improvements. Dams also contribute to negative environmental impacts, such as altering stream flow, impairing water quality, and disrupting ecosystem connectivity. Decisions about dams highlight challenges for sustainability partnerships and the science-policy interface, including the difficulty of systems thinking and of managing conflict between interested parties.
Cat, Weiwei and their collaborators, Natallia Leuchanka Diessner and Cuihong Song, developed an integrated role-play simulation and system dynamics model to respond to the challenges of dam decision-making. They aimed for the simulation and model to integrate knowledge from researchers and potential users and to create a safe space to bring them together to interact with one another, learn about dam systems, one another's interests and priorities, and foster innovations in problem-solving. This tool has been applied for research in several place-based workshops with stakeholders in New Hampshire and Rhode Island. Workshop participants negotiated with one another to explore dam management options in the fictional, dammed Pearl River and its tributary, Mill Creek. In contrast to the typical way decisions are made in practice, the team found that the negotiated solutions from the workshops usually involve a multi-dam management approach with diversified management options that meet interests to improve fish populations and generate hydropower, while keeping costs low. In response to concerns that negotiated solutions produce conservative outcomes that cater to the interests of the least ambitious stakeholders, they found that some negotiated solutions yielded benefits close to or better than the simulated solutions that optimize across trade-offs. All negotiated outcomes yielded improvements over the "business as usual" outcome. The team also found that participants reported learning about collaboration, the importance of engaging with diverse stakeholders, and the usefulness of credible science, data, and models to inform decisions about dams. Their findings highlight the potential for science-informed, stakeholder-engaged approaches to inform decision-making and improve environmental and economic outcomes.
Dr. Catherine Ashcraft is an Assistant Professor of Natural Resources and the Environment and a Faculty Fellow at the Carsey School of Public Policy at the University of New Hampshire. She is interested in the human dimensions of ecological systems and focuses on how environmental policies and institutions are negotiated and designed to foster justice and respond to change, particularly in freshwater systems and climate adaptation planning. Her work has been published in interdisciplinary journals, including PLOS ONE, Climatic Change, Elementa, and Environmental Development. She co-edited the book The Politics of Fresh Water: Access, conflict and identity (Routledge). She is contributing to a National Science Foundation (NSF)-funded International Research Experiences for Students (IRES) to support sustainability learning in Ecuador. Other recent research includes an NSF-funded project to research decision-making about the future of dams in New England, a project on payment for hydrological services programs in Veracruz, Mexico, a U.S. Department of Agriculture funded project on flood risk management policy in New Hampshire, and a National Oceanic and Atmospheric Administration funded project analyzing institutional barriers and opportunities to implementing living shorelines in New Hampshire. She teaches courses in environmental policy and negotiation and public dispute resolution. She received a B.A. from the University of Pennsylvania, an M.S. from the Yale School of Forestry & Environmental Studies, and a Ph.D. in Urban and Regional Planning from MIT.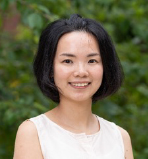 Dr. Weiwei Mo is an associate professor in the Department of Civil and Environmental Engineering at University of New Hampshire. She got her BS degree from Shanghai Jiao Tong University in China (2008), and her MS (2011) and PhD (2012) degrees from University of South Florida. Before coming to UNH, she was a post-doctoral associate at Yale University. Dr. Mo's expertise lies in sustainability and resiliency assessment, infrastructure system planning and management, and social-infrastructure-ecological systems modeling. She has led several National Science Foundation (NSF) funded projects, working on interdependent infrastructure systems management, spatial optimization of decentralized infrastructure systems considering user preferences, crowdsourced water quality monitoring, and drinking water emergency response and planning. She received an NSF CAREER award in 2021. She teaches undergraduate and graduate level classes, including environmental pollution and control, environmental sampling and analysis, systems analysis of the environment, and life cycle assessment.
To request a reasonable accommodation, contact Ruth Hallsworth, 207.581.3196 or hallsworth@maine.edu
Related Events