Talk – Is Community Solar Good for Communities?
March 15, 2021 @ 3:00 pm

-

4:00 pm

|

Free
This talk is available via Zoom. Registration is required due to security concerns. Please complete the registration form to receive the Zoom connection information.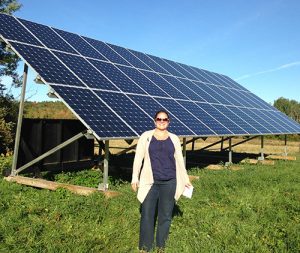 Speaker: Dr. Sharon Klein, Associate Professor and Graduate Program Coordinator, School of Economics, University of Maine
"Community solar" is a catchy phrase that recently has been growing in public exposure and has different meanings for different people. For many, it conjures visions of local people coming together to share the costs and benefits of a solar array in their neighborhood or town, on a school, library, or closed landfill. More often, however, community solar projects are driven by utilities or private companies ("developers") who invite local people into their projects to participate as "subscribers". Maine used to only have the former, "grassroots" variety of community solar. New legislation enables Maine to now accommodate the latter more "top-down" variety. How do these different approaches work? Which is better? For whom? Under what criteria? I will answer some of these questions based on 5 years of community solar-related research and my experience as a member of the National Community Solar Partnership. The answers to some of these questions are still unknown. We will discuss them together in our post-presentation Zoom breakout groups.
Dr. Sharon Klein is an Associate Professor and the Graduate Program Coordinator in the School of Economics at the University of Maine. She has a Bachelor of Science in Environmental Science from the University of Massachusetts, Amherst, and a Ph.D. in Engineering and Public Policy from Carnegie Mellon University. Prior to her career in higher education, Dr. Klein worked as a high school environmental systems teacher in Quito, Ecuador and a middle school science teacher and environmental technician in San Diego, California. She also served one term as an Americorps National Civilian Community Corps volunteer in the Southeast region of the US. Dr. Klein's research and teaching are multi-disciplinary in nature, centering on the technical, economic, environmental and social tradeoffs inherent in sustainable energy decision-making. Dr. Klein is interested in all sustainable energy options but has keen interest in solar energy research, completing her PhD dissertation on the engineering, economic, and environmental tradeoffs associated with using thermal molten salt energy storage and dry cooling in concentrated solar power plants, and more recently, assessing the social and economic benefits and costs of community-based solar initiatives. Dr. Klein has been a member of the National Community Solar Partnership since 2015. She and her colleagues created the first US Community Renewable Energy Database – a central location for sharing information on community-based renewable energy projects: https://www.communityenergyus.net/. Dr. Klein recently published an article in the journal Solar Energy, which compares community solar policy and the financial benefits and costs of community solar in Maine and Illinois: https://doi.org/10.1016/j.solener.2020.11.031.
To request a reasonable accommodation, contact Ruth Hallsworth, 207.581.3196 or hallsworth@maine.edu
Related Events