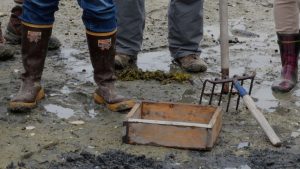 The talk will be held virtually via Zoom and in-person at 107 Norman Smith Hall, UMaine.
Speaker: Heather Leslie, Director of UMaine's Darling Marine Center; Professor, UMaine's School of Marine Sciences; and Mitchell Center Faculty Fellow
In this talk, Dr. Heather Leslie will reflect on how the emerging science of social-ecological systems has shaped the interdisciplinary research that she, her students and community partners conduct in Maine. Their research is focused on the resilience of coastal communities and the ecosystems of which they are part. Drawing on examples from projects focused at the community-scale as well as statewide, she will highlight both the value and challenges of conducting and applying research that integrates natural and social science knowledge with other ways of knowing. Through this lens, Leslie will reflect on how research, education and public engagement goals can be achieved in integrated, solutions-oriented ways. She also will share her thoughts on how flagship public institutions like the University of Maine can do even more to ensure that their Land and Sea Grant missions are fulfilled through collaborative, learning focused initiatives.