Apul and Jain receive Maine College of Engineering and Computing awards
Mitchell Center faculty fellows Onur Apul and Shaleen Jain were recipients of the Maine College of Engineering and Computing's Edward Bryand annual awards honoring alumni, faculty, staff and students at a ceremony on April 14.
Civil engineering professor and department chair, Shaleen Jain, received the Ashley Campbell Award. "Professor Jain's expertise in hydrology and the role of changing climate has put him in a timely and relevant position to make research contributions in a number of areas. He was among the early researchers who recognized the importance of climate change in affecting the flood level statistics that engineers and scientists use to assess risk," said civil engineering professor, Eric Landis.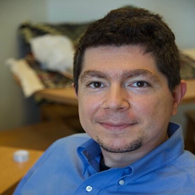 Onur Apul, an assistant professor in the Department of Chemical and Biomedical Engineering received the Early Career Research Award for his work on PFAS chemicals. "Dr. Apul is an environmental chemist who has developed expertise in nanomaterials applications. In the three years he has been at UMaine, he has parlayed that expertise into a very diverse array of research projects, ranging from health impacts of microplastics in the environment to nanobubbles in water and their role in space exploration," said civil engineering professor, Eric Landis.