Brian McGill leads new data science project on range shifts of plants and animals due to climate change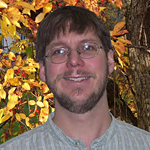 Brian McGill is the principal investigator on a new data science project funded by the National Science Foundation's EPSCoR (Established Program to Stimulate Competitive Research) program. The interdisciplinary team collaborating on the project includes researchers from UMaine, University of Vermont, University of Maine at Augusta and Champlain College. Timothy Waring is a co-investigator on the project. The $4 million, four-year award will fund the development of novel approaches and software for modeling, visualizing and forecasting spatial and temporal data on shifts in species ranges in response to climate change, as reported by UMaine News.
"Climate change is no longer an abstraction for farmers, foresters and others making their living off the land in Maine and Vermont," Brian notes. "People are living the change. Scientists urgently need to move from warning about climate change to predicting the detailed nature of the changes we can expect and communicating this effectively to the people who need the information."
Brian is a professor in the School of Biology and Ecology and the Mitchell Center. Tim is an associate professor in the School of Economics and the Mitchell Center.