Bridie McGreavy promoted to Associate Professor with Tenure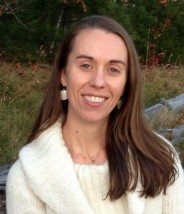 UMaine News reported on March 19 that Mitchell Center Faculty Fellow Bridie McGreavy was one of 29 faculty members from UMaine and UMM who were recently promoted or granted tenure. McGreavy became Associate Professor with Tenure in the Department of Communication and Journalism at UMaine.
McGreavy's environmental communication and sustainability science research addresses how, through communication, individuals and communities become resilient and sustainable. She uses ethnographic, mixed, and critical methods to study communication within sustainability science teams and coastal and freshwater management contexts, including a long-term study of resilience in shellfishing communities in Maine.
Faculty members were nominated for promotion or tenure by UMaine President Joan Ferrini-Mundy and approved by the University of Maine System Board of Trustees. In the UMaine News article Ferrini-Mundy notes, "These 29 faculty members exemplify the outstanding teaching, research and public engagement that are critical to the missions of UMaine and UMM."