Sharon Klein named 2019 recipient of the Donald Harward Faculty Award for Service-Learning Excellence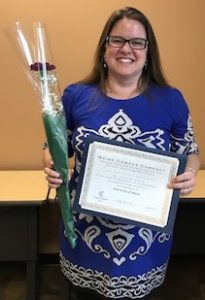 Sharon Klein, UMaine Associate Professor in the School of Economics, has been named the 2019 recipient of the Donald Harward Faculty Award for Service-Learning Excellence. The award is Maine Campus Compact's most prestigious faculty award.
The Donald Harward Faculty Award for Service-Learning Excellence recognizes faculty who integrate community or public service into the curriculum and work to institutionalize service-learning. Recipients of the award show clear evidence of reflection, community benefit, and reciprocity with community partners, as well as a commitment to advocating for service-learning and/or community action on campus and beyond.
Klein has been integrating service-learning in her sustainable energy courses since 2015, partnering with the non-profit organization WindowDressers to implement three student-run community window insert building workshops. Together, they built nearly 600 window inserts for Bangor residents (27 percent low income). Klein received funding support in 2015 from the Senator George J. Mitchell Center for Sustainability Solutions to launch the project.
Her window insert research supported Maine Campus Compact's grant proposals for the Maine Partnership for Environmental Stewardship Program (MPES), for which Klein serves as advising faculty for UMaine Americorps volunteers and engages her students in many MPES activities.
Klein has served on the WindowDressers' Board of Directors since 2018. She has also engaged her students in a sustainable energy license plate campaign for Maine, the Greater Bangor Solarize campaign, the City of Bangor's EnergySmart program, and sustainable transportation initiatives led by Bangor citizens.
Klein received a Bachelor of Science in Environmental Science from the University of Massachusetts, Amherst and a Ph.D. in Engineering and Public Policy from Carnegie Mellon University. She also worked as a high school environmental systems teacher in Quito, Ecuador for two years; a middle school science teacher in San Diego, CA for three years; and an Americorps National Civilian Community Corps volunteer in the Southeast region of the United States for one year.
You can read a story about Klein's work with WindowDressers here.