MSWC Talk – Co-learning Sustainability Science & Policy
Highlighted Talk from the 2019 Maine Sustainability & Water Conference
Co-learning Sustainability Science & Policy: An interdisciplinary approach to food waste reduction
Session: Developing Effective Sustainability Curricula

In light of a myriad of environmental challenges, the need for high quality undergraduate curricula on topics of sustainability has never been more urgent. This session showcased new or established courses, modules, and programs that are developed to educate and engage students to generate solutions out of sustainability problems. Among those highlighted was an interdisciplinary project based out of the University of Maine's Senator George J. Mitchell Center for Sustainability Solutions titled "Food Waste Reduction" in which a group of six scholars has developed collaborative projects focused on food waste reduction in Maine.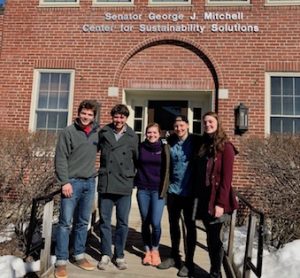 Food waste is a complex issue that is situated at the intersection of multiple academic disciplines. For several years the Materials Management team, an interdisciplinary group based out of the Mitchell Center has sought to connect research to practice on food waste issues in Maine.
With a goal of increasing student engagement at all levels, and with support from multiple funders, in 2018 the team established a program to train undergraduate students in interdisciplinary research centered around issues of food waste. This team of five students, all of them Diana Davis Spencer Scholars, represents a broad range of academic disciplines, with the goal of conducting research to build a more circular food system in Maine.
In this talk, team leader Ph.D. candidate Brieanne Berry and student Shayla Rose Kleisinger, shared some of the obstacles faced in training students in interdisciplinary, solutions-oriented research. They also shared the impact the program has had on the students, along with implications for other contexts and opportunities for collaboration across Maine. One of their findings was that although interdisciplinary work is complex and often slow-moving, it presents important opportunities for undergraduate and graduate student collaboration, as well as contributions to real-world problem solving.
"When we see real-world sustainability challenges, they're not going to be solved by a single discipline." Berry said, "From the beginning of our work, it was immediately clear that engineering alone, for example, isn't going to solve the problem, nor is anthropology. We have to work collaboratively on this."
Kleisinger noted that the by virtue of the makeup of the team they saw a lot of this collaboration going on.
"The project incorporated formal classwork by the undergraduates but integral to this was our group-based learning work," she said. "For example, maybe you have a graduate student working on their master's and the undergraduates are really collaborating with him or her to create more of a collective team effort in a subject area." She added, "And there can be a lot of advisement and mentorship that goes on between all of these different levels, it isn't one person telling another what to do, it's a collective learning effort."
And Berry said that the project provided opportunities for developing invaluable leadership skills as well.
"We have a really unstructured program with a lot of flexibility to do what we thought we needed to do to build an interdisciplinary team. And that created a lot of opportunities for leadership for all our undergraduates to mentor each other, to take on projects, and to lead group discussions," Berry said. She added, "But it was also really important for me, too, as a Ph.D. student, to have this opportunity to be a mentor and it really advanced my own understanding of interdisciplinary sustainability challenges."
Berry pointed out that scholars increasingly recognize the need for interdisciplinary research to solve complex "wicked" problems, and that the project with the DDS Scholars demonstrates that interdisciplinary training can be highly effective—perhaps even transformative—for undergraduate students.
"We hope that by reflecting upon our own successes and challenges we can help other teams integrate this type of training into undergraduate curricula and research programs," she said. "Building on the strong foundations of interdisciplinary collaboration that the Mitchell Center has established, our students not only learned the importance of breaking down disciplinary boundaries, but also came away with a solid understanding of how they can work toward solutions to complex, real-world sustainability challenges."
—David Sims