Going with the Flow for the Future of Dams
A rafting trip down the Penobscot River gives researchers perspectives on place, history, and restoration
On a cold, drizzly morning in June, researchers and partners associated with the Future of Dams (FoD) project lined up beside the Penobscot River, their red life jackets and blue helmets bright in the foggy morning. Many standing in the parking lot next to the Old Town launch were from partner institutions and had made the long trip from Rhode Island and southern New Hampshire to join the adventure. For others, the trip was close to home.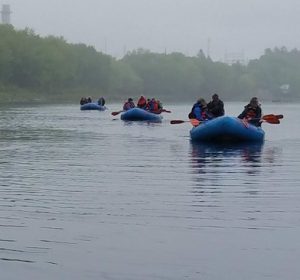 Among those closest to home was John Banks, director of the Department of Natural Resources for the Penobscot Nation, who welcomed the group to the river and described the role of the tribe in watershed protection, including their leadership role in the Penobscot River Restoration Project (PRRP). Inspired by this orientation to the river's history—the first of a series of stories that would be shared during the course of the trip—the team launched six large rafts and headed downstream.
Funded by the National Science Foundation, the Mitchell Center's FoD project is designed to develop a stakeholder-engaged, solutions-focused framework for decision-making about New England's hydropower dams—more than 50 of which are scheduled for relicensing in the next decade—and iconic mill dams, many of which are now falling into disrepair.
The large, diverse FoD team, composed of some 25 faculty and 25 graduate students representing more than 15 different disciplines, has periodically gathered for All-team Meetings on various campuses. But this outdoor, experiential meeting, which was intended to help the team better understand what makes their project tick and to strengthen the bonds that are key to successful collaboration, was a new experience.
"We seek multiple forms of expertise from many different types of institutions and organizations across the region to help us understand the social and environmental systems of which we are a part, in this case the Penobscot River watershed and New England rivers," notes Bridie McGreavy, FoD team member, Mitchell Center faculty fellow, and assistant professor of Communication and Journalism.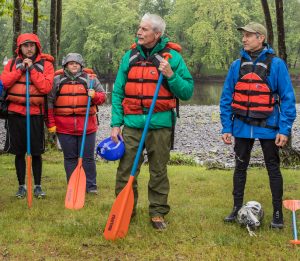 "We also push the boundaries of what is possible for developing effective and creative research collaborations. Having part of our meeting on the river was not just a fun exercise—it represents the kind of experimentation and learning we continually try to promote on our project," McGreavy adds.
Team leader and director of the Mitchell Center, David Hart, explains, "Although it can be difficult to get everyone together in the field, especially for a project focused on rivers and dams, this is great way to strengthen interpersonal and interdisciplinary connections."
Sarah Vogel, a master's student and FoD team member adds, "For a project All-team Meeting, this was very different, more physical and immersive, and it wasn't just taking a trip down the river but also taking one back in time to learn more about this project case study. We stopped several times along the way and speakers talked about the history of the river that saw two dams come down as part of an effort to restore 11 species of sea-run fish while maintaining energy production."
McGreavy says the choice to stop and share stories along the river was deliberate, "and though we had a general sense of what we hoped people might talk about, there was no script in advance. We let the stories and scientific information emerge and doing so fostered unique conversations and points of learning. Along the way, many shared their knowledge and helped the group learn about the myriad decisions that have influenced this stretch of the river."
UMaine, University of New Hampshire, University of Rhode Island, Rhode Island School of Design, University of Southern Maine, and Keene State College are all part of this interdisciplinary effort which is a project of the New England Sustainability Consortium. Stakeholders representing government, business and industry, and non-governmental organizations are working with the researchers including key partners, the Penobscot Nation and The Nature Conservancy (TNC).
Joshua Royte, Senior Conservation Scientist for TNC in Maine who joined the FoD team for the rafting trip, says,"Getting a chance to work with this team of researchers has been incredibly rewarding. Sharing my experience working for the restoration of this river and having the opportunity to participate in FoD's diverse discussions has helped my organization think more broadly about our fish-passage work and strengthens the connection of both institutions in this groundbreaking collaborative project."
The collaboration strengthens connections among people with multiple forms of expertise and knowledge—including scientific, managerial, engineering, and traditional and local ecological—who collectively consider a number of potential dam options, including maintaining existing hydropower dams, expanding hydropower capacity, and removing aging dams to restore fisheries or reduce safety risks. By examining economic, environmental, social and cultural tradeoffs, the project helps individuals and communities make better decisions about dams.
Of the downstream adventure McGreavy says, "The trip was a testament to the strength of our collaboration. Not only did people make the long drive from points south, we also had several long-term partners along who enriched everyone's experience by sharing their deep knowledge and expertise about the river."
As further testament to the strength of the team, McGreavy adds, "It wasn't exactly the kind of day where you jump out of bed wanting to go rafting in cold, rainy and raw conditions. But everyone showed up and when we all had a chance to cut it short, no one wanted to stop, I think in part because we were all learning so much being out there on the river together."
Read more about the Future of Dams project here.