Citizen Science and Stewardship
2018 Maine Sustainability and Water Conference:
Session Overview: Stakeholders and Sustainability
As part of the Stakeholders and Sustainability session, Linda Silka, Senior Fellow at the Senator George J. Mitchell Center for Sustainable Solutions, UMaine, will wrap up the morning session on citizen science with her talk, "What We Can Learn from the Multiple Citizen Science Projects in Maine: The Latest Maine Policy Review Issue."
"In this talk, I will highlight some of the citizen science work going on around the country and point participants towards what's reported in the current issue of the Maine Policy Review (MPR)," says Silka, executive editor of MPR.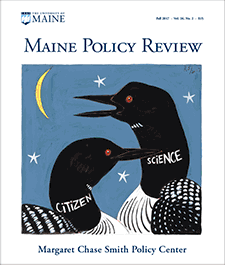 Several of the Citizen Science and Stewardship talks are based on the current MPR articles, which can be downloaded at the link above.
Despite the ever-growing strength of citizen science efforts, Silka says she will raise "two or three impediments that still exist in terms of further expanding citizen science efforts."
For example, one such impediment, identified by a Ph.D. student working with Silka in the field of gerontology, noted that while retirees are a strong group of citizen science participants, a fair amount of citizen science efforts are moving toward incorporating high-tech methodology using smartphones, global positioning devices and various ways of uploading data.
"Some older people may not be comfortable with the technology," Silka says. "That's a puzzle we need to deal with—how do we make sure citizen science practices are innovative and not unfriendly to people who may not be as well-versed in technology."
As a co-chair of one of the working groups for the national Citizen Science Association, Silka says she may discuss some things she's been doing on integrity, diversity, and equity as part of citizen science efforts. "The goal of that working group is to make sure citizen science is not being controlled by the scientists but, rather, is a process that involves lots of people, average citizens, and that it's really an open process and doesn't assume it's always higher-income people who get involved."
Silka notes that a lot of the work she's been involved in has been done under the term "community-university research partnerships" that emerged out of healthcare fields. And what sometimes comes out of those efforts are communities saying to the researchers, "We're really tired of you coming in here and telling us what our problems are, studying us, and then we never hear the results until after you've published them. The results are important to us in making change."
"Bringing all these community-focused ways to think about citizen science research is important," says Silka, "and we need to bring different perspectives together and learn from each other. If people are involved in co-generating ideas and thinking about what needs to be done, that's going to help in the uptake of the science, the uptake of research." This will be part of the session discussion.
Silka will also be talking about local success stories and how important it is that science inform policy. "Citizen science is one of the ways to increase the likelihood that will happen and that our work just doesn't end up in journals but actually gets used," Silka says.
An interesting local success story is the work that Dartmouth College's Karen Bieluch (formerly of UMaine and the Mitchell Center) has been involved in with river herring and as is detailed in the article "The Complexities of Counting Fish" in the Maine Policy Review.
The work shows there's not enough information from the right people on the ground watching what's happening to river herring, and that the only way to address this is by having citizens and scientists working together to decide what kind of data is needed, where to collect that data and what that data says about the problem, and what kinds of policy opportunities are available to address problems.
Notes Silka, "It's really all about building bridges between community, science, and action and identifying where the gaps are that make that harder to achieve. We have to have ways to close the gaps to make citizen science work at its best."
—David Sims