Focused on Food Waste
Brie Berry extends her reuse work to food redistribution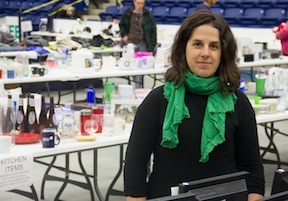 In the spring 2017 semester, Ph.D. student Brie Berry began work on a research project focused on food waste and food insecurity in Maine, in partnership with the Margaret Chase Smith Policy Center and the Mitchell Center. Food insecurity is defined as "being without reliable access to a sufficient quantity of affordable, nutritious food." Food waste is a significant problem in Maine, and in the United States as a whole, where roughly one third of food produced for human consumption is wasted. In Maine, almost 16 percent of the population is food insecure.
"The project is focused on food waste in schools, both because schools produce concentrated streams of food waste, and because schools already work to reduce hunger through the National School Lunch Program," Berry says. "I wanted to understand how schools are taking action to reduce food waste, with particular attention to food redistribution."
Food redistribution sits at the intersection of food waste and food insecurity. The Materials Management team, notes Berry, talks a lot about the Environmental Protection Agency's Food Recovery Hierarchy (at left), which provides guidance on strategies for reducing food waste. Strategies listed at the top of the hierarchy provide the most economic, social, and environmental benefits, while those at the bottom are least preferred.
"Food redistribution is close to the top of the hierarchy—just below source reduction," Berry says. "In my research, I wanted to understand how schools prioritized food waste reduction strategies, and the barriers they face in moving 'up the hierarchy'."
The research involved an analysis of formal school board policies across Maine. Berry also conducted interviews with school stakeholders to get a better understanding of how policies and practices emerged. Ann Acheson, based out of the Smith Policy Center, was a close collaborator on the project. Together they analyzed state and national-level food waste policy, both within and outside of schools, and will publish their findings this summer in the Smith Policy Center's Maine Policy Review.
"It's a great forum for this work because MPR is distributed to school superintendents across the state, and one of our goals is to inform policymakers and school officials about the issue of school food waste and some of the ways that schools are working to it in Maine."
Adds Berry, "This work is also an extension of my interest in the reuse economy. Redistributing food is, in many ways, a form of reuse. I'm interested in how materials, whether food, clothing, furniture, or anything in between, move between categories of waste and commodity, and how policy can support social and economic structures that promote reuse."
By David Sims