The Build Process
This page is a timeline of the entire build process.
First, we received all the materials that we ordered.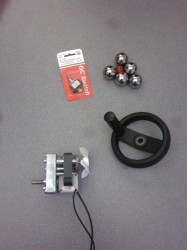 Gear Motor, 1.25″ Ball Bearings, Handwheel, Electric Toggle Switch, 6lb. Magnet
We tested out the 6lb. pull magnet to see if it would support a ball through a plastic sheet which is how our magnetic elevator will operate.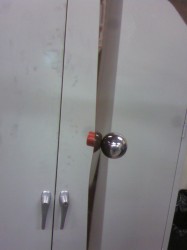 The plastic is actual .010″ thick shim stock and it works ideally for our application!
On Wednesday, Jan. 15. Joe cut all of the frame materials to length in preparation for welding.
Ryan, Dan, and Joe also built a box to house Ryan's MIG welder in the Machine Tool Lab.

On Friday 2/10. The team built the frame and a section of track in the Machine Tool Lab.
The entire team worked all week (2/13 – 2/18) to get most of the track elements built and several pieces installed into the frame!
On Monday (2/20) we mounted the option switch and fabricated both of our spiral sections of track.
Click Here to see a youtube video of our initial track testing!
So far this week (3/11) we have mounted the step blocks, made the drops out of the bowl, and fabricated the gear flange and motor mount!
(3/16)- We finished mounting the ski lift and got it working perfectly! The next step is to make the pickup and drop-off points for the balls at the top and bottom.
(3/26) – Pickup and drop off points are completed for the ski lift. We also ran approximately 1 hour of test time on the ski lift.
Click Here to see a video of the ball pickup.
We built a return system so that in case a ball falls off the track, it will automatically return to the beginning. Tests have begun on that and so far it is working quite well.
(4/2) Just about all the track is complete. The next steps are testing and paint/aesthetics!
(4/9) Testing has begun, all track is complete as well as most of the paint.
(4/17) All the plastic is mounted for the outside covers and we are working on the stand/base.
(4/23) Final testing is taking place and any finishing touches to get ready for the Maine Day Competition. Click HERE to see a video from earlier in April.
(4/24) The sculpture is complete and waiting for Maine Day! Click HERE to see a video.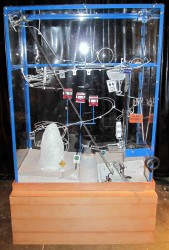 Click Here to see a chart of our prototype testing.
More Videos….
 Click here to see a video of the entire sculpture!!!