Micro Wind Turbine Team
About the Project…
The Wind Power Team will be engineering and designing a power extraction system using wind energy. The team will be researching, testing, and comparing multiple designs to extract energy from the wind. There has been testing for two different approaches, the first being an oscillating wing and the other a more traditional style turbine. The wing is a self oscillating wing developed by the creator David Labrecque. The team decided that the wing was still in the developmental stage and more research was needed. After weighing their options the team chose to go with the traditional style wind turbine.
The team will be working with Professor Barbara Stewart and the Water for Me organization to provide wind powered chargers in third world locations. Professor Stewart will be traveling with the nonprofit organization to areas like Honduras, Guatemala, and other third world locations. Professor Stewart has asked the team if they could provide a charging station to charge world satellite phones as the village has no electricity.
For more info and a video on where the foundation will be traveling click here.
The Wing Wind Power Team has set out to design, build, and test an wind energy collection system that that is inexpensive, robust and can be used in remote areas where electrical power is either unavailable or intermittent.
The team will be using an online storyboard to assign task, list ideas, and log meetings. To view the teams progress and newest ideas visit their project management page.
The Objective…
Goal: To design and fabricate a wind energy power extraction system that will charge a 0.85 A world-follow satellite phone in 8 mph winds.
For remote areas or emergency situations where this no power most items on the market are a crank or solar power charging unit. We have set out to design/build a unit for under $300 that is portable and uses wind energy.
Aims/Deliverables:
1.. To test the energy extraction system to determine durability for an extended period of time.
2. To match the energy extraction system to an electronic charger capable of charging a satellite phone for use in remote locations.
3. To keep the cost of the system with mounting system to $300 US or less.
4. To deliver said system to WaterForMe, a nonprofit organization doing medical and educational outreach in third-world countries.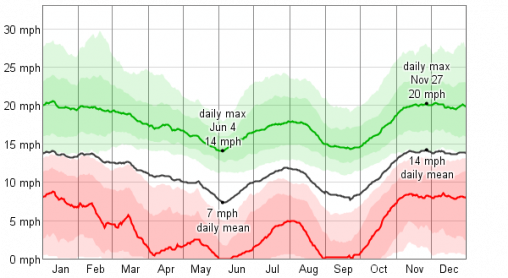 Current Design plan: A traditional 3 blade style turbine coupled with a small permanent magnet motor using a 2:1 gear ratio system extracted from an old printer. A motor housing will be mounted so that it is direction sensitive and face into the strongest head winds. Different designs are being looked at to ensure that electrical wires are not tangled. The power extraction system will be designed and fabricated so that it can be easily set up and taken down for easy use for remote or disaster areas with no electricity.
Current Design
The current design will be fabricated with low cost materials to help the team reach their goal of providing a low cost system. Some of the challenges that have been presented are making everything that will fit into the size of bag that could be considered as a carry on for international flights. The team is also looking into making the system as light as possible as well so that it can be easily transported into remote areas. This current design will charge a cell phone and the electrical circuit has been built. The blades are attached by a mounting hub that is directly mated with the generator by an arbor.
Whats New…
Video of current product testing outside
Week  of 4/29/2013
The team has completed their turbine and everything is working smoothly. The turbine has been given to our client Barbara Stewart and it awaits to be shipped to Honduras.
Week of 4/15/2013
Click to view Wind direction Swivel assembly that the team fabricated.
Week of 4/8/2013
The team has acquired and set up their newly acquired generator system that is much smaller and lighter. The generators rated output is much smaller than the previous and has presented an issue of can we get enough current at the desired voltage to charge the phone in low winds. The team tested the direct mounting of the blades to the generator to test the output of the new system. In our test area, we were not able to generate enough rpm out of the micro turbine to charge the cellular phone. Some testing done outdoors proved that the micro turbine would charge the phone in wind speeds higher than our specs. The team decided to gear the new generator in order to meet our goal of charging at or below 8mph winds, the generator began charging the phone just below 200 rpm when hooked up to the drill. In the lab, the turbine was producing around 100 rpm so the team decided on going with a 2:1 gear ratio. The team was able to acquire this gear set up very quickly by taking a small gearbox set up out of an old printer. After some machining to adapt to the new gear set up the team was able to begin charging the phone at around 5mph in the lab using just one fan to test the turbine. More work still needs to be done to make the turbine wind direction sensitive and a weather proof housing as well. More pictures and videos to come.
Week of 4/1/2013
The team has been working on reducing the weight of their current design to make the unit easy to transport and safe. The current design does meet the specs and goals that the team had set out to accomplish but the generator is over sized and heavy. The team just recently purchased a much smaller generator that weighs only 3 pounds, this decreased the overall system weight by 40 pounds. New blades have also been purchased that are much lighter and geometrically shaped correctly. The new blades have a leading and trailing edge that improves the lift force generated by the wind. The shaped blades create a high pressure on the face of the blade and low pressure suction on the back side. Pictures of the new set up testing are soon to come.
Week of 2/25/2013
As the team nears spring break, all the parts have been acquired and fabrication of others is coming to a finish. The prototype mechanical and electrical systems will be assembled over break and the two will be connected upon return from break. One of the major challenges the team has been dealing with is trying to meet their initial budget goal of $250, the cost of a slip ring that is durable enough for system would cost much more then the budget allows so alternatives are being looked into. After break, the team plans to jump right into testing and determine exactly where they are in comparison to their goal. Check the photo album for pictures of the assembly
Week of 2/18/2013
The weather this week provided good conditions for the team to test their current set up outdoors. Weather conditions consisted of winds in the 6 to 12 mph range with gusts up to 20 mph. The team loaded the motor down with a 5 ohm resistor to simulate a charging resistance while the charging circuit is still in construction. The results were promising and showed a large range of voltages, the range of voltage was as low as 2 and we saw a high of 14.66 volts. Our max output in these conditions would have given us a current of 2.93 amps which is more then enough to charge a battery. Using the simple Power=Current*Voltage, our max output would be 2.93 amps*14.66 volts=43 watts.
Week of 2/11/2013
The team continues progress with how to build their chosen design. The goal of this project is to produce power with the cheapest set up possible and to be made out of relatively popular materials. The wind turbine will be wind direction sensitive and swivel 360 degrees. A slip ring will be used to assure that electrical components will not tangle. Team members are working on the simplest possible mount to the top of the tower and assure 100% safety and leave no chance for the unit break off and come crashing to the ground. Other members have been doing calculations to assure the tower and guy wires will be able to support the forces created by the rotor and blades. The team is also working to keep this an easy assembly for any average person.
Project Continued After Break
The team returns for their second semester and the fabrication of their project. The team had been pursuing tow different approaches with the same goal in mind. Over break a new motor and wings were acquired and fabricated for the traditional style, this set up proved to be promising in some outdoor testing. The team had a tough decision to make but decided to go with the more traditional style, with the amount of time the team is limited to the wing seemed like more research and design testing then the team had time for. Currently the team is working to come up with a tower that will hold up to the winds and forces it will be subjected to. Other things the team is dealing with is keeping their project low budget and portable to make it unique.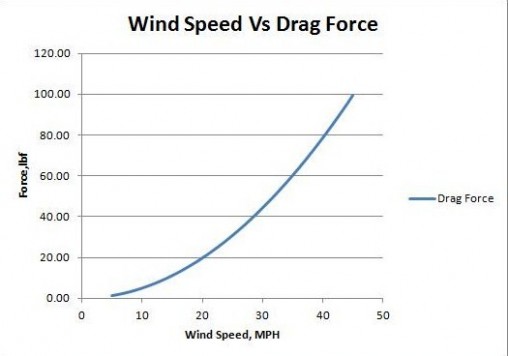 Week 12/10/2012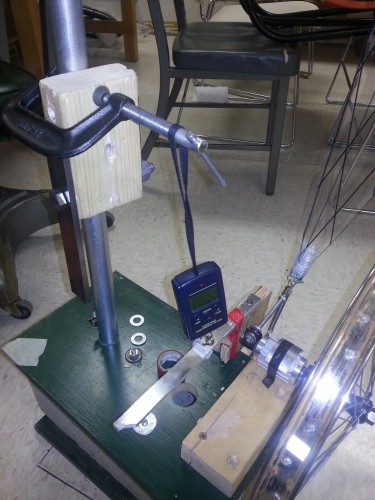 A prony brake has been designed and fabricated to measure the torque output of our current design. The team plans to test the current set up and once the torque has been acquired calculations will be done to determine HP output and show where we are at in relation to our specifications. A computer program has been written to show the average amount of power in different wind speeds based on a number of variables. CAD and Parts Lists revisions are also in the works as well, pictures from the prony brake test, computer program,and the CAD drawings will be posted soon.
Week 12/03/2012
The team has been in contact with outside resources to use other testing facilities to fully test their designs. A new motor has been acquired and seems to be a prime candidate because of the low rpm and high voltage outputs it provides. The motor does require much more torque especially on start up and when loaded. The team did a voltage as a function of rpm test with the motor loaded with a 150K ohm resistor with a drill to create a graph and determine the the range of rpm they need to achieve.
Week 11/26/2012
The wind energy team is working on CAD drawings for their energy extraction design. Currently the wing system is producing 120 rpm at 6.8 mph wind and will activate the charging system of a cell phone. A system producing a minimum of a 7.5V has been decided on, this will allow us to maintain the charge of a 6V battery.
Week 11/12/2012
Team is working on increasing rpm to create more power. Calculations show that the team needs to cover a larger cross sectional area to produce the power they need to charge a battery. After a tour of the AEWC building some research has been done of alternative ways to produce more power. Photos from alternative methods can be seen in the photo album.
Week of 11/05/2012
The team is in the process of building their mock up design. Stay tuned for more pictures of the building process.
Week of 10/29/2012
Currently the team is working on putting together a mock up of their design. To see a video of our current working mock up click here. The team is awaiting the arrival of bearings they have ordered while some members are fabricating a shaft and fly wheel. The current mock up's mechanics are the first among things we are targeting to improve; once we have the mechanics fixed we will then do testing in the "cave" to determine the size of the wing we need to produce our desired output.
Week of 10/22/2012
This week the team is working on getting a final parts list together for a completed mock up design. The group has met with Professor Jude Pearse to help them with specifications for a stepper motor in order to safely charge phones without causing any internal damage. A bracket to mount the wing has also been in the works, some challenges that have been presented are designing a bracket that will support the lift forces generated by the wing while keeping the bracket lightweight. Other members have been looking into the mechanics involving bearings, couplings, shafts, and a flywheel. The team hopes to have a completed parts list and place an order by the end of the week
Meet the Team…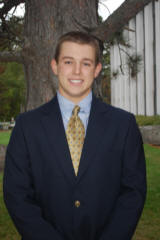 Thomas M Puiia-Tom is currently a senior Mechanical Engineering Technology major at the University of Maine and is an expected graduate this spring, last fall he took and passed the FE exam. Tom is also a candidate to pursue his M.B.A and an expected graduate in May, 2014. He was born and raised in Rumford, ME where he has enjoyed playing multiple sports and continues to enjoy intramurals today. Tom is an avid fisherman, hunter and enjoys the outdoors. Growing up he worked for his father at the local family owned hardware store and lumber yard. Over the last two summers Tom has interned at the NewPage paper mill in Rumford as a reliability engineer for different machines throughout the mill. For the upcoming summer Tom will be working as floating production systems engineer intern for General Electric in Houston, Texas.
Matthew Bouvier– Matthew is currently a senior Mechanical Engineering Technology major at the University of Maine. He was raised in Littleton, Maine and graduated from Houlton High School. His technical experience includes the use of CAD (computer aided design) with programs such a SolidEdge and SolidWorks. He also has knowledge in HVAC engineering and hopes to obtain a job after graduation that will include working with thermodynamics and heat transfer. Outside of academics, Matthew is avid New England sports fan.
Eugene Katsman Eugene Katsman is a mechanical engineering  technology student with senior standing. He has previously obtained a BA in Anthropology and an MA in Biology (specializing in molecular biology and genetics) and, after working as both a biomedical researcher and an adjunct professor for several years, is pursuing his real dream job, that of a licensed practicing engineer.  He has two publications (one on salinity acclimation in sea mussels and one on the Fexor wind power wing) and a biomedical device patent (# 6159159).   Eugene hopes to graduate from the University of Maine, Orono this year with a degree in Mechanical Engineering Technology and expects to sit for the FE examination the following fall.  He is currently seeking employmet in the Northern Aroostook county area (Caribou, Presque Isle, etc)
Svetoslav Chetinov-Svet is currently a mechanical engineering technology senior in University of Maine, Orono. He graduate in Bulgaria and had a prep-school year in Maine Central Institute, Pittsfield, Maine. Svet is from Plovdiv, Bulgaria, small country in Eastern Europe. He was part of the University of Maine basketball team. After graduating, he is hoping to find a full time job.
Daniel Wileyis currently a senior in the University of Maine – Orono Mechanical Engineering Technology major. Born and raised in southern Maine and a graduate of Bonny Eagle High School. In high school he got some experience with Auto Cad and in college gained a lot of experience in SolidEdge. Daniel's plan is to stay an additional year and obtain a minor in renewable energy and eventually work in the renewable energy field with his own business.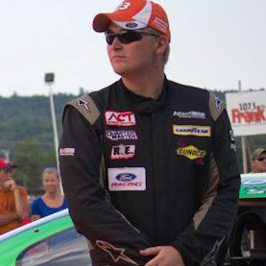 David Farrington is a senior at the University of Maine majoring in Mechanical Engineering Technology with a minor in Renewable Energy Engineering. He anticipates receiving his B.S. degree in 2013 and then moving on towards pursuing a M.S. degree in Business Administration for May 2014. Farrington graduated from Jay High School in 2009 as an honor student. Over the past three semesters, Farrington has earned the Dean's list honors by receiving grade point averages of 3.600, 3.625, and 3.714. David is also a student member of ASHRAE and SAE. Farrington has incurred two summers of co-op/internships including working at Pionite Decorative Services in Auburn, ME during the summer of 2011, and this past summer at Verso Paper in Jay, ME. Outside of his academics, Farrington is a semi-professional stock car driver in the Northeast. He is the driver of a Late Model and Super Late Model for his family owned and operated team based in Jay, ME. Farrington competes weekly at Oxford Plains Speedway and on the American Canadian Tour. This summer, Farrington had successful results. He finished 6th in the prestigious TD Bank 250 at Oxford Plains Speedway. He also finished 3rd in the American Canadian Tour 150 at Beech Ridge Motor Speedway in July.  Farrington also posted three 2nd place finishes this year at Oxford along with another podium finish of 3rd. David has been racing for the last 14 years, since he began at the age of 7 in karting. Farrington hopes to take his engineering degree with him to North Carolina or one of the surrounding southeastern states and land an engineering position on a professional race car team or be employed by a company that manufactures products used in racing.
Sponsors…
We would like to thank our sponsors who have helped us along the way, without them this project would have been much more difficult. We would also like to say thank you to the AEWC facility for letting us use some of their equipment for testing. A special thanks to Matt Fowler for taking some of his time to help us set up and test our designs.
Water For Me Non-Profit Organization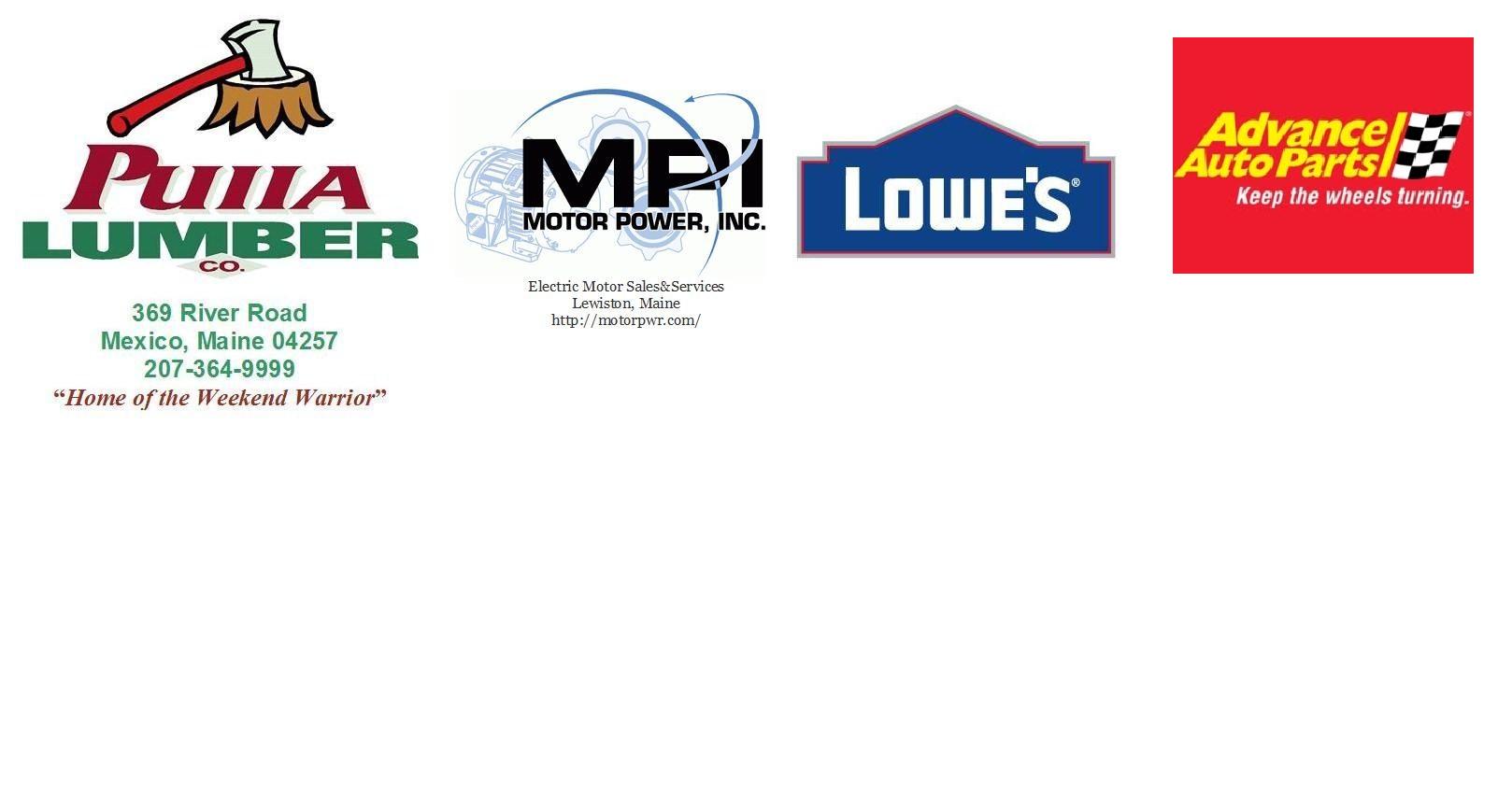 //