Oil-Air Vapor Separator Team
What's New?
Check this section weekly for our most recent updates!
 5/2/2013
Good Evening!
Well everybody, it's been a great year working on this project.  We've put in a lot of time and effort and with Maine Day having come and gone our project is drawing to a close.
Last Friday, April 26th, Dan and I spent our afternoon testing the last of our catch cans on the flow bench.  Just as we finished our last test, Jon and Forest walked in with our finished catch can design in hand.  We looked over the can for a few minutes and then decided to hook it up and run a test on it.  After an initial 1cfm test we decided it was getting too late to continue testing, and called it quits until Monday.
On Maine Day we set up our flow bench in the middle of Cloke Plaza, a small quad that is central to most of the engineering buildings.We spent the first hour and a half of our morning standing nearby and explaining our project to any passerby who happened to take an interest.  At 9am it was time for all the teams to head into Little Hall to give their Power Point presentations and we were second in line.  Our presentation went off without a hitch, and I think we were almost dead on for our 10 minute time limit.  The only real issue we had with the presentation was cramming a years worth of research, design and manufacturing into 10 minutes.  We had to talk fast, but still be clear.  Our team spent an hour and a half the night before going over the presentation to make sure we had everything down pat.  After all of the presentations were over we went back out to Cloke to do a quick demo of how we run our catch can tests, and then answered questions from parents and other visitors about the project.
The project has encompassed the whole array of the skills we've been taught as MET students.  We've completed print packages, created our own project timeline to manage our project, developed test standards, manufactured our own products and so much more.  Truly this has been an all encompassing engineering project that has kept us on our toes for the whole year.  We've worked through team disagreements, and failed parts; Delayed part shipments and tight scheduling; Late nights and Early Mornings.  At the end of it all, however, we completed a project that our whole team can be proud of.
It's been a great ride and our whole team hopes you've enjoyed following our project.
Sincerely,
The OAVS Capstone Team
About The Project
Blow-By, Hydrocarbons and Entrained oil.
The engine crank case is a hot and violent place. Your engines oil lives in the crankcase where it is recirculated from the oiling system. The crankshaft and connecting rods act as a blender, mixing the air and oil into a mist. The pumping action from the pistons pulses the crankcase pressure, further mixing the air and oil. At the same time a minimal amount of blow-by is caused by the never perfect piston ring seal. Every combustion event above the piston leaks past the rings to below the piston into the crankcase. This blow-by consists of un-burnt hydrocarbons which are bad for the environment. This mixture of oil mist and hydrocarbons needs to be vented from the crankcase. If it is not vented it will cause positive pressure from the expansion due to heat. If the pressure inside the crankcase becomes more than atmospheric pressure it will find its way out somewhere. That somewhere will be through the engine's seals. This was acceptable in the advent of the gasoline engine, but not today. The relationship between hydrocarbons from gasoline engines and the environment wasn't discovered until the late 1950's by General Motors. By 1963 GM had developed the PCV, Positive Crankcase Ventilation, system and integrated it into their cars.
What does a PCV system do?
The PCV system draws fresh clean air from within the intake track ahead of the throttle body, generally from the air filter box. The clean air enters the crankcase via the valve cover. The air passes through the oil drain back passages to the crankcase below, displacing the dirty air-oil mist and hydrocarbons, to the PCV valve located in an opposing valve cover on a V configuration motor or the opposite end of the valve cover on an inline motor. The PCV valve has a vacuum line plumbed into the intake manifold post throttle body. This vacuum source is what moves the air through the crankcase. After the air enters the intake manifold it can be burned in the combustion chamber which helps burn off the hydrocarbons.
PCV systems aren't perfect.
Not every PCV system is ideal, especially if it isn't maintained properly. The issue that our team will address is that some PCV systems on production and performance modified vehicles allow the oil mist back into the intake manifold. This is detrimental to the engine's performance. Any addition of oil to the gasoline/air intake charge lowers the effective octane rating of the gasoline. If you run an engine on 87 octane that was designed to run on 93 it will knock or detonate. Knock is the event of combustion before it was supposed to. This knock is a violent reaction in the combustion cycle that at a minimum reduces engine performance and has the potential to destroy engine components. This is an issue that prior to now, was mostly only related to the high performance vehicle. As our demand for more efficient vehicles rises, the incorporation of high performance engine design such as higher compression ratios and turbochargers has been added to design considerations of almost all production vehicles. Our modern engines will operate on the edge of knock at all times as to claim as much energy from our gasoline as possible. In order to protect these motors the need for a scientifically proven system is needed to remove as much of the entrained oil as possible that may escape into the PCV system.
What is a Catch Can?
The catch can has up until now been a second order performance modification for the aftermarket. The catch can is a devise that is placed in the PCV system between the PCV valve and the intake manifold. The catch can gives the oil entrained in the air charge a place to slow down and drop out of the air before it enters the intake manifold. The oil is collected in a reservoir and drained by the operator at suggested service intervals. Currently the design and performance of catch cans are evaluated by the manufacturer and the consumer. There is no standard that the catch can is held to, nor is there public information to the particular performance of a can. The only way cans are publicly evaluated is by the fact that if used some amount of oil is present in the catch can's reservoir after use. Even if the catch can has oil in it's reservoir, the issue remains that there's no way to relate the amount of entrained oil that the can was subjected to. This is where our team hopes to create a standard for quantifying the performance of such systems.
The Project:
The Oil-Air Vapor Separation Senior Capstone Project will consist of a complete four-phase engineering project, including low volume production.  The four phases are defined as follows;
Phase 1: Concept Initiation- Project Planning
Phase 2: Concept Development- System Requirements and Detailed Design
Phase 3: Functional Prototype Development and Validation
Phase 4: Production and Warranty
Acceptable completion of this project is defined as having a functioning prototype at the end of Semester 2, including relevant CNC code, machining fixtures, test bench and testing standards in which to manufacture our product by.
The Plan:
Phase 1: Concept Initiation- Project Planning
Determining measurable parameters

We must figure out what key factors are needed to accurately evaluate a catch cans performance. For our data acquisition system we will be measuring; blow-by flow, engine RPM, differential pressure across the catch can, manifold air pressure, and temperature of the medium.

Setting up a data acquisition system

We will design and manufacture a data acquisition system capable of measuring the parameters above.

The following are the main components making up our Data Acquisition System.

Innovate Motorsport DL32 data logger

Honeywell AWM 720 flow sensor

Attabox AH12106c NEMA enclosure

Acquiring data measurements off of a wide range of vehicles

A range of engine displacements will be evaluated and grouped according to their measureable parameters.

1.9L through 8.0L engines

L4, I6, V6, V8 possibly V10

Design Flow Bench
Phase 2: Concept Development- System Requirements and Detailed Design
Develop and write test standards

Test current catch cans, benchmark these designs

Determine a method in which to remove the entrained oil, coalesce, impinge etc.

Design our prototype using 3D CAD Modeling and knowledge learned from our test data
Phase 3: Functional Prototype Development and Validation
Develop a manufacturing process

Implement the process with the facilities available to us

Test our prototype using our test standard

Fine tune or completely redesign if necessary
Phase 4: Production and Warranty
Decide on a satisfactory final design

Patent any necessary processes/designs

Develop a Warranty plan along with a Installation/Service manual
About the Team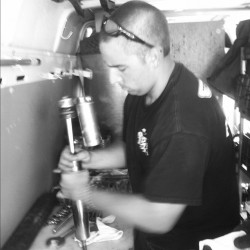 Jonathan Bolduc is finishing up his Bachelor in Science degree in Mechanical Engineering Technology with a minor in Electrical Engineering Technology. Jonathan has a previous Associate in Science degree in Mechanical Engineering Technology from Central Maine Community College.  Before deciding to return to the University of Maine he spent three years working as a Design Engineer for National Filter Media in Winthrop,ME.  NFM designs and manufacturers vacuum filtration equipment for mining and fluid cracking catalyst industries. Jonathan is currently employed as the Student Engineering Manager at the Advanced Manufacturing Center on the Orono campus. He has applied his previous knowledge of manufacturing and 3D CAD modeling to his everyday work. While working at the AMC he has become proficient in manual and CNC machining as well as performing mechanical calculations on parts that the AMC manufactures. When Jonathan is not at school or work he can be found tinkering on Last Ditch Racing's 2003 Subaru Impreza STi. Jonathan is the Crew Chief of LDR and makes sure they are ready to compete in the National class of the Rally America Championship. Upon graduation, Jonathan hopes to pursue a career as an engineer for a motor sports team in the Rally America or Canadian Rally Championship series.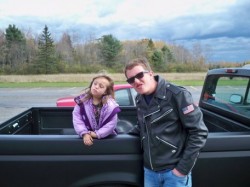 Forest is working on graduating this year with a Bachelor of Science in Mechanical Engineering Technology Major and Electrical Engineering Technologies Minor. He's worked at the Advanced Manufacturing Center since spring 2010. Forest has learned the many steps required to go from an idea to 3D CAD model form to a completed, functional component utilizing the AMC's CNC milling, CNC EDM and other fabrication equipment. Prior to returning to school Forest worked for P. E. Wentworth Co., a LP Gas and Oil Bulk truck manufacture, as a fabricator and technician, 2003-2009. When he's not in school or working he's building something, a Harley with nitrous, lifted Chevy Astro van or a street rod Ford pickup. Forest hopes to find a Engineering job, in Maine, that's rewarding and allows him to still work with his hands.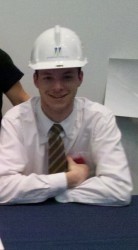 Matt Dolan is a senior Mechanical Engineering Technologies student with a minor in Electrical Engineering Technologies.  He has spent two summers working as an engineering co-op at Woodland Pulp located in Baileyville, Maine.  During the first summer at the mill he was given the task of maintaining documentation for a multi-million dollar natural gas installation project, calculating allowable stresses in the pipeline, checking gas lines for errors in assembly before start up and updating "as-built" drawings.  His second summer saw him involved in multiple smaller projects including checking process safety management documentation, calculating head loss in a water line, and supervising contractor crews.  He's Member Development Chair of Delta Tau Delta fraternity, as well as Vice President of Theta Tau professional engineering fraternity.   Matt is also acting as the teams webmaster.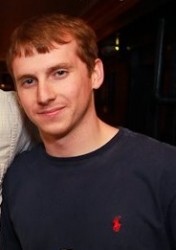 Dan is working on finishing his BS in Mechanical Engineering Technology this year. He started his collegiate career in 2007 at Maine Maritime Academy, where he took part in the Regiment of Midshipmen and on one of their summer cruises, before transferring to the University of Maine. He has taken several classes that involve CNC programing, 3D CAD, AC and DC Circuits along with many other engineering subjects. When he isn't focusing on school he is an avid sports fan, as well as participating on the club Lacrosse team. Dan hopes to find a job in engineering that is challenging but also rewarding.
Videos
Jon and Forest Test the data acquisition system
Testing the data acquisition system on a car
About Our Sponsors
Saikou Michi Co.
The One Stop Shop for Quality Catch Tanks made just for Corvette, Porsche, Toyota Supra, Subaru WRX & STI, VW Jetta 1.8T, Lotus Elise & Exige, GTO, Mazda, Mitsubishi Evo, Skoda, Honda S2000, Etc. We do it all!
Saikou Michi Co. has donated a catch can, of our choice, for us to use during the benchmarking testing phase of our capstone project. Thank you Saikou Michi Co. for the support!
Accurate Machine Works

At Accurate Machine Works, we offer quality, flexibility, and dependability along with product design and consulting, prototype and custom machining and CNC long and short run production.  Our clients encompass those in oilfield production, electronics, telecommunications, transportation and various fields of research.
Accurate Machine Works has donated a catch can for us to use during the benchmarking testing phase of our capstone project. Thank you Accurate Machine Works for the support!
DENT Sport Garage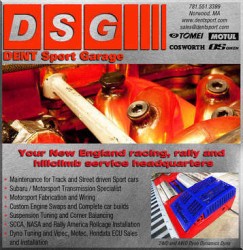 Whether it be sports car service, track preparation, fabrication or engineering, DENT Sport Garage has the experience and knowledge to match your high expectations. Located minutes outside of Boston, DSG specializes in street and motorsport service and high end fabrication. We pull knowledge from many types of racing and use only the best parts from around the world. Though we specialize in Mitsubishi, Nissan and Subaru, we have over 10 years of direct experience servicing numerous other Japanese, European and American automobiles. Feel free to call or e-mail us with any questions.
DENT Sport Garage has donated two of their current catch cans for us to use during the benchmarking testing phase of our capstone project. Thank you DENT Sport Garage for the support!
Arrington Performance
Arrington Engines was originally established to build high-performance cars for professional NASCAR and NHRA race teams. The most demanding drivers have turned to us, including Penske, Petty, and Ganassi. Once the word hit the streets that demanding drivers were turning to Arrington Engines to build their race cars and their personal cars too, word about our stroked HEMI engines and custom performance parts started to travel. Arrington is continuously introducing innovative new applications for late model American muscle cars, classics and hot rods. The company operates from a 105,000 sq. foot facility that houses the finest race engine development, manufacturing and testing program in the business as well as the cutting edge ShopAmericanMuscle.com family of performance parts websites and their staff.
Arrington is donating two catch cans for us to utilize during the benchmarking and testing phase of the captsone project.  Thank you Arrington Performance!
Elite Engineering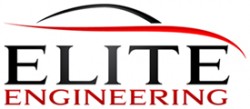 Joined together with a group from the Northern Colorado Corvette Club, we formed an independent manufacturing company located near the Rocky Mountains. We service our customers with top-quality parts at unbelievable prices that include shipping charges. Service excellence is our top priority.  Our commitment is to quality and a quick turnaround time so you can get your parts fast. We understand that our job is not complete until we have a very happy and satisfied customer. We will work hard to earn your business.  Elite Engineering, LLC offers worldwide delivery right to your front door. If a shop is handling your work, we can send the parts directly to them saving you time and money. Call today or order online.
Elite Engineering is donating a catch can for our group to use during our benchmarking and testing phase of our capstone project. Thank you Elite Engineering for the support!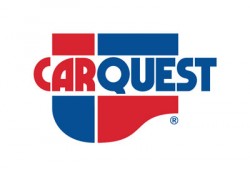 Car Quest
With its corporate headquarters in Raleigh, North Carolina, CARQUEST Auto Parts is the premier supplier of replacement products, accessories, supplies and equipment for virtually all makes of automobiles, as well as light and heavy-duty trucks, off-road equipment,buses, recreational vehicles and agricultural equipment. Additionally, it distributes and sell tools, equipment, chemicals, paint and accessories.
The Hammond Street Car Quest has donated vacuum lines, vacuum components, and has offered to assist us with other small components that we may need during the course of our capstone project.
Let ICC NORTH be your source for Belden & Olympic Cable, NTE semi's, resistors, capacitors, relays, shrink tubing, cable ties, ECG soldering products, Coast LED flashlights, Velleman meters & kits, all types of batteries, Linrose LED's, Elyssa/Digivue & Speco Tech Security Products, plus audio, RF, computer connectors & cables, fuses, switches, Tripplite Power & UPS back-ups,Cat.5 Patch Panels, tools and more
Rev Xtreme
Rev Xtreme is an aftermarket performance part and forced induction system retailer located in Palmetto, Florida.  They carry parts for Cadillac,  Chevrolet, Chrysler, Dodge, Pontiac and Ford.  Rev Xtreme was gracious enough to donate one of their RX catch cans to the testing phase of our project.  Thank you Rev Xtreme!
All Angles Design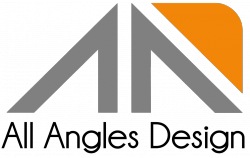 All Angles Design is a product design and 3D CAD firm located near Nashville, TN.  Though they specialize in automotive aftermarket and powersports product design, they have experience in a wide variety of mechanical, industrial, and technology fields.
While the services they provide are generally technical in nature, they understand and thrive on using technology as a tool to express creativity and drive innovation.  With professional experience in mechanical and manufacturing engineering, software development, machining and fabrication, and web development, they bring a wide range of relevant experience to bear on your project.  They consider the issues from All Angles so that the solutions we develop are sustainable, cost-effective, and exceedingly functional.
All Angles Design has agreed to contribute their latest catch can design for testing and benchmarking.  Thanks again All Angles Design!

Home Depot is a well known international home improvement store that has almost anything the aspiring do-it-yourselfer could need for a home project.  They also have all the tools necessary to help the professionals get their jobs done as well.
The local Bangor Home Depot store is located at 650 Stillwater Avenue and was generous enough to donate plywood which we used in the construction of our flow bench.
Lowe's exists to help customers improve and maintain their biggest asset- their home. We do this by meeting the changing needs of our customers by providing inspiration and support whenever and wherever they shop.
The local Bangor Lowe's store is located at 70 Springer Drive and donated the clear glaze that our capstone team used to seal the bench top of our flow bench.
Advanced Manufacturing Center
The Advanced Manufacturing Center is part of the University of Maine's College of Engineering.  The mission of the AMC program is to link the traditional University of Maine activities of education and research with the University's active industrial support and economic development programs.
The Advanced Manufacturing Center is an engineering support and service center that is dedicated to promoting economic development in Maine, and supporting the research programs at the University of Maine.  The AMC is also readily accessible to businesses, entrepreneurs, and researchers throughout Maine, and North America.
The AMC program is committed to maintaining a first-class facility equipped with the latest manufacturing technologies. The Advanced Manufacturing Center will design and build prototype and development projects ranging from large scale fabrications to machined parts with micro-millimeter tolerances. It has the ability to expand its range of expertise by working with engineering faculty, other UMaine research centers, and our partners in private industry.
The AMC has donated use of the facility to manufacuture the test bench and prototype Catch Can designs. Thank You AMC for your support and putting up with Jon and Forest!
---
Our team would like to sincerely thank our sponsors.  Without their monetary and material donations our senior capstone wouldn't be possible.  It's through their generosity that we will be able to achieve our project's goals.