Lombard Steam Log Hauler Restoration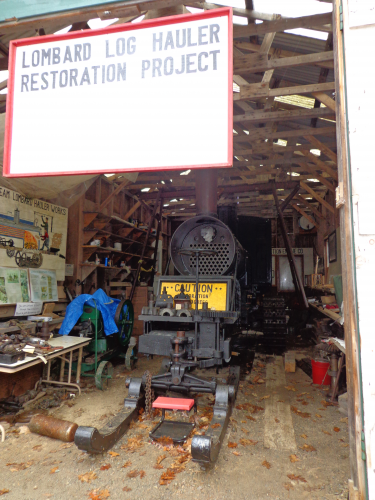 Video of Assembled Compensating Gear Shaft: CLICK HERE
Video of Differential Assembly: CLICK HERE
Video of Differential Assembly Time Lapse: CLICK HERE
RESTORATION PROJECT
The restoration of the Steam Lombard Log Hauler at the Maine Forest and Logging Museum in Bradley, Maine is the most active project in progress at the museum. To date, this project has involved well over 150 individuals, along with help from many companies and the University of Maine. There have been more than 50 major donors supporting the project through funds, materials, time, and services, and the level of enthusiasm remains high as progress continues to be made.
Our goal is to continue that progress, and for our machine to become operational! A restored and running Lombard Log Hauler will provide a strong educational tool, to show the people of today how the mechanical technology of forest product harvesting began.
Fortunately, our machine is quite complete, though over ninety years of being both worked and stored out in the woods has taken its toll. In spite of the work already done through the effort and dedication of the many volunteers and the donated services and expertise from the Mechanical Engineering Technology Department of the University of Maine, there is much yet to be done to fully restore our Lombard.
Four men were required to operate the Loghauler: an engineer, fireman, pilot or steersman, and a conductor.
The Lombard at Leonard's Mills was built about 1910, and came from near Ross Lake, north of Allagash Lake. Our aim is to operate the Lombard, and continue to offer educational and enjoyable programs for the public. New volunteers interested in restoration work or historical research are encouraged to contact the Museum and get involved.
Contact the museum office for more information at 207.974.6278
2013 MET Lombard Restoration Team
Mission Statement
The University of Maine MET capstone team will work towards restoration of the Lombard Log Hauler owned by the Maine Forest and Logging Museum. As the first group of MET students to work on the restoration in almost 10 years we recognize that there is a lot of work to be done to help continue the expansion of this effort. As such our team is focusing in three distinct areas:
Documentation and inventory will be conducted on every component of the Lombard Log Hauler in order to provide an easy reference for future individuals involved in the project.
Technical drafts, along with computer models, will be generated in order to lend a greater degree of accuracy and technical understanding to the restoration.
Engine components will be collected, restored (if necessary), documented, and if possible, tested, and installed.
These areas are the primary emphasis of our 2013 team. Hopefully, by putting our best effort into these three places we will be able to make significant progress on the Lombard. In addition we will help to establish a strong staging point for future restoration.
Brian Liscomb, Jake Miller, Drake Mcbreairty, Jason Scharold. Dan Sherman and Brian Martel not present.
Meet The Team

Jake Miller: Jake is a 4th year Mechanical Engineering Technology student. He is from Clinton, ME and has always been interested in machinery, and has experience as a machinist. Jake is pursuing employment in any industrial or manufacturing environment. His experience working at Twin Rivers Paper Company has helped him gain insight into the engineer's role in manufacturing. In his spare time he enjoys all outdoor activities such as hunting, fishing, shooting and snowmobiling.
Brian Liscomb: Brian is in his senior year at the University of Maine. He is pursuing a BS in Mechanical Engineering Technology, supported with a minor in Renewable Energy Science and Technology.  He would like to obtain a career in the energy industry.  Brian is responsible for the website as well as team assignments.  From Pittston, ME, he enjoys outdoor hobbies as well as working on his car and motorcycle.
Brian Martel: Brian is a 5th year student in the Mechanical Engineering Technology Program.  He is from Uxbridge, MA.  Brian has developed an interest in product development and testing as a result of numerous project design and manufacturing classes.  As a member of the Lombard steam log hauler team Brian is responsible for assembling and restoring the engine components cylinders.  In his spare time he competes as a member of the Division 1 NCAA track and field team as a decathlete.  He also enjoys fishing, hiking, and rock climbing.
Dan Sherman: Dan is a 5th year student studying in the Mechanical Engineering Technology program.  Originally from Cornish, ME, Dan enjoys fishing, snowmobiling, and playing hockey.
Jason Scharold: Jason is a 4th year Mechanical Engineering Student.  From Brunswick, ME, Jason enjoys riding ATV's, fishing, and working on his car. Jason is taking the project as team leader, and is in charge of organizing CAD files for the drive train, steam engine, and any other necessary parts.  Jason is interested in a career in the automotive industry, a desire which stems from his experience in tuning and vehicle customization.
Drake McBreairty: Drake is a senior in the Mechanical Engineering Technology program. From Turner, ME, Drake has been fascinated with science and machinery since a young age. Aviation has always been at the center of this fascination. Drake is pursuing a commission in the United States Marine Corps as a naval aviator upon graduation and looks forward to leading Marines.
Contact us
Maine Forest and Logging Museum, Inc.
PO Box 104
Bradley, Maine 04411
Note: The museum's administrative office is located at 54 Government Road,
in Bradley. Our living history site, known as Leonard's Mills, is also located
on Government Road in Bradley, Maine just 1 mile past our office.
Linda Swift , Executive Director
info@leonardsmills.com
Prof. Herb Crosby, Lombard Restoration Committee
University of Maine
Orono, Maine 04469
crosby@maine.edu
207-581-2134