Team #8 Bicycle Helmet Brake Lights
Meet the Team

Ahmed Almusharraf is from Saudi Arabia and is currently a senior at the University of Maine who is studying Mechanical Engineering Technology. He transferred to the United States for college after starting his college career in Canada.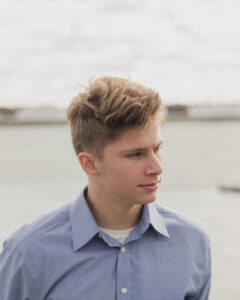 Jasper is a senior from Portland, Maine who is studying Mechanical Engineering Technology while pursuing a minor in Computer Science at the University of Maine. In his free time he enjoys playing cards, video games, and staying fit at the gym.


Kyle is a senior studying Mechanical Engineering Technology and pursuing a minor in Electrical Engineering Technology at the University of Maine. Kyle graduated from Nipmuc Regional High School in Upton, Massachusetts and enjoys playing hockey and guitar in his free time.


Xavier is a senior here at the University of Maine majoring in Mechanical Engineering Technology. He attended the university after graduating from Mt. Abram High School, a small school located in rural Western Maine. He grew up in an automotive racing family and enjoys his free time by spending it in the garage as well as his generational camp.
Project Overview
Our client has tasked us with retrofitting his son's current helmet with a brake light and impact sensor in order to increase the safety of bicycle riding for his son. To start, the brake light must have different brightness levels that correspond to the rider's braking force meaning that the harder the rider presses on the brakes, the brighter the light will become. Secondly, the impact sensor must be integrated into the helmet that is able to determine if the helmet is still safe for use after a crash. Our team will be using accelerometers, Arduinos, and 3D printing to achieve a product that is safe, weatherproof, and comfortable.
Weekly Updates
11/7/2020: Arduino code was reworked such that the sampling rate of the accelerometer was reduced and allowed for more steady light outputs. This also allowed for the Arduino to respond faster as there is now less data processing needed.
11/14/2020: Playdoh modeling was conducted on the helmet to give a basic shape of the vent we plan on placing the electronics in. This also gives us a way to dimension this void for the next steps in our project.
11/21/2020:
11/28/2020:
12/5/2020:
12/12/2020:
-Winter Break-
Special Thanks
Alex Barrie – Client
Peter Howorth – Team advisor