Team #6: Land Drone Competition
Overview of Land Drone Competition Capstone
For the first time in MET capstone projects, the Mechanical Engineering Land Drone competition was opened for us to participate in. Land drones are semi-autonomous, but can be remote controlled as well, vehicles that should have the ability to cross a terrain or obstacle that lays in their path with little guidance from the operator. The Land Drone competition was first created to help the military come up with an alternative to patrolling the border between Canada and America, and possibly other countries. The land drone must be designed and built to the specifications of the MEE department rules. This requires a lot of background research in all the different mechanical components that could be used and innovation to create something new and better than previous year projects. It will run a course that is four hundred meters in length and will included a water obstacle and an inclined terrain. All teams must be done with design and fabrication of the Land Drone to be able to compete in May of 2018. The score of our land drone will be the sum of the two equations design of the Land Drone and Performance of the Land Drone. Equations and their corresponding variables are below in figures 1 & 2. Our goal in this capstone project is to create a Land Drone that is fully functional, finishes the full course, and that it practical for the original reason for the capstone project.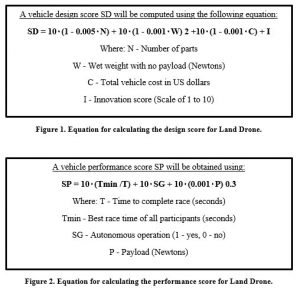 Update 4/30/18
     The MET land drone team got 2nd place in the competition with a score of 26.26 points.
Thank you everyone for helping us throughout our capstone! 
Update 4/23/18
     The wheels were fixed by machining a new steel shaft to go in the wheel hubs and attach much stronger and safer. We were also given ABS plastic by Mark Spaulding (athletic cart capstone team) so we could enclose the bottom and front of the land drone, helping with water proofing.  The land drone competition was held on April 24, 2018. Two MEE land drone's were there and then the one MET land drone was there. On both MEE teams's first attempt at the course neither land drone was able to finish. On our first attempt we completed the course with a 50 lb payload in 5 minutes and 2 seconds. After a few hours one MEE team was able to finish the course. We will not be receiving final scores until after presentations on Maine day. Our competition run will be posted below in the video section. We plan on focusing now on the presentation on Maine day and the final report.
Update 4/16/18
     The competition was moved due to weather and condition of field. It will now be held on April 24, 2018 in the afternoon. This has come to our advantage because even though the land drone is all put together and has been running, we have encountered a few problems within the week. We have had one of the tires fall off, an electrical board break, autonomous coding issues, and the left motor braking. The motor is our main concern at the moment as the tires have been fixed and the code is being handled. We will either need to find a new motor and that fits and works or fix the old motor. We have posted a video of the land drone running under the photos. We will post a video of the competition run after is is complete.
Update 4/9/18
     Pictures of the mounting of motors, batteries, and the rear wheel have been uploaded. We still need to mount the electrical components and the front wheels which we plan to do before the beginning of next week. We are still trying to find the best size and weight payload for the land drone. When we start testing the land drone we will upload a video to show how it does. Coding is the only thing we plan on having to wait for before we can test it. After the competition on April 19th, we plan on making any adjustments we need before the capstone presentations. We also plan on starting to work on our final presentation along with the final report once the competition has been completed.
Update 4/2/18
     We have started mounting components on the land drone. We are continuing to work on the code for it to run and getting all the electrical component situated for mounting. The motor mounts have been machined and the wheel hubs are almost done. The next step is to get everything on the land drone and test it before the competition. We are hoping to receive the GPS coordinates for the competition to test out the code. The competition is in 13 days.
Update 3/26/18
     Programming is going along with a lot of time going into it (100+ hours). We did find an issue with the motors with the right motor is running at 65 rpm while the left motor is running at 31 rpm. This is an issue that was not much anticipated but should have been found out early. We are trying to find another left motor to see if it is just this motors issue or if it is the right motor having problems. Despite the motor problems the motor mounts are being machined along with the wheel hubs. We are behind on mounting the components but are hopeful it be done within the next few days. The competition is in 17 days.
Previous Updates: Land Drone Weekly Updates
Slide show of photos from our capstone progress is below. All photos are available at  the link listed.
Link: Land Drone Photos
Videos of the Land Drone has been uploaded to YouTube and is posted below the photos.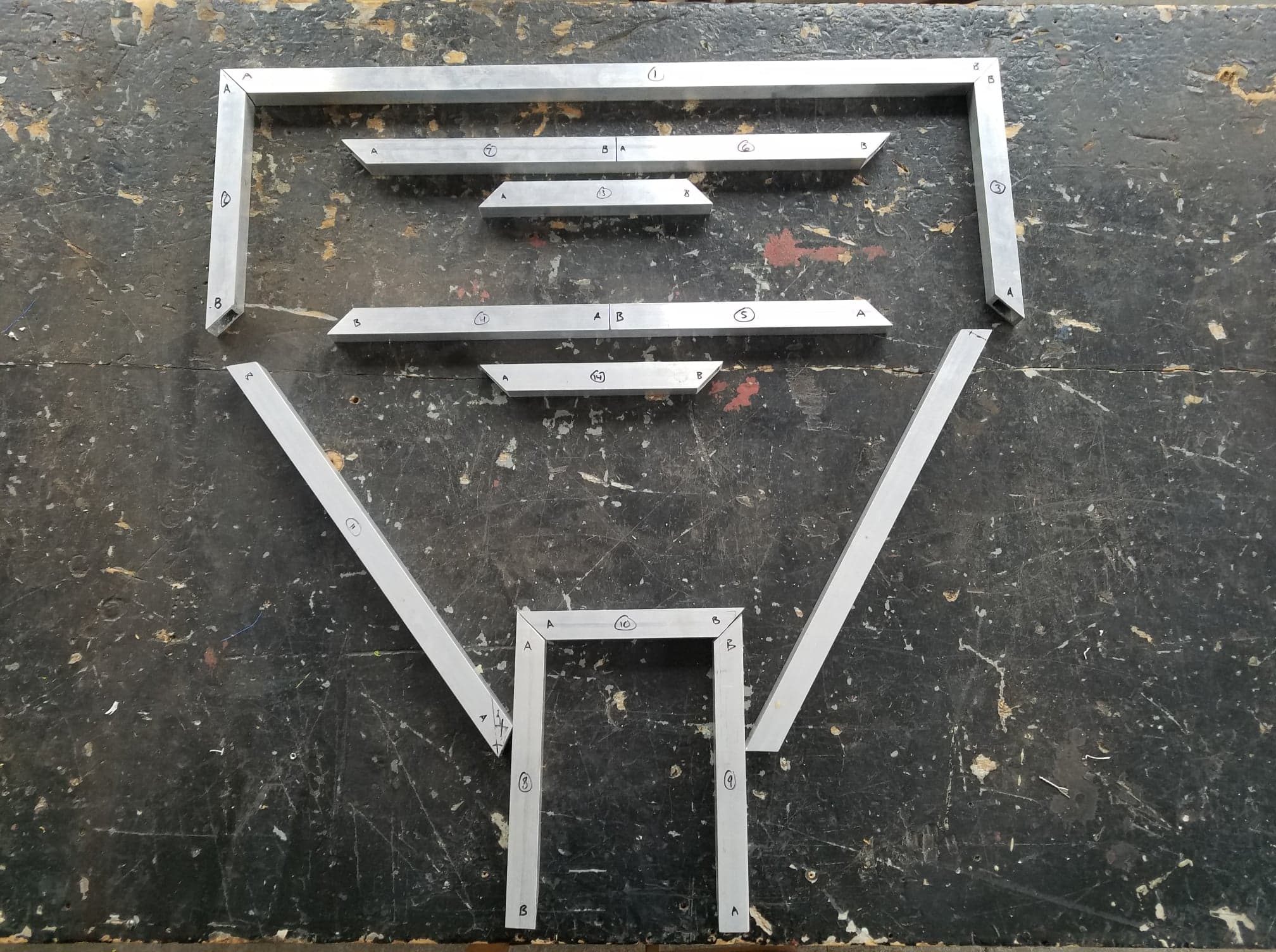 Top View
Bottom View
Side Pieces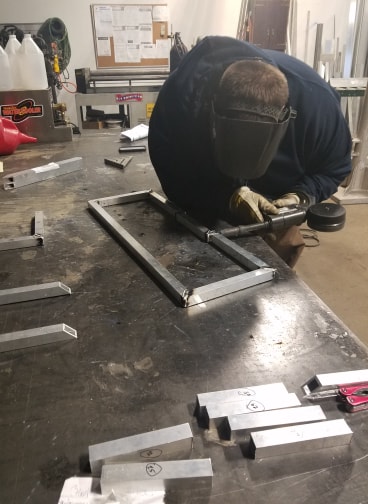 Welding Frame Top Section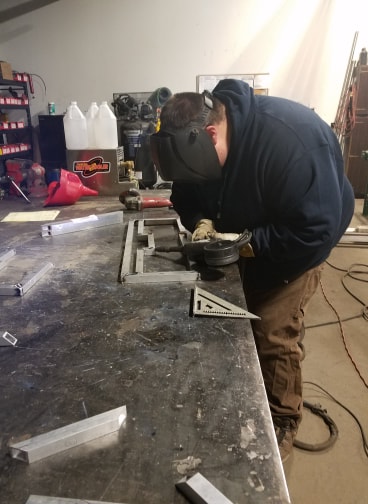 Welding Frame Top Section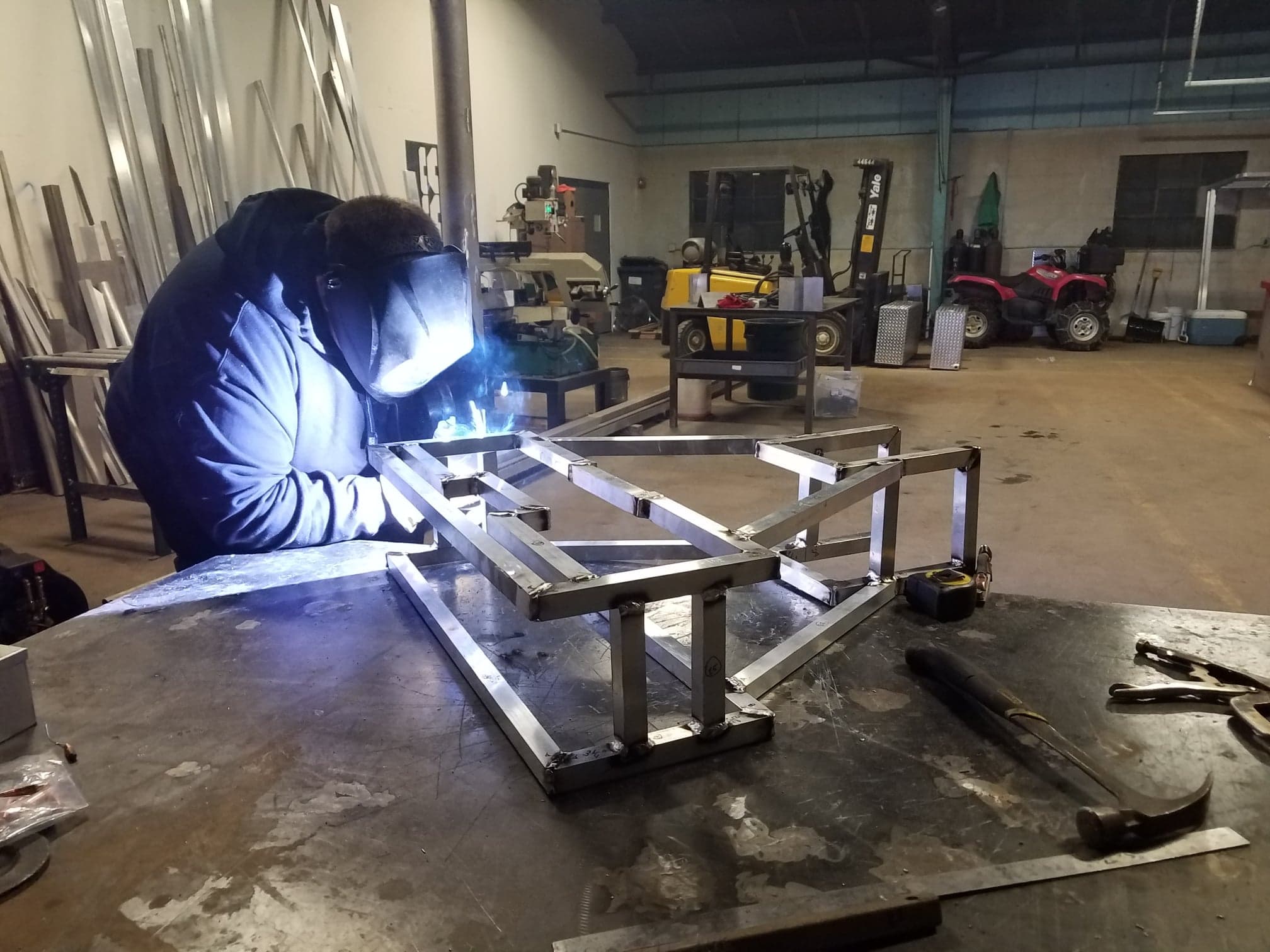 Welding Top and Bottom
Welding Frame Sides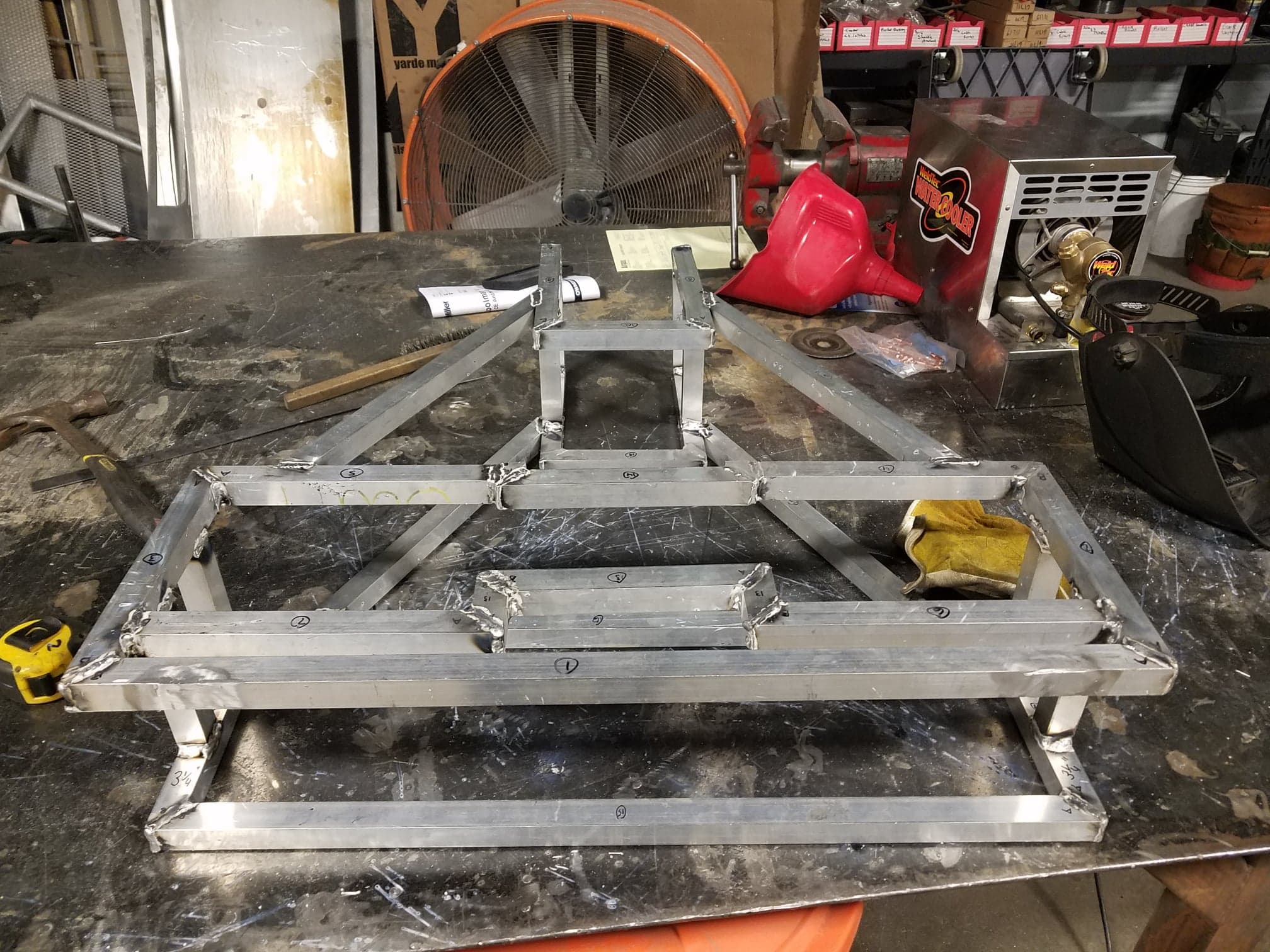 Complete Welded Frame
Revised Land Drone 3D model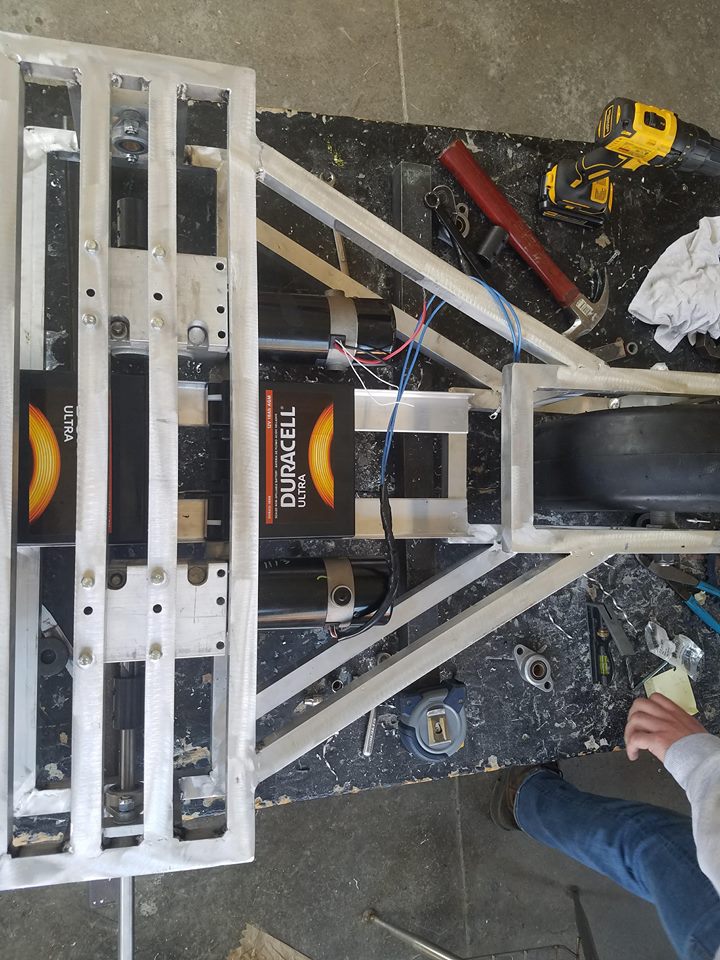 Mounting Components
Mounting Components
Front View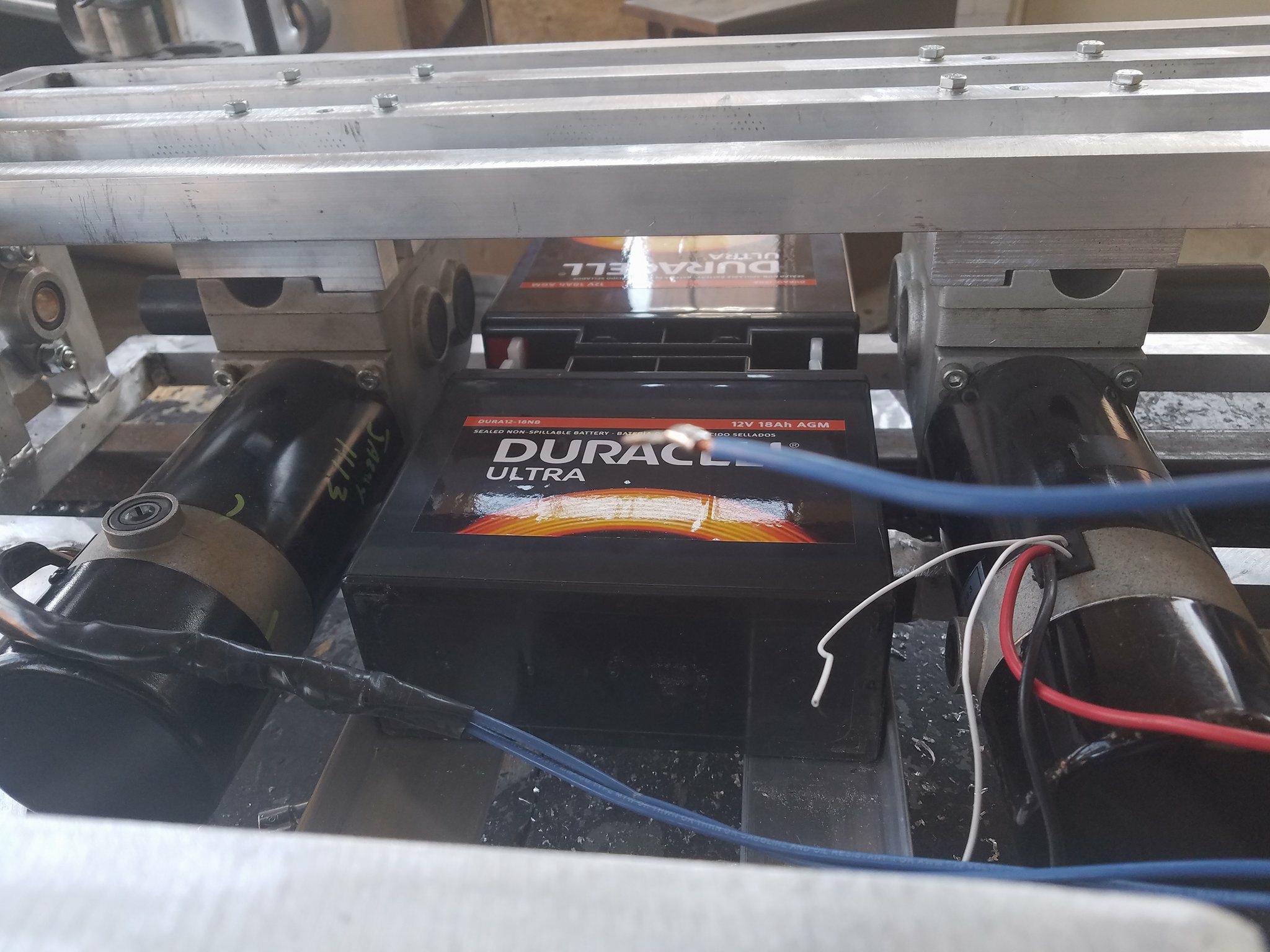 Mounted Motors and Batteries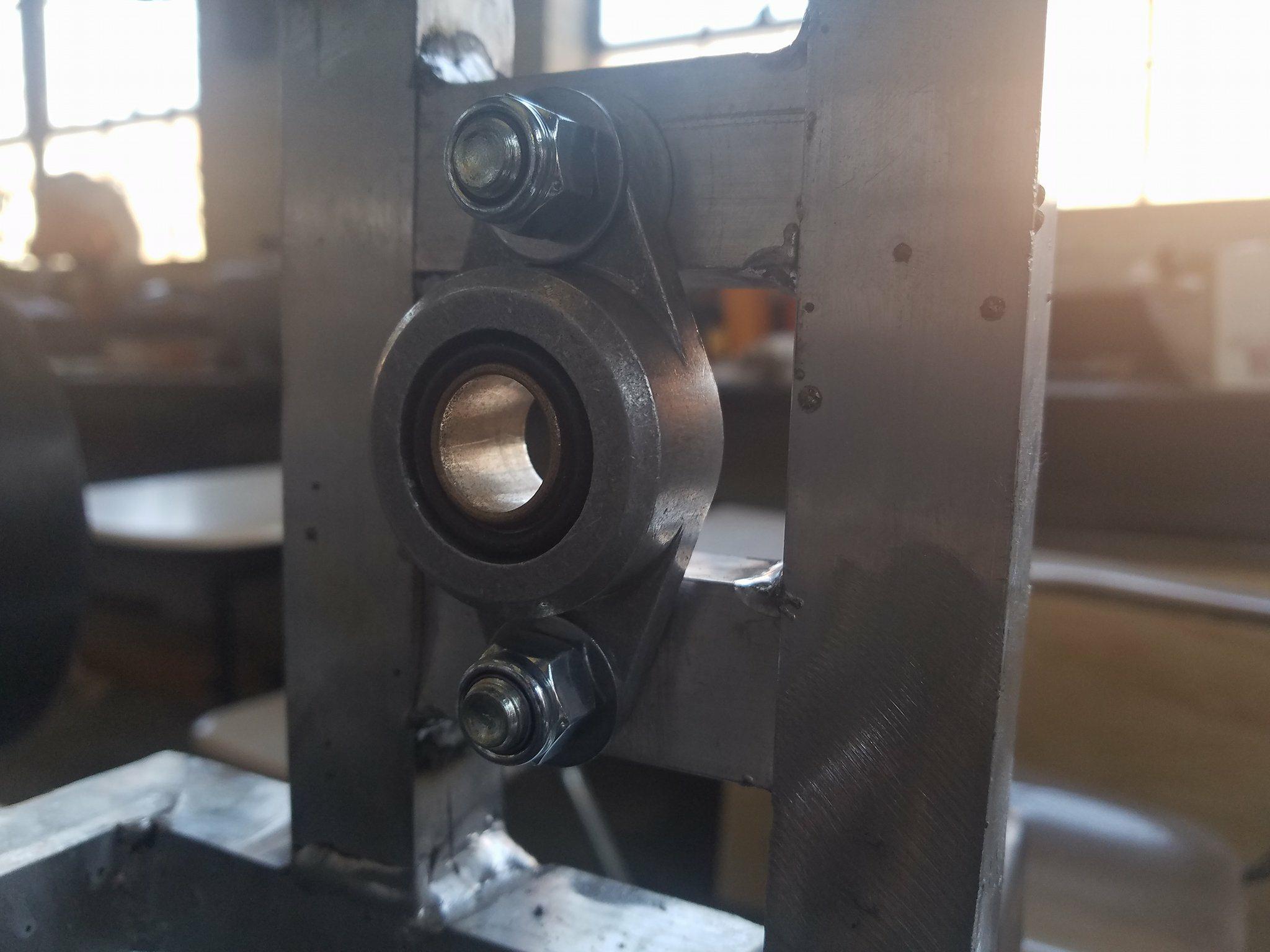 Right Front Bearing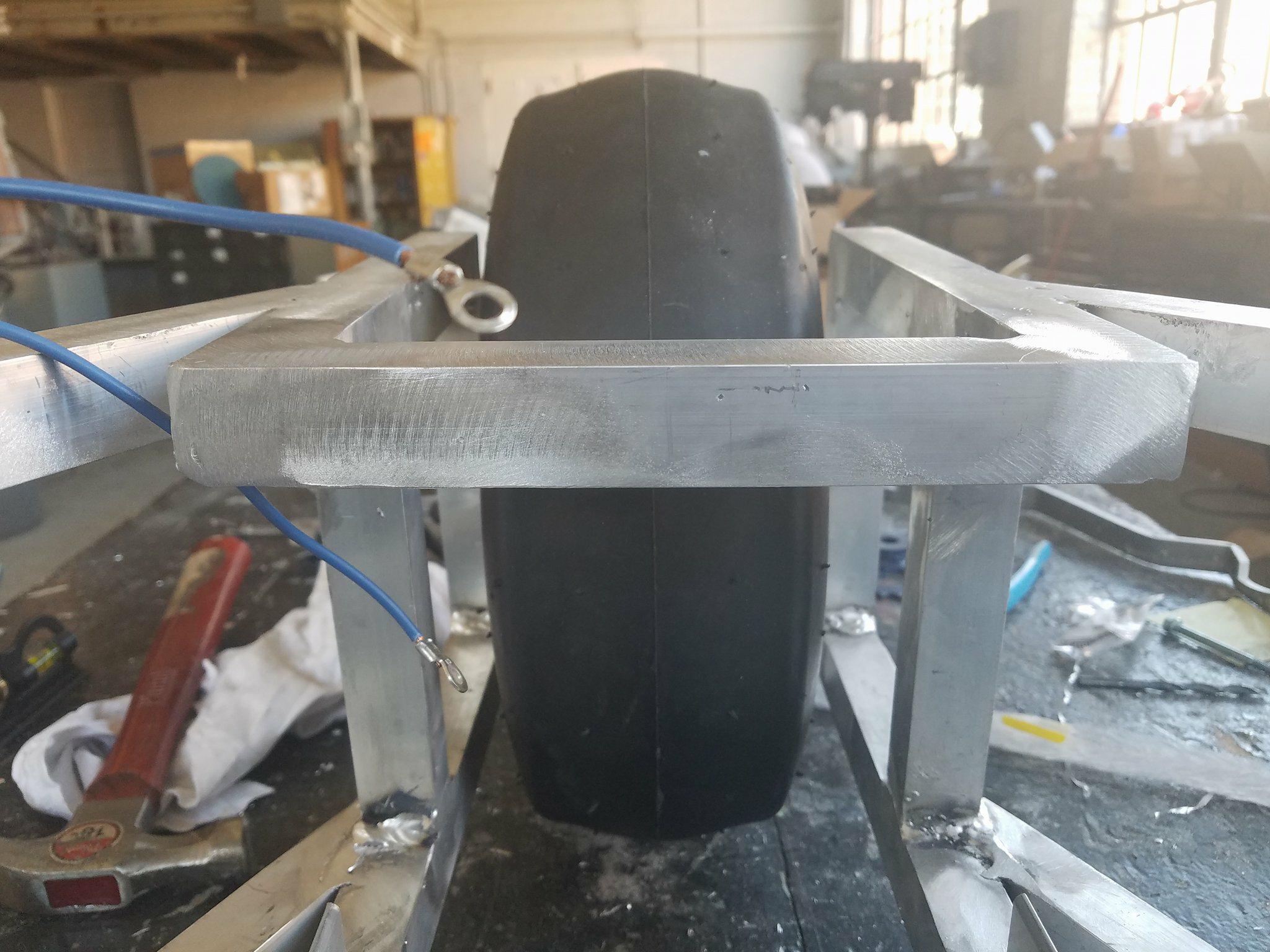 Rear Wheel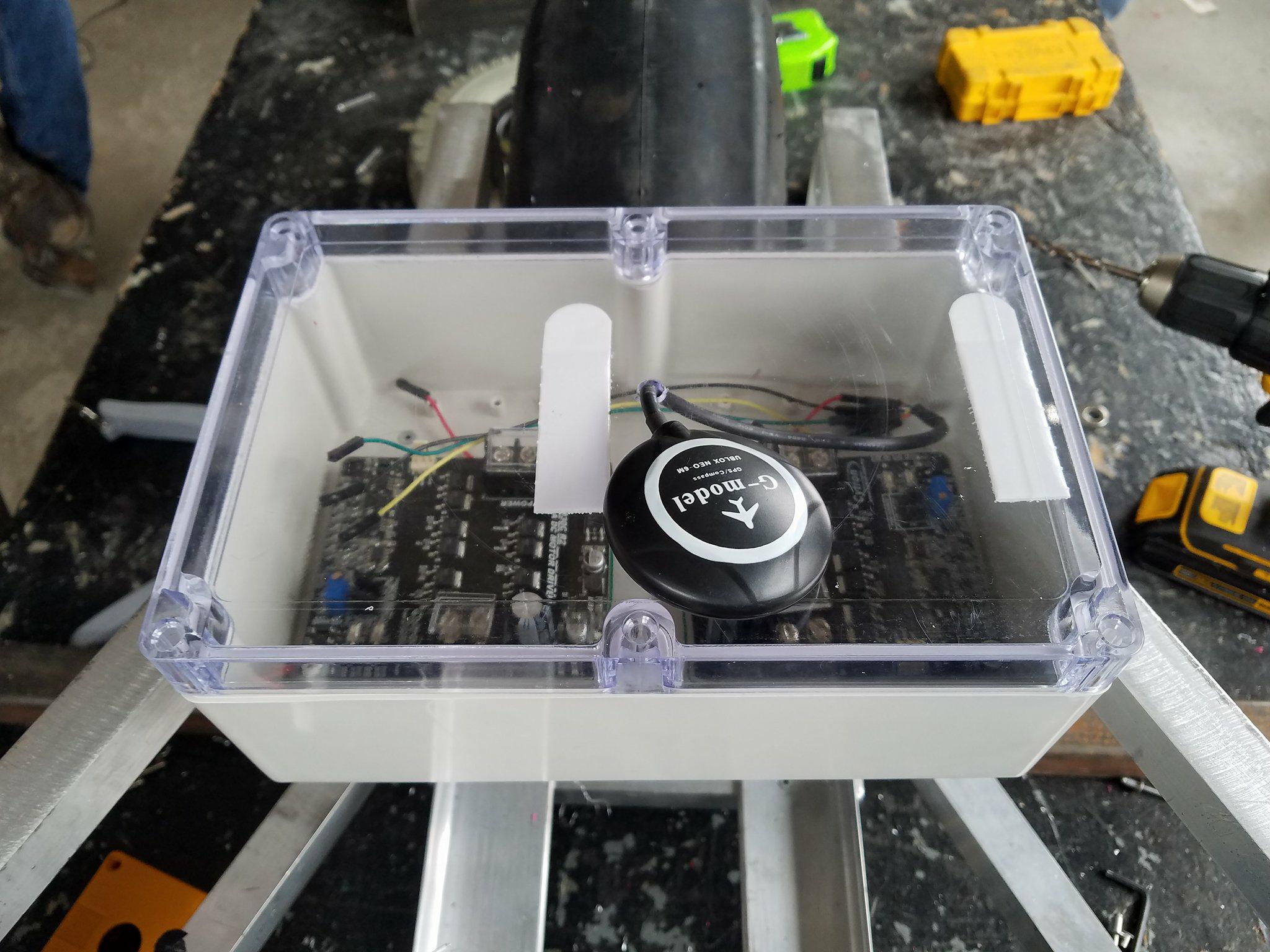 Electrical Components Mounted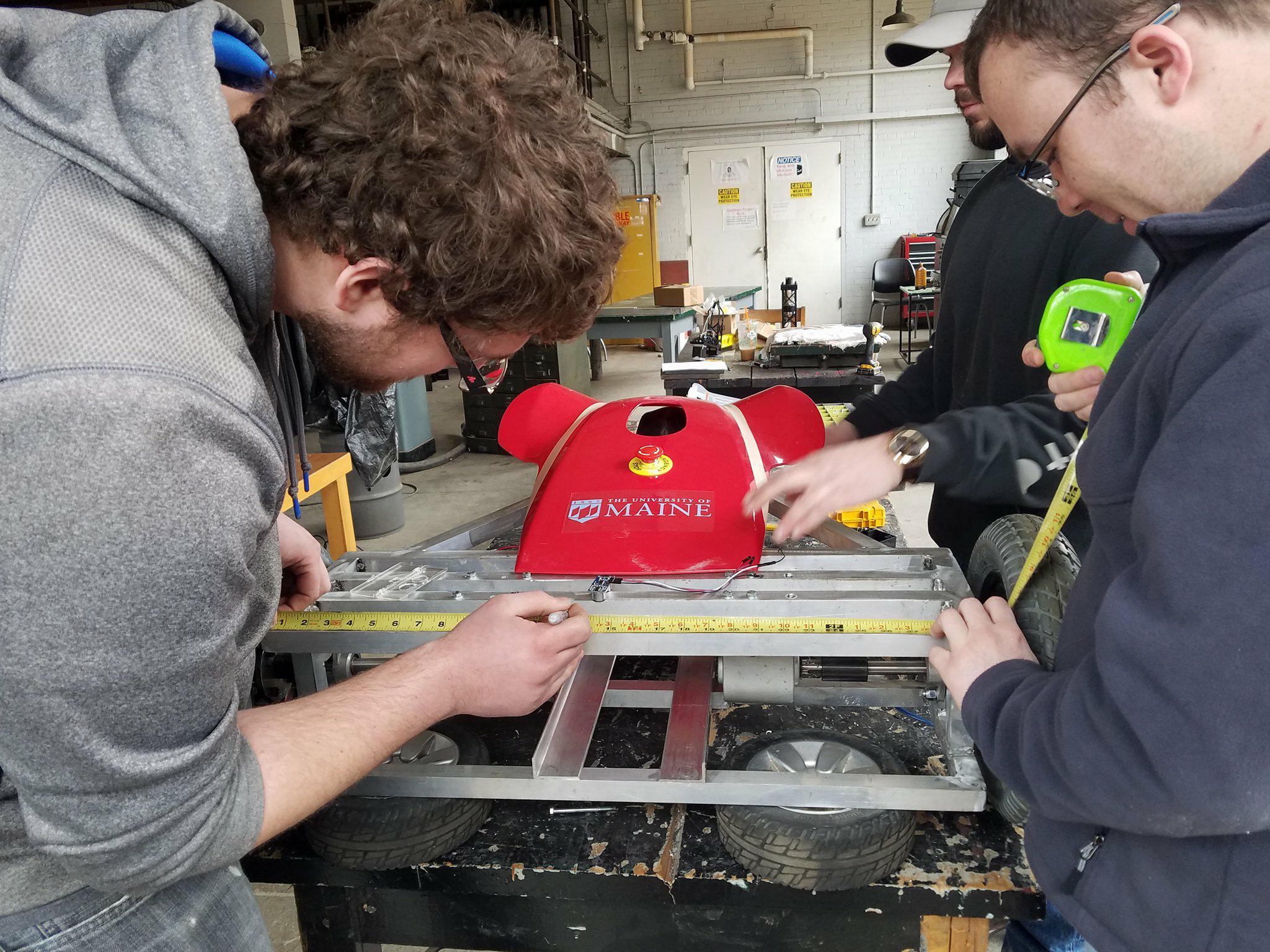 Mounting Sensor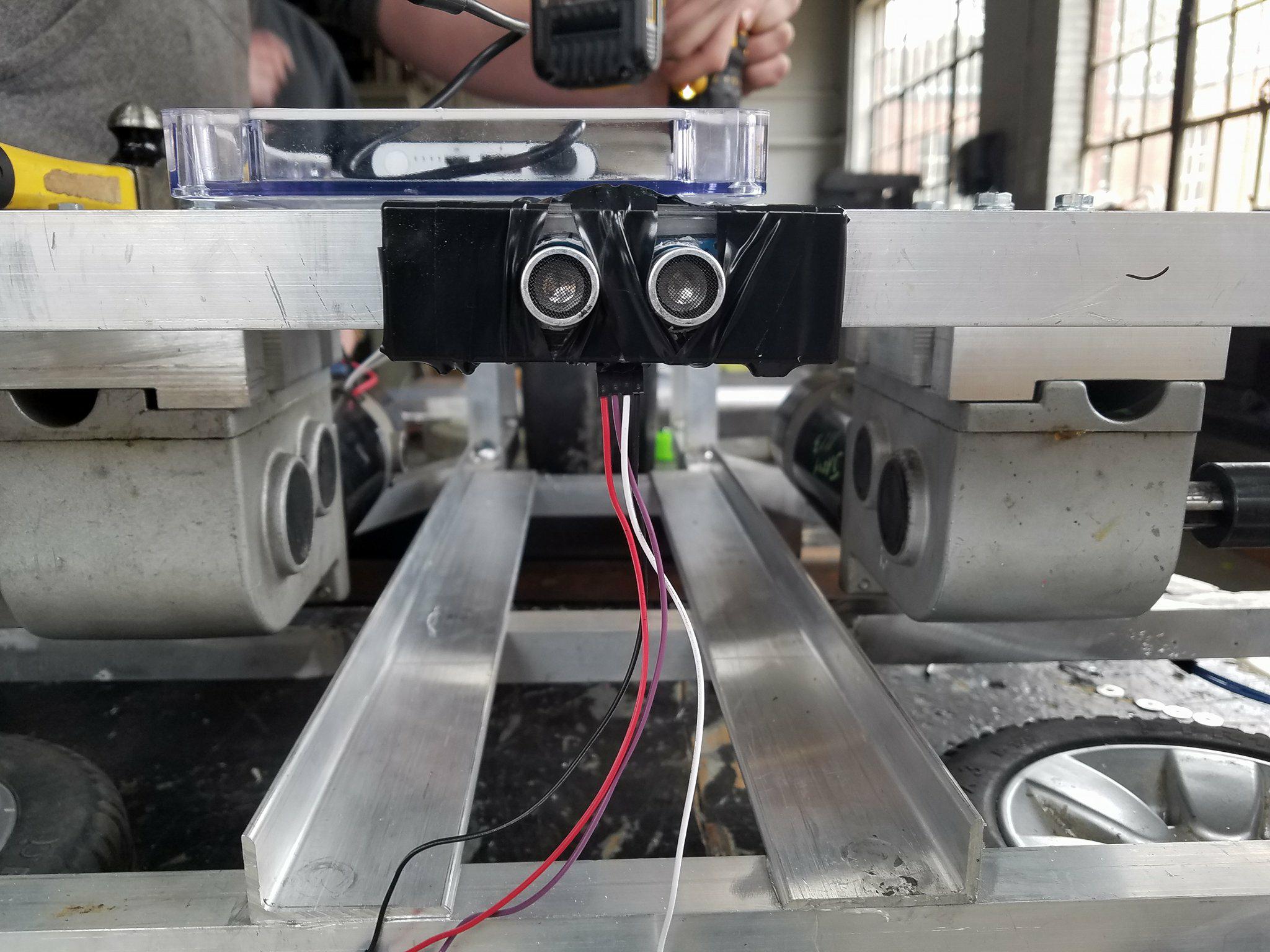 Sensor Mounted
Assembled
Assembled with Hood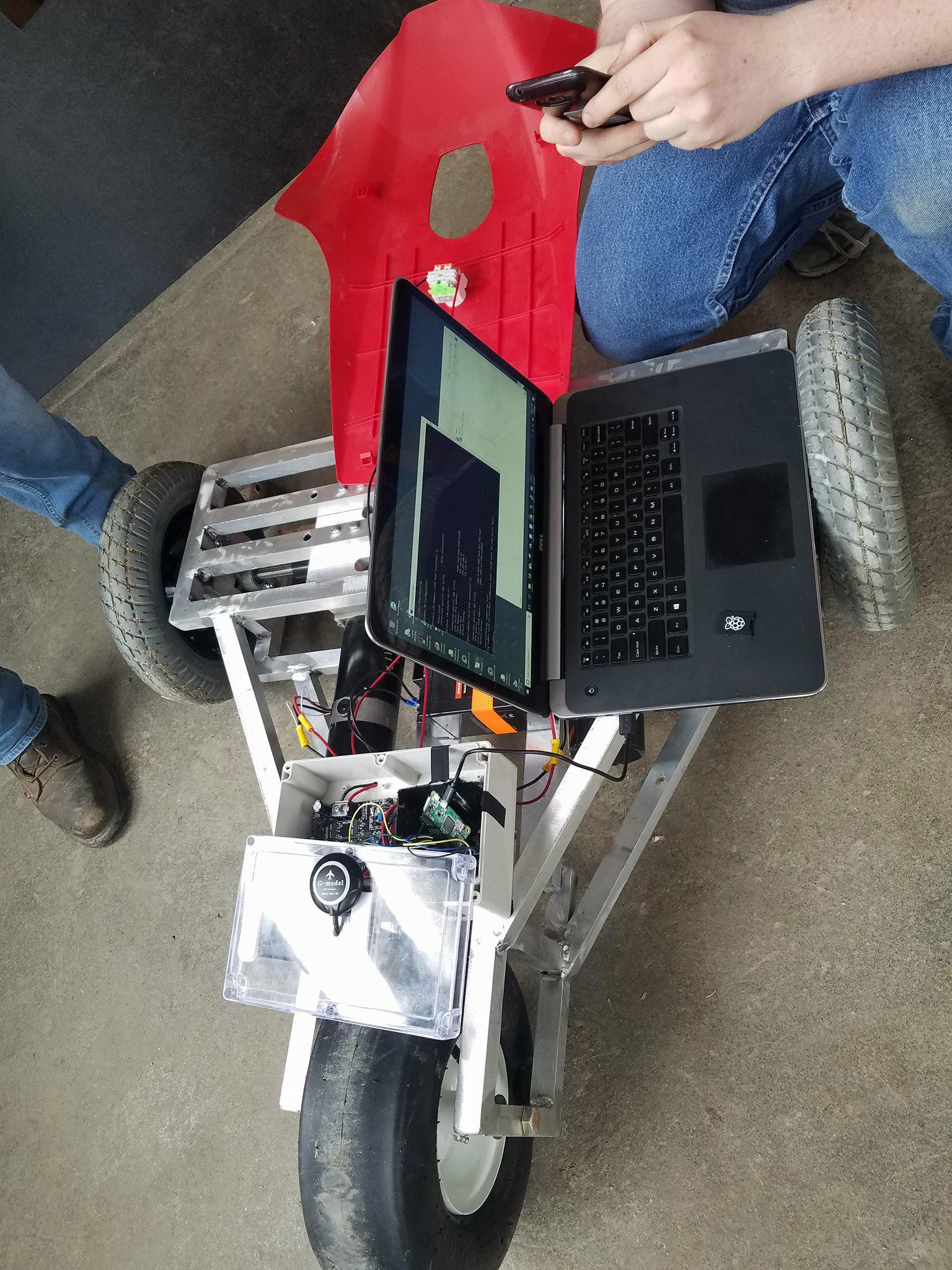 Programming to run on campus
Fully Assembled
Land Drone With Pay load
Test run #2 (Doing Donuts)
4/24/18 Land Drone Competition Run
Jordan Trafford:
Jordan is a senior Mechanical Engineering Technology student from Limington, Maine. His career in engineering began at a young age with his desire to push things to their limit only to rebuild them faster and stronger than before. In the summer of 2016 he entered the professional world of engineering with an internship at New England Castings, where he designed and analyzed investment casting processes. Jordan currently works full time as a design engineer at CellBlock: Fire Containment Systems, on top of his five class schedule at the University.
Andrew VanSchalkwyk:
Andrew VanSchalkwyk is a senior Mechanical Engineering Technology student from Londonderry, New Hampshire. He joined the FIRST robotics team in high school, attended several programming classes at Londonderry High School, and continued his education by going to the University of Maine in Orono. He has experience conducting research on battery chemistry and performance for Energyplex. As an MET major at the University of Maine, Andrew has done several projects that include designing parts and manufacturing the parts to fit joined parts with other students. Andrew has also taken additional courses in programming at the University of Maine that should aid in programming the land drone.
Gabriel Wiseman:
Gabe from Bangor Maine and is a senior in the Mechanical Engineering Technology program at the University of Maine. Gabe also does material preparation and steel hardening for material science. He thoroughly enjoys skiing, biking, and everything else outdoors. He has a professional background of mechanical contracting, as well as wood plastic composite testing and development at the Composites Center in Orono, Maine. Gabe aspires to continue on with a professional engineering career involving innovative materials after graduation.
Bradley Gale:
Bradley is a senior Mechanical Engineering Technology student from the small coastal town of Sedgwick, ME. He works 30 hours a week while maintaining a full class load at the University.  Bradley decided to study engineering after a lifelong love for understanding how things work. Which, turned into a desire to create, design, and pushing the envelope of what is possible. Throughout his high school career at George Stevens Academy he took many of the shop classes that were offered, this fueled the fire to learn how to make sure the things he wanted to create would be safe.
Samantha Taylor:
Samantha is a senior Mechanical Engineering Technology student from Warren, ME. She first started out going for mechanical engineering but when she realized it wasn't as hands-on as she thought, she found the MET program and never looked back. On top of being a full-time student at University of Maine, having two part-time jobs, she also has two sons and a husband who fuel her to always succeed. Samantha has not had the opportunity of participating in an internship, but always worked over the summer and during school. Even though Samantha is not sure what she wants to do after graduation, she hopes that she can find a job that helps her grow as an engineer and as a person.
University of Maine: Mechanical Engineering Department: 5711 Boardman Hall, Room 219: Orono, Maine 04469    Tel: 207.581.2120
Andrew Goupee, Ph.D., Assistant Professor, Mechanical Engineering Department, University of Maine. 
Phillips-Strickland House Corporation 21 Boyd st. Bangor, Maine, 04401    Tel: 207.941.2820 – Donation of Jazzy Electric wheelchair
Bangor Steel Corporation 123 Dowd Rd, Bangor, Maine 04401   Tel: 207.947.2773 –  Donation of 42 ft square bar aluminum
Jesse Crosby, Welding Technology Program Director, Beal College Bangor, Maine 04401 – Donation of Welding land drone frame
Batteries Plus Bulbs, 11 Bangor Mall Blvd, Bangor Maine 04401 Tel: 207.573.7093 – Donation of Batteries at wholesale price
Keith Berube, Pd.D., Assistant Professor, Mechanical Engineering  Technology Department, University of Maine.  (Capstone Adviser)
Brett Ellis, P.E., Ph.D., Assistant Professor Mechanical Engineering Technology Department, University of Maine. (Capstone Adviser)
Stephen Abbadessa, Crosby Laboratory Manager, Mechanical Engineering Department, University of Maine. (Provided Motor Brake Information)
Mark Spualding, athletic cart capstone team member, MET Student, University of Maine. (Donated left over ABS plastic)
Justin Willis, Pneumatic Organ capstone team member, MET Student, University of Maine. (Donated food/drinks to team for competition)