Our Journey Together: From a Mother and Son Perspective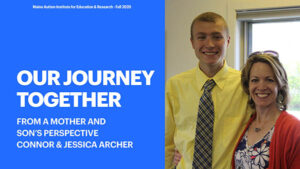 Speakers: Connor Archer and Jessica Archer, M.S., B.S.
Register for this session using our easy online registration form.
Session Description:
This webinar is composed of three topics of discussion which focus on suggestions, strategies, and guidance for those diagnosed with Autism Spectrum Disorder (ASD). The first section provides a background from the perspectives of Connor and Jessica. They provide information about early diagnosis of ASD, early intervention, accessing services in public K-12 school settings, revealing the diagnosis to peers, and accomplishments that have occurred along the journey. The second section provides information regarding social stories, flexibility on formats for testing, sensory equipment in classrooms, IEPs, 504 Plans, and technology assistance. The last section looks at the future and current challenges that are being faced in the ASD community. This includes COVID-19 guidelines, the impact of language and social skills, and early intervention recommendations.
Speaker Bios:
Connor Archer is the Chairman/CEO of The Courageous Steps Project. He is a graduate of Old Town High School in Old Town, ME and is currently attending Husson University. As the Chairman and CEO of Courageous Steps Project Connor has created an organization that responds to the needs of children and young adults with developmental challenges in this region.
Jessica Archer M.S., B.S. is a middle school teacher in Orono, ME. She teaches 7th grade science and math as well as 6th grade language arts. She also serves as the Vice President of the Courageous Steps Project in which she was one of the founding board members.
Register for this session using our easy online registration form.