Named Scholarships Honor Students, Commemorate CLAS Faculty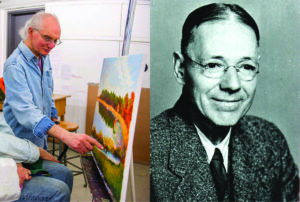 Every spring, departments in the College of Liberal Arts and Sciences meet to award scholarships to their students. Among the many scholarships offered each year are those named in honor of retired faculty. These awards honor the hard work and talents of UMaine students while serving as a lasting tribute to those faculty members' contribution to their disciplines, to the university and to the community. Two such awards presented this year, the Professor Michael H. Lewis Scholarship in the Department of Art and the Levinson Micro-Scholarship in the Department of Philosophy, highlight the ways that scholarship money can make an impact, particularly in a time of heightened need.
This year's Michael Lewis Scholarship was presented to Rachael Murphy, a junior in the Department of Art who is triple majoring in Art Education, Art History and Studio Art and who has interned for the UMaine Museum of Art. Justin Wolff, acting chair of the Department of Art, describes Murphy as a "powerhouse" who excels in all three degree areas offered by the department. Valued this year at $15,000, the award is, in Wolff's account, "transformative" for its recipients — a potentially life-changing amount for a student that gives them time and space to focus their energies, explore their interests, and make their own mark on the community.
Murphy is thrilled and honored by the award. "I was genuinely surprised to receive this scholarship," she says, "but it feels good to know that my hard work doesn't go unrecognized. It motivates me to continue with a strong work ethic in my classes, although scholarships and awards are not the sole motivators for doing well."
She adds, "This scholarship takes a significant financial burden off of me. Like a lot of students, I rely on financial aid as my primary means of funding my education, but this scholarship significantly reduces the stress. I am working on three majors, which means a few extra semesters of classes, so any assistance I receive I am beyond grateful for."
The Lewis Scholarship is named for Michael Lewis, Professor Emeritus of Art at the University of Maine, who taught painting, drawing, and sequential arts over the course of a storied career that also saw him chair the Department of Art and serve as Acting Associate Dean of the College of Liberal Arts and Sciences. A scholarship fund was established in Lewis's name upon his retirement to support a range of student activities and scholarships in the Department of Art, large and small — a gesture that would make a meaningful difference in the lives of students while also paying tribute to a colleague, artist and teacher whom Wolff says is "revered: a compassionate, gentle soul."
 Among the 74 donors who have given generously to build the Lewis Scholarship Fund since its establishment was Dick Hill, a colleague from across campus in the College of Engineering — a professor of mechanical engineering who left a large bequest towards the Lewis Fund when he passed away; Hill spoke fondly of both Lewis and of the value of the arts in general.
"The Lewis Scholarship speaks to the talent of students, the generosity of donors, and excellence of teaching at the University of Maine," Wolff says.  "But it's also simply a great tribute to Michael; if he hadn't been as beloved as he was, this scholarship wouldn't have grown as it did, and we would not be able to make such a difference in students' lives."
The UMaine Department of Philosophy has taken a slightly different approach with its own fund, the Levinson Fund, established by and named in honor of internationally renowned philosopher Ronald B. Levinson, who served for many years as a faculty member in philosophy at UMaine. In addition to supporting a number of student-engagement programs each year, as well as the Levinson Scholarship (a need-based award valued at $5,000 and awarded this year to three students), the Levinson Fund has this year been used to support a number of micro-scholarships — $500 awards to each of the department's 33 majors.
Kirsten Jacobson, chair of the Department of Philosophy, explains the impetus for these Levinson Micro-Scholarships: "When the university shifted to remote learning this spring, our department also needed to pivot away from in-person programming we had planned for the remainder of the semester. Those Levinson Fund-supported programs focused significantly on student-engagement, so it was important to us to retain that focus."
The solution, Jacobson says, was the Levinson Micro-Scholarship: "In light of myriad economic challenges so many of our students are facing, along with the loss of an immediate connection to their departmental homes, we felt it would be a helpful boost to give each of our majors a small, but hopefully meaningful award." The Levinson Fund makes that possible: "We are deeply fortunate to have financial resources to add to this personal support of them," she explains.
Miranda Blodgett, a senior double major in philosophy and political science whose summer internship plans have been disrupted by the current crisis, speaks to the impact of the award, describing it as "exciting and unexpected." She says, "In these challenging times I am eternally grateful for financial support from my department."
Interested in learning more about establishing a fund or how philanthropy can make an impact on CLAS and its students? Contact our Philanthropy Officer, Matt Mullen '08, at matt.mullen@maine.edu.