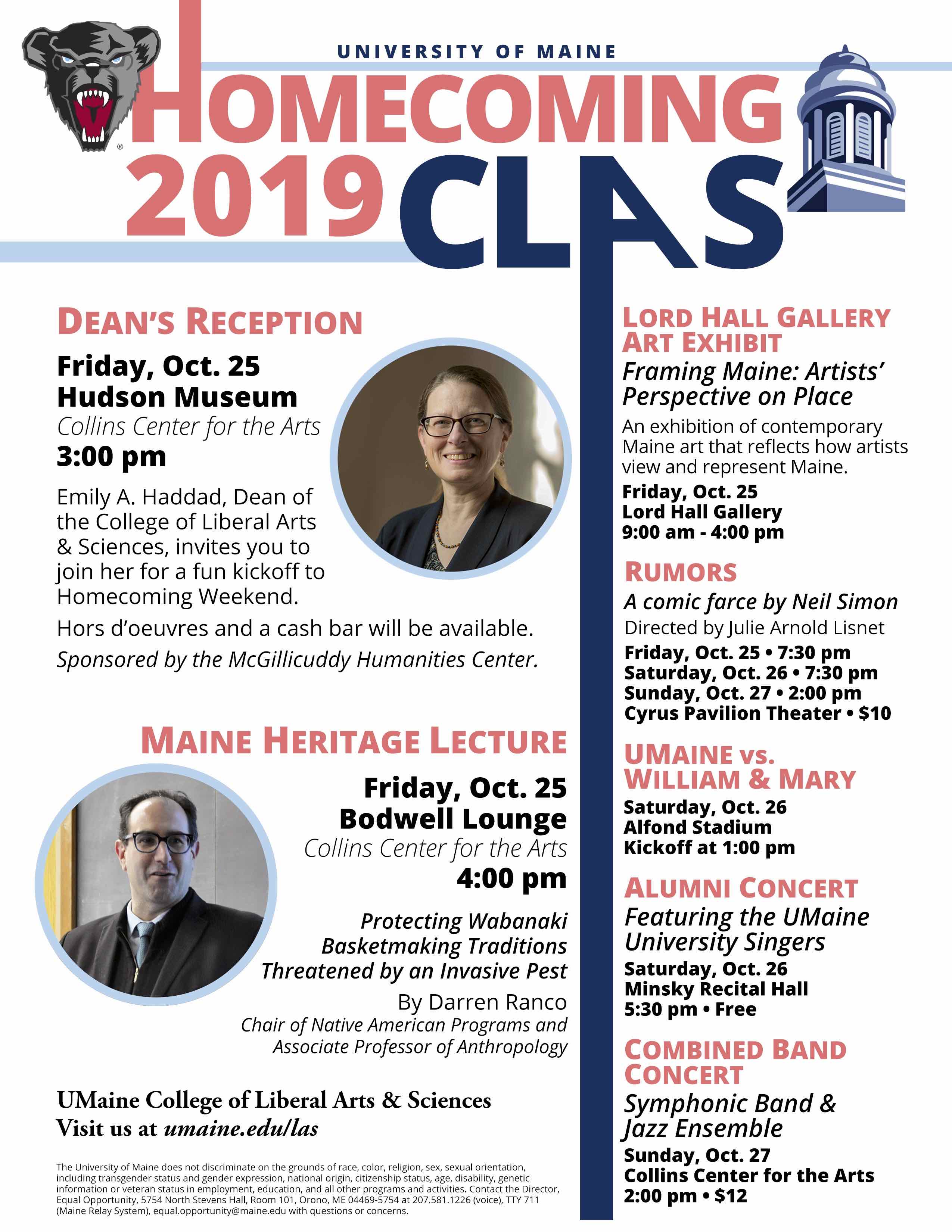 CLAS Events for Homecoming Weekend 2019
Join the College of Liberal Arts & Sciences for the 2019 Homecoming Weekend, Oct. 25-27.
On Friday, Oct. 25, CLAS is hosting the ninth annual Maine Heritage Lecture, featuring Dr. Darren Ranco, at 4 p.m. in the Bodwell Lounge, Collins Center for the Arts. Join us before the lecture at 3 p.m. in the CCA's Hudson Museum for a Homecoming reception, hosted by Dean Emily Haddad. Hors d'oeuvres and a cash bar will be available at the reception.
Also on Friday, Oct. 25, the Lord Hall Art Gallery will be open from 9 a.m. until 4 p.m. with a special exhibition of contemporary Maine art that reflects how artists view and represent Maine. The exhibit, Framing Maine: Artists' Perspective on Place, which features more than 50 works by Maine artists, is co-curated by Laurie E. Hicks, professor of art and director & curator of the Lord Hall Gallery; Carl Little, art critic and author; and Kreg Ettenger, associate professor of anthropology and director of the Maine Folklife Center & Maine Studies Program.
The School of Performing Arts will be hosting several events throughout the weekend, including three performances of Neil Simon's Rumors, directed by Julie Arnold Lisnet. Performances of Rumors, a comic farce, will take place in the Cyrus Pavilion theatre on Friday and Saturday at 7:30 p.m., and on Sunday at 2 p.m. Tickets are $10 online or at the door.
SPA will also host the second annual Alumni Homecoming Concert, featuring current and former members of the University Singers, on Saturday at 5:30 p.m. in the Minsky Recital Hall. This concert is free and open to all.
And on Sunday, Oct. 27, at 2 p.m., the UMaine Symphonic Band and UMaine Jazz Ensemble will perform at the Collins Center for the Arts. Tickets for the combined band concert are $12 and available online.
Join us for a fun filled Homecoming Weekend!
For more information, contact Kelly Gilks, 207.581.1954.