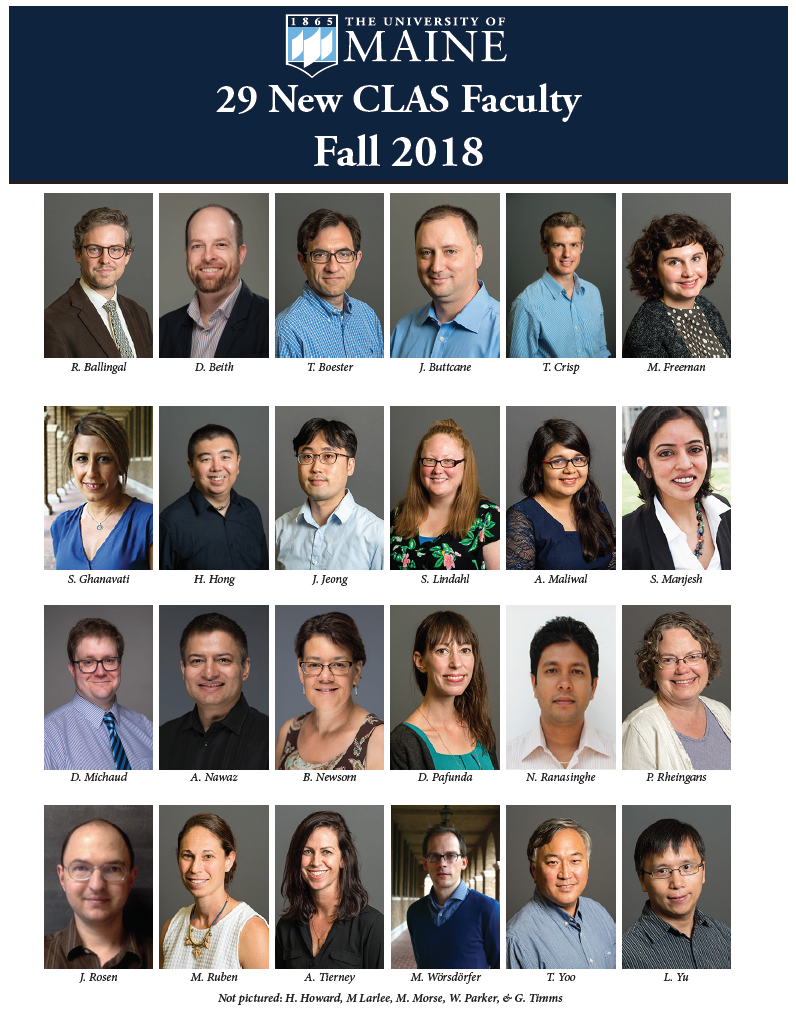 New CLAS Faculty 2018
ART:
Giles Timms is an animator and artist. Giles has created animated music videos for Death Cab for Cutie, Flyleaf, Kady Z, and Barnaby Saints and designed animated titles and scenes for the indie films Silicone Soul, Lucky, Sunset Stories and Let Go. Giles' animated films have won several film festival awards and his films have screened at South by Southwest, Sundance, the Los Angeles Film Festival, and on PBS and HBO. Originally from Wales, Giles graduated with an MFA in animation from UCLA. Giles is excited to be a part of the UMaine Art Department as a tenure-track assistant professor.
CHEMISTRY:
Sarah Lindahl joined the UMaine faculty as a lecturer in Chemistry in January 2018 after completing her PhD at Indiana University. She is interested in therapeutic applications of chemical research. At UMaine, she teaches general chemistry lecture courses.
COMMUNICATION AND JOURNALISM:
Sindhu Manjesh is a lecturer in journalism with a PhD in Communication from American University, Washington, D.C. Her primary research areas are the sociology of news and global comparative journalism. Previously, she taught at American University's School of Communication, and in India at The Times School of Journalism and Mount Carmel College. She has 15 years of professional experience as a reporter, writer, and editor in news television, print, and digital media. Honors include the Commonwealth Broadcasting Association's award for exceptional reporting, a Fulbright Humphrey Fellowship at the University of Maryland, and a Chevening Scholarship at the School of Oriental and African Studies (University of London).
COMPUTING AND INFORMATION SCIENCE:
Sepideh Ghanavati is a tenure-track Assistant Professor of Computer Science whose research interests are in the areas of information privacy and security, regulatory compliance, software engineering, machine learning, and the Internet of Things. Previously, she worked as an assistant professor at Texas Tech University, visiting assistant professor at Radboud University in Nijmegen, the Netherlands, and visiting faculty at Carnegie Mellon University. She was also a Marie-Curie postdoctoral research fellow at the Luxembourg Institute of Science and Technology and a visiting researcher at the Fondazione Bruno Kessler (FBK), IRST in Italy. She received her PhD in Computer Science in 2013 from the University of Ottawa.
Nimesha Ranasinghe is an Assistant Professor in the School of Computing and Information Science and is affiliated with the National Center for Geographic Information and Analysis (NCGIA) at UMaine. He joined the School at the beginning of 2018. Previously, he worked as a Research Fellow at the National University of Singapore and the New York University (NYU Abu Dhabi). Dr. Ranasinghe's research interests include Multisensory Interactive Media, Augmented Reality, and Human-Computer Interaction. He is well-known for his Digital Taste (a.k.a. Virtual Flavors) and Virtual Cocktail (Vocktail) inventions and featured in numerous media around the world including New Scientist, NewYork Times, Time Magazine, BBC Radio, Discovery Channel, and Engadget. Furthermore, he has published his work in several prestigious academic conferences and journals including ACM conference on Human Factors in Computing Systems (CHI), ACM conference on Multimedia, and Journal of Human-Computer Studies. He has received numerous awards for his research works; in 2014 his work on Digital Lollipop was selected as one of the ten best innovations in the world by the netexplo forum in UNESCO HQ, Paris.
Penny Rheingans is Professor and Director of the School of Computing and Information Sciences. Until recently, she was Professor of Computer Science and Electrical Engineering (CSEE) and Director of the Center for Women in Technology (CWIT) at the University of Maryland, Baltimore County. She received a PhD in Computer Science from the University of North Carolina, Chapel Hill and an AB in Computer Science from Harvard University. She serves on the Board of Directors of the Computing Research Association (CRA). Her current research interests include the visualization of data important to increasing student success, perceptual and illustration issues in visualization, and learning analytics.
Manuel Wöersdöefer* is an assistant professor jointly appointed for this year in the School of Computing and Information Science and the Maine Business School. He is the author of a forthcoming textbook on engineering and computer ethics. His other research interests include business and human rights; corporate social responsibility and corporate citizenship; and climate ethics and justice. He completed his education with both a doctorate and a habilitation at Goethe University in Frankfurt, Germany, where he has also served as a visiting professor. He was most recently a research associate at the Murdough Center for Engineering Professionalism and the National Institute for Engineering Ethics and Climate Science Center at Texas Tech.
Terry S. Yoo is a new Associate Professor of Computer Science in the School of Computing and Information Science. He returns to teaching after 20 years with the Office of High Performance Computing and Communications of the U.S. National Institutes of Health. Prior to his appointment with the Federal government, Terry was Assistant Professor of Radiology and Research Assistant Professor of Engineering at the University of Mississippi. Winner of national awards for both technical achievement and service, Terry holds an AB in Biology from Harvard, and an MS and PhD in Computer Science from UNC Chapel Hill.
ENGLISH:
M Plymale Larlee has spent the past 15 years teaching academic writing courses for the UMaine English Department, where she now joins the faculty as a lecturer. In addition to teaching a spectrum of academic writing courses, she has worked extensively with the First Year Writing (FYW) Program, both as an instructor and, for the past eight years, as the Assistant Director of Composition. In that role she has worked in tandem with others on the Writing Program Administration Team on assessment, curriculum design for First-Year Writing, and new teacher and graduate teaching assistant training and mentoring.
Heather Howard* is a lecturer in the Department of English this year. She has an MA in English from the University of Maine and a BA from Metropolitan State University of Denver. Her Master's research focused on the poetics of digital and cinematic texts in the field of English Studies. She has taught a variety of writing courses at UMaine, and will be teaching primarily business and technical writing in the coming year.
Danielle Pafunda* is a poet and writer whose books include The Dead Girls Speak in Unison (Bloof Books reissue 2016), Natural History Rape Museum (Bloof Books), Manhater (Dusie Press), Iatrogenic (Noemi Books), and My Zorba (Bloof Books). Her poems, essays, and criticism are widely published. She holds a PhD in literature from University of Georgia and a Poetry MFA from New School University. At UMaine, she has an appointment as assistant professor for this year and will teach primarily creative writing.
HISTORY:
Mary Freeman is a historian of the nineteenth-century United States, with a focus on Maine and New England. She recently received her PhD from Columbia University and joins UMaine as a tenure-track assistant professor of History. Mary's work explores the social, political, and cultural history of slavery and emancipation. Her current book project examines letter writing in the nineteenth-century antislavery movement. At UMaine, Mary will be researching abolition and African American politics in Maine, and she plans to develop public history projects and courses that incorporate local history, archival research, and digital technologies. As a native Mainer (she grew up in Bath), Mary is excited to return to her home state.
INTERNATIONAL AFFAIRS/HISTORY:
M. Asif Nawaz is joining the faculty as an Assistant Professor in the Department of History & the International Affairs Program. He has been a lecturer in the Dept. of Political Science & International Affairs Program at UMaine since January 2017. He received his Ph.D. in 2017 in Security Studies from Kansas State University.
His research focuses on countering violent extremism and terrorism. He specializes in Middle Eastern & South Asian politics, and his research utilizes interdisciplinary approaches to study the rise of political Islam and terrorism in the Middle East and South Asia. His teaching interests include international affairs, terrorism and political violence, political Islam, and South Asian and Middle Eastern military history.
MATHEMATICS AND STATISTICS:
Tim Boester* received a Master's in Mathematics and a PhD in Educational Psychology at the University of Wisconsin-Madison. He specializes in studying how undergraduates learn mathematical concepts. Since earning his doctorate, he has worked at Wright State University in Ohio and the University of Illinois at Chicago. He has a two-year appointment as assistant professor at UMaine to help improve incoming student's Calculus-readiness. He has hiked over 1000 miles of the Buckeye Trail in Ohio, and can't wait to start hiking here in Maine!
Jack Buttcane is a new tenure-track assistant professor in mathematics. He has degrees in computer hardware/software, physics, and mathematics from Oregon Institute of Technology, Southern Oregon University and UCLA, where he received his PhD in mathematics. He was a professional programmer for roughly a decade, and he taught for a year at Southern Oregon University before heading to UCLA. He held a pure research postdoc at the University of Göttingen in Germany for three years, and a mixed research and teaching postdoc at SUNY Buffalo for three years.
Tyrone Crisp joins the Department of Mathematics and Statistics as a tenure-track assistant professor of mathematics, following several years of postdoctoral research and teaching at the University of Copenhagen; the Max Planck Institute for Mathematics in Bonn; and, most recently, Radboud University in Nijmegen, the Netherlands. He received a PhD in mathematics from The Pennsylvania State University in 2012, following undergraduate studies of mathematics and French in Newcastle, Australia. Tyrone's research focuses on representation theory, an area of pure mathematics that studies symmetries of mathematical and physical objects.
Jaehong Jeong is a tenure-track Assistant Professor of Statistics in the Department of Mathematics and Statistics at the University of Maine. From 2015 to 2018, he was a postdoctoral fellow in the Statistics program at King Abdullah University of Science and Technology in Saudi Arabia. He received his PhD in Statistics from the Texas A&M University in 2015. As a spatial statistician, his research interest lies in global spatial and spatio-temporal statistics on the surface of a sphere. His recent work involves non-Gaussian processes and applications to climate model simulation.
Ayesha Maliwal* received her master's degrees in economics in 2014 and in mathematics in 2016. She worked as a part-time instructor in the Department of Mathematics and Statistics at the University of Maine since January 2017 and was invited to join the full-time faculty as a Lecturer for this year. Her research focus is mathematical economics and game theory. Ayesha grew up in Delhi, India and came to Maine in 2014 to pursue her graduate work in mathematics.
Matthew Morse* is completing his PhD in statistics at Boston University, where he also earned an MA in mathematics and taught a wide range of courses in both mathematics and statistics. He also has professional experience as a database developer and medical records technician. He joined the UMaine faculty for this year as a lecturer in statistics.
Julian Rosen* has a position for this year as an assistant professor of mathematics His research is in arithmetic geometry and related fields, and he is particularly interested in motives and motivic Galois theory. He earned his PhD at the University of Michigan. He previously taught there and also held post-doctoral positions at the University of Georgia and the University of Waterloo.
MUSIC:
Webb Parker is a tenure-track Assistant Professor of Music Education and Voice in the School of Performing Arts. For the past six years, he served as Assistant Professor of Music Education at the University of Southern Mississippi. Webb holds degrees from Samford University, University of Alabama, and University of Oregon, and taught high school choral music in Alabama for five years. He is an active clinician, singer, and adjudicator throughout the country. He is also the newly appointed Artist Director of the Bangor Area Children's Choir and Director of Music at St. John's Episcopal Church in Bangor.
PHILOSOPHY:
Donald Beith works on the question of how life, at all levels, involves radical creativity. His recent book, The Birth of Sense, explores the nature of development, from biological, ecological, psychological and ethical approaches. He is currently working on projects in the origins of environmental responsibility, as well as evolving new philosophical concepts to help understand recent developments in biotechnology. Don enjoys working with students from across the disciplines, especially in courses about bioethics, environment, law and technology. He joins the faculty as a tenure-track assistant professor of philosophy.
Hao Hong is a tenure-track assistant professor of philosophy and CLAS-Honors preceptor of philosophy. He worked in the Department of Philosophy, Religion, and Classics at Butler University in 2017/18 as a future faculty teaching fellow. He received his PhD in philosophy with a minor in the history and philosophy of science from Indiana University in July 2018. Before that, he studied at Peking University in Beijing, China, receiving an MA in philosophy, a BA in philosophy, and a BA in economics. Hao's primary research interests are metaphysics, Chinese philosophy, and comparative philosophy. He has broad teaching interests, including ethics, logic, philosophy of science, philosophy of language, and philosophy of religion.
Derek Michaud* specializes in philosophy of religion and the history of philosophy. He has a BA in psychology from UMaine, an MA from Bangor Theological Seminary, and a STM and PhD in religious studies from Boston University. Derek joined the faculty here at his alma mater in 2015 as an adjunct and will be a lecturer in the Department of Philosophy for this year. At UMaine, he teaches courses in ethics, religious studies, critical thinking, and the history of philosophy. His first book, Reason Turned into Sense: John Smith on Spiritual Sensation, was published by Peeters in 2017.
PHYSICS:
Liping Yu joins the Department of Physics as a tenure-track assistant professor. He got his PhD in Physics from North Carolina State University in 2009 and did his three-year postdoctoral training at National Renewable Energy Laboratory in Golden, Colorado. After that, he worked as a research assistant professor first at the University of Colorado Boulder and then at Temple University in Philadelphia. He is a computational and theoretical materials scientist by training. His research specializes in the computational design of new materials for energy (e.g., solar cells, catalysts, and batteries) and electronic applications (e.g. flexible electronics, transistors).
POLITICAL SCIENCE:
Robert A. Ballingall is a tenure-track Assistant Professor of Political Science. His research interests lie in classical political philosophy and its fraught relationship to modern – especially liberal democratic – political thought. Before coming to Maine, he was Postdoctoral Fellow in the Program on Constitutional Government at Harvard University and Allan Bloom Memorial Postdoctoral Fellow for Research in Classical Political Thought at the University of Toronto, where he also took his PhD. His first book, The Reverent City: Plato's Laws and the Politics of Ethical Authority, is under contract to the University of Pennsylvania Press.
PSYCHOLOGY:
Mollie Ruben received her PhD in Psychology from Northeastern University. She then completed a two-year postdoctoral fellowship in health services research with the US Department of Veterans Affairs in the Center for Healthcare Organization and Implementation Research. Before coming to UMaine as a tenure-track assistant professor of psychology, she taught at Massachusetts College of Pharmacy and Health Sciences in Boston, MA. Her research focuses on nonverbal communication and social perception in everyday interactions and healthcare. She also studies the effects of patient-provider communication on health disparities among minority patient populations.
SOCIOLOGY:
Amber Tierney is received her PhD from the University of California, Irvine and comes to UMaine from Hartwick College. Amber's work broadly investigates how activists leverage the media to press for social and criminal justice. Her research and teaching additionally examines indigenous studies, race/ethnicity, immigration, and community-based pedagogy. She also holds graduate degrees in political science and policy analysis and spent time in the tech industry at Google. She is now a tenure-track assistant professor in the Department of Sociology. Amber is excited about moving to Maine to explore new running trails, overindulging on lobster rolls, and residing in Stephen King's domain.
*-denotes a fixed length position