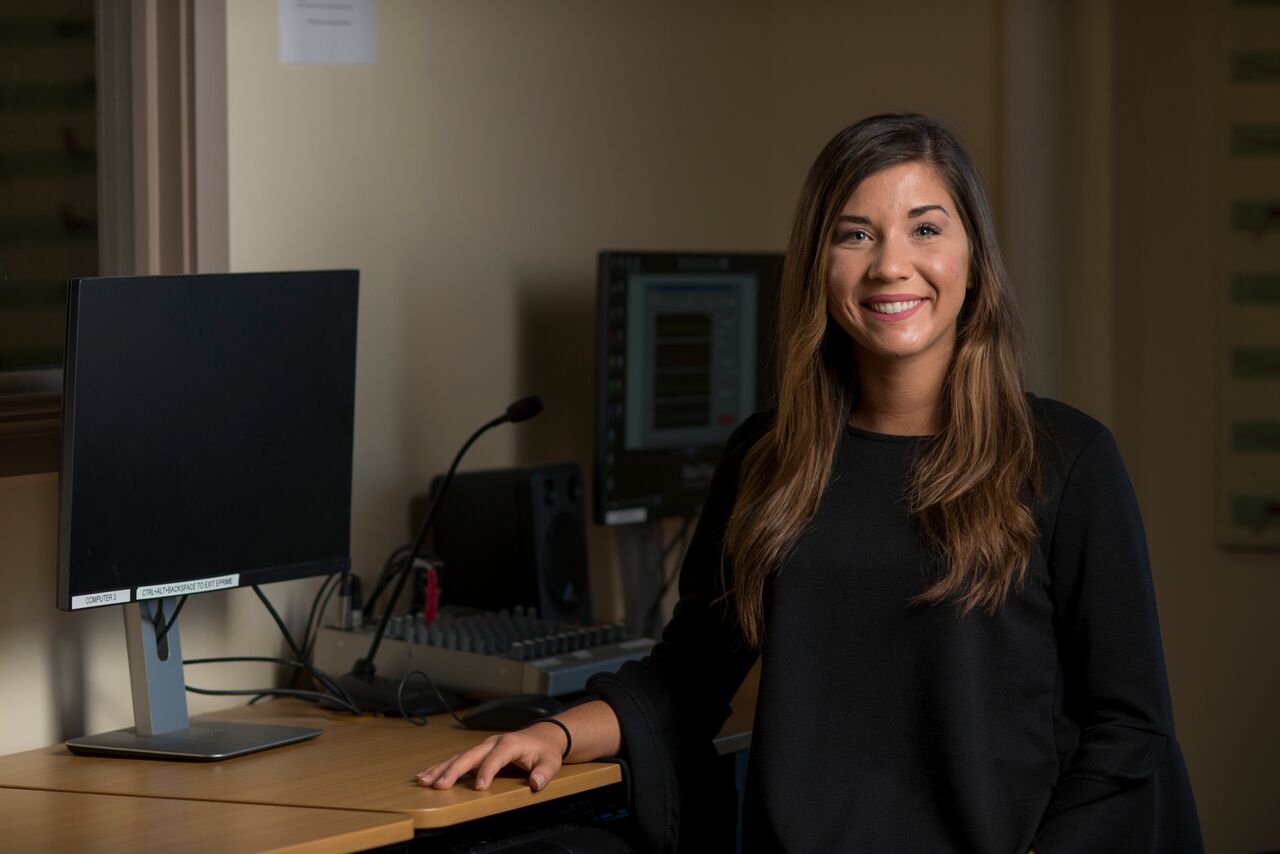 Senior Meaghan Delcourt Stands Out with her Psychological Research
The University of Maine is known for many things–from its tight knit community, to its bevy of scholastic opportunities, to its passionate students and faculty. So it is not at all surprising to find a student who embodies all that Maine has to offer.
Meaghan Delcourt, a fourth year Psychology and Sociology double major with a Neuroscience minor from Old Town, has taken advantage of the research opportunities provided by the Psychology Department and delved into her work on an impressive scale. She is the lab manager of the Maine Mood Disorders Lab, and, as a junior, earned a fellowship award from the Center of Undergraduate Research to continue her work in the lab on the correlation between depressive rumination and self-injurious behavior.
In collaborating with a graduate student, Meaghan has been able to investigate "how aspects of one's thoughts, behaviors, and physiological responses are impacted by non suicidal self-injurious behaviors". She is passionate about this area of study because she says these types of issues are very important because they are prevalent among college-aged individuals.
Meaghan says, "the best thing the Psychology Department offers is the opportunity to be involved in research from very early on. I am a part of the Research Intensive Track here which basically just requires me to do research for course credits and complete a senior research thesis. But there are so many opportunities to participate in research and gain awesome experience in a whole variety of labs".
Her ability to take advantage of these opportunities has allowed her to expand on her study in her four years here, and she is currently writing her thesis on her work.
When asked what she hoped to be the culmination of her hard work she said that she is "optimistic that our research will be able to shed light on how individuals with and without a history of nonsuicidal self-injury differ in thoughts and behaviors so that interventions can be more targeted and successful! Nonsuicidal self-injury and suicidal thoughts and behaviors do not go hand in hand, but they are related. This project helps to clarify the differences that exist and serves to inform how that trajectory can be stopped".
Post graduation this spring Meaghan is planning on taking a post-baccalaureate position for a couple years to gain more research and clinical experience, with plans to apply for Ph.D. programs in clinical psychology. She credits choosing this path to her experiences here at the University of Maine and in the Maine Mood Disorders Lab.