Welcome to the Johnson Lab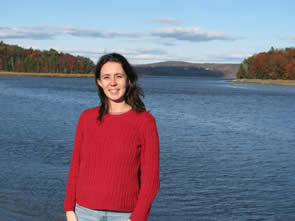 Dr. Teresa Johnson: Associate Professor Teresa.Johnson@maine.edu
Applied Marine Social Science Research
Trained in human ecology, Dr. Johnson's interdisciplinary social science research is focused on understanding the implications of social, ecological, and institutional change facing individuals and communities and how they respond to them. 
Her work is especially concerned with the role of institutions in the management of common-pool resources and enhancing resilience in the face of social-ecological change. She is particularly interested in understanding and improving participatory approaches to science and management, such as co-management, collaborative research, and sustainability science.  
She has published in the areas of marine fisheries, aquaculture, renewable energy, cooperative research, and marine resource dependent communities. 
Mentoring and Teaching
Dr. Johnson advises graduate students in the School of Marine Sciences' Marine Policy and Dual Marine Policy-Marine Science degree programs and in the Ecology and Environmental Sciences (EES) graduate program. 
She also mentors undergraduate research assistants in marine social science or marine policy, including Honors and capstone projects in SMS and other units.
She currently teaches an undergraduate course in marine policy  and fisheries management and graduate seminars in marine policy.