Invention Disclosure
Online Invention Disclosure Submission
Click Here to Report a New Invention.
User Guide
Welcome to the Office of Strategic Partnerships, Innovation, Resources and Engagement's (SPIRE) online invention disclosure system.  We hope this online service will provide quick, convenient and easily accessible information regarding your invention disclosure and intellectual property protection.
The sign-in process uses your current maine.edu credentials. If you have issues with your single sign-on credentials, contact UMaine IT at help@maine.edu or (207) 581-2506.
Click the "Report A New Invention" icon above, or go directly to http://umaine.wellspringsoftware.net.  Log in using your maine.edu credentials.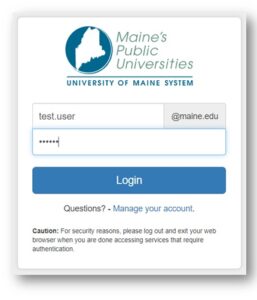 This is your homepage. Any agreements, inventions and online disclosure you have created or have been listed as a co-inventor on will appear here.  To create a new invention disclosure, click Invention Disclosure under the Tasks panel.
As you answer the questions throughout the disclosure, be sure to click Next, located at the bottom of the page, if you will need to come back to complete the disclosure at a later date. The information will be saved and you can log back in to finish the disclosure.
On the first page, please list the title of invention, and a description of the invention.  Please list any additional co-inventors by entering the pertinent information and clicking the plus sign to add to list. Once all co-inventors have been entered, click Next.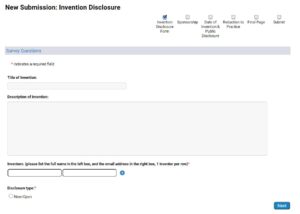 Sponsorship: Please list any sponsors of your invention, including any funds approved specifically to create your invention. This step ensures appropriate disclosure to the Sponsor by the Office of Strategic Partnerships, Innovation, Resources and Engagement. If only internal UMaine funds were used, please note this by checking "No" and make a note in the Sponsorship Details." Once completed, click Next.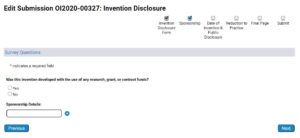 Date of Invention & Public Disclosure: Please Note: First Public Disclosure refers to the date of any presentation (written and/or oral, including poster presentation, PowerPoint presentation, oral explanation) or publication for individuals who are not University employees or who are not subject to a Confidential Disclosure Agreement. This online disclosure submission is not considered a public disclosure as it is part of the intellectual property protection procedures of the University. Likewise, any federal or state grant application that includes confidential information is not considered a public disclosure. (Please do, however, mark such applications Confidential to alert the agency. Be careful of abstract information submitted as some agencies will post such abstracts publicly online.) Any public disclosure voids foreign patent protection rights immediately. In the U.S., the public disclosure begins a one year bar date for applying for patent protection. If you are anticipating a public disclosure, contact OIED immediately to attempt to secure foreign patent rights with a provisional patent application.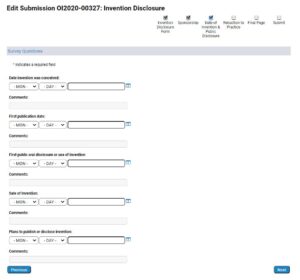 Reduction to Practice: Mark whether the invention has been reduced to practice, as well as the date it was first reduced to practice, if applicable.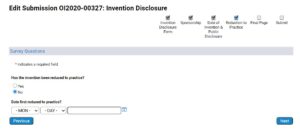 Final Page: Please review the University's policies governing patents and copyright and other policies affecting sponsored research.  Then, attach any pertinent documentation relating to your invention, i.e. lab results and related images, public disclosure materials, white papers, journal manuscripts, etc., if available. Click Browse to locate the file for uploading, then click Attach File to upload. Once all files are attached, click Next.
Submit: After reviewing your disclosure, please be sure to click the box indicated below to sign off on the submission before clicking the Submit button.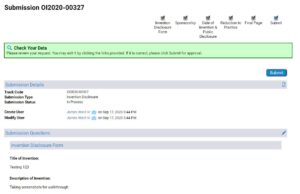 Once you submit the disclosure you will be taken to your homepage, where the new disclosure now appears. SPIRE will contact any co-inventors to alert them to the disclosure and request their review and sign-off prior to reviewing the disclosure. Once all inventors have reviewed and signed off, SPIRE will review the disclosure, contact all inventors with any questions and will alert you to progress.  Note: If you have not yet submitted the disclosure and need to continue completing the process, you will see the disclosure listed as still being In Progress. You can click on the disclosure to complete the process at any time.
If you have any questions regarding the invention disclosure process, please contact Janet Yancey-Wrona, Technology Business Development Manager at janet.yanceywrona@maine.edu.
If you have any questions regarding how to use Sophia, please contact Karen Lidral at Karen.Lidral@maine.edu or (207) 581-2228.
If this is your first time using Sophia, continue through the following steps to setup your home screen to show your records.  On the Home Screen, click Customize Home Page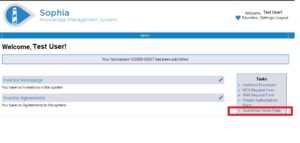 Add all of the available Widgets to your Home Page. You can adjust the order that they will appear on the screen by changing the order under Current Home Page Widgets. Click Finish when done.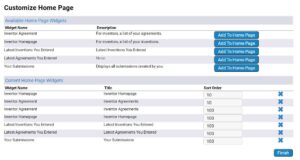 Once you return to your home screen, you will see the list of your active agreements and disclosures.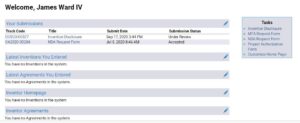 Thank you for completing the invention disclosure process and fulfilling your obligation to disclose your inventions to the University of Maine. Please be sure to contact SPIRE for assistance with any non-disclosure agreements, material transfer agreements, or industry sponsored agreements.