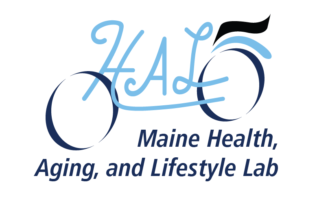 Welcome to the HAL Lab!
Welcome to the Maine Health, Aging & Lifestyle (HAL) Lab! Established in 2016, the HAL lab is the University of Maine's research hub for studying mid-life risk factors for dementia. The pathological signatures of Alzheimer's disease (including amyloid plaques and tau tangles) begin to form decades before the behavioral symptoms (cognitive decline) appear (Sperling et al., 2011). We aim to understand the biological and behavioral variables that can contribute to healthy versus abnormal aging during middle-age. 
Under the direction of Dr. Fayeza Ahmed, HAL research has included the analysis of modifiable risk factors, including nutrition, exercise and physical activity, and sleep, in both young- and middle-aged adults. Our past studies have included cognitive assessment and interviews, self-report questionnaires, and biological variables, including bloodwork, genetic data. We are also examining cerebrovascular function (the brain's blood supply system) through the use of transcranial doppler sonography. Data collected from our studies has been presented at local, state, and international conferences. 
Our lab takes a multidisciplinary and collaborative approach to research, including working with scientists at Jackson Laboratories (Howell Lab) in Bar Harbor, Maine, and the Maine-Syracuse Longitudinal Study (MSLS) of aging, cardiovascular disease and cognitive performance.  
If you are interested in joining the HAL Lab, please reach out to Dr. Ahmed (
fayeza.ahmed@maine.edu
) for more information! You can also complete the google form for
HAL Lab RA Application.
Undergraduate research assistants (RAs) are involved in study recruitment and managing social media, data collection, and data entry. RAs can also expect to learn about the various theories of cognitive aging and research design and processes. Conference presentation opportunities are also available. 
If you are interested in volunteering for one of our studies, check out our 'Research Projects' tab for more information! 
The 2021 HAL Lab, from left to right: Dr. Fayeza Ahmed, Taylor McMillan, Ethan Lowell, Jaclyn Hazlewood, Amanda Wain, Lindsey Lagerstom, Jenn Thompson.