UMaine Mechanical Engineering graduate and NASA Manager, Bridget Ziegelaar was Commencement Speaker on May 11, 2019
https://umaine.edu/news/blog/2019/04/30/nasa-manager-and-old-town-native-bridget-ziegelaar-to-give-umaine-commencement-address/
NASA manager and Old Town native Bridget Ziegelaar to give UMaine Commencement address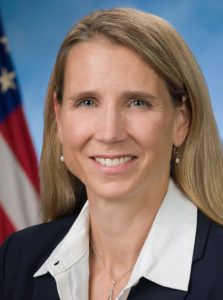 Bridget Ziegelaar, the operations manager for NASA's International Space Station (ISS) Research Integration Office, is the University of Maine Commencement speaker for the May 11 ceremonies.
The Old Town native and UMaine alumna will address both morning and afternoon ceremonies of the 217th Commencement in Alfond Sports Arena.
"Bridget Ziegelaar is a role model and leader whose talents have contributed to NASA's success for the past two decades," says University of Maine President Joan Ferrini-Mundy. "This community and the state of Maine are extremely proud of her achievements, and we look forward to welcoming her back to her alma mater to share perspectives on a career that has taken her to such great heights."
In her role as operations manager for NASA's ISS Research Integration Office, she is responsible for leading process improvements to maximize ISS research and development, and enabling commercialization of low Earth orbit through the facilitation and support of nongovernment activities utilizing ISS.
Ziegelaar began her career at NASA as a graduate student intern in the Office of External Relations at NASA headquarters in Washington, D.C. After accepting a cooperative education position at the Johnson Space Center in Houston, Texas, she worked in the Mission Operations Directorate Space Station Thermal Systems Group, becoming a full-time NASA employee in 1998.
For three years, Ziegelaar worked as a thermal systems flight controller, supporting flight operations in Mission Control for several Space Shuttle missions to ISS. In 2001, she moved to the Extravehicular Activity (EVA) Office, where she was designated as the STS-114 EVA flight manager, responsible for all aspects of spacewalk integration.
Following the Space Shuttle Columbia accident in 2003, Ziegelaar became the lead EVA Office representative on the team chartered to develop critical repair techniques for the Space Shuttle's reinforced carbon-carbon (RCC) thermal protection system. She continued to manage spacewalks, leading efforts for five additional ISS assembly missions encompassing 15 spacewalks.
In 2011, Ziegelaar transitioned to the ISS Program Office, where she has held various leadership and supervisory roles, including managing programmatic and technical integration of scientific and technological payloads for operation on ISS. She served as the increment manager for ISS Expedition 54, managing daily real-time programmatic integration of ISS operations in Mission Control before joining the ISS Research Integration Office in 2018.
The Old Town High School graduate received a bachelor's degree in mechanical engineering from UMaine and a master's degree in science, technology and public policy from George Washington University.
Her many honors include the NASA Exceptional Achievement Medal, and multiple Space Shuttle Mission Superior Accomplishment awards. Ziegelaar was a Space Flight Awareness Launch Honoree and a Spirit of Maine Achievement Award recipient.
Contact: Margaret Nagle, 207.581.3745