Back Publications
Below are descriptions of our last 20 years of publications. These books are often available via online booksellers, or through the University of Maine Bookstore. Please contact them directly for more information.
Note: We are no longer able to fulfill orders from individuals for our publications. For bulk orders including textbook orders, please contact us with your request and to check availability and pricing.
---
Sunrise at Sipayik: A Passamaquoddy Tribal and Personal Oral History
Northeast Folklore Vol. XLVII (2015)
By David A. Francis as told to Karen Schaumann

ISBN: 978-0-943197-42-5, 144 pp.
My name is David Francis Sr. I am the oldest living Passamaquoddy tribal member (as of November, 2015). By my people, I am known for my language work, and as a story-teller. First, I will tell you about the Passamaquoddy tribe, and some of our history. Then, I'll tell you about myself, and what it was like when I was growing up, and what life is like today on our reservation at Sipayik "Pleasant Point". We are the most eastern tribe in the U.S. Originally, we called ourselves Nipayaponiyik, "people of the Northern Lights."
---
Crab Picking: An Endangered Maine Cottage Industry
Northeast Folklore Vol. XLVI (2014)
By Blossom Kravitz

ISBN: 978-0-943197-01-02, 289 pp.
Author Blossom Kravitz conducted interviews with thirty-two people connected to the crab fishery between November 2011 and November 2012. She placed these interviews in the context of fishing regulations and policies. In addition to crab pickers, she interviewed individuals who held various jobs in, or interacted with the crabbing industry, including fishermen, seafood buyers and distributors, a seafood composter, a farmer, a food historian, a retired lobster and crab biologist, members of the Penobscot East Resource Center and the chief of the Maine Marine Patrol. From these interviews Kravitz tells a fascinating story of a once-thriving industry in decline due to regulations that caused many to leave the occupation.
---
A Sampler of Songs and Stories from the Northeast Archives of Folklore and Oral History
Northeast Folklore Vol. XLV (2013)
Compiled and edited by Joshua Parda and Pauleena MacDougall
ISBN: 978-0-943197-40-1, 225 pp. 15 illustrations, 1 map
Fifty-four songs and stories are included in this volume, along with information about the context
of the performance, the author or artist, and the collector. Readers will notice that we have included a handful of songs from "Folksongs from Maine" in the Maine Song and Story Sampler, but we have also included much more. For starters, the Sampler includes not just songs, but also stories. Moreover, the Sampler has expanded the range beyond the borders of Maine into New Hampshire and Maritime Canada. Maine and its neighbors are connected by a shared culture, ecology, economy, and history within the region we refer to as "the Northeast." The Sampler is in part a reflection of those regional ties.
---
XLIV: 2012
British Ballads From Maine Volume II
ISBN 978-0-943197-40-7
Phillips Barry (1880–1937), Fannie Hardy Eckstorm (1865–1945) and Mary Winslow Smyth (1873–1937) collaborated on the collection of ballads in Maine—both British and American—for a period of about twelve years that resulted in the publication of British Ballads from Maine by Yale University Press in 1929. The three also collaborated on the
Bulletin of the Folk-Song Society of the Northeast from 1930–1937. The volume that is here reproduced was conceived by the three as British Ballads from Maine Volume II.This long-lost work represents an important chapter in the history of folk song scholarship and the work sheds some light on the thinking of Phillips Barry and his collaborators about folksongs—such things as origins, re-creations, textual patterns and singing styles—as well as their thoughts about the meaning of tradition. Barry laid important groundwork in folk song scholarship and this volume is a significant contribution of his work. Barry's extensive discussion of Child in his introduction will be of interest to scholars. The songs are also important. They are a major contribution from the repertoires of Eckstorm and Smyth's primary informants especially Susie Carr Young, Annie V. Marston, J.P. A. Nesbitt, Horace Priest and Mrs. James McGill.Northeast Folklore, vol XLIV, 2012346 pages, includes cd with tunes.
---
XLIII: 2010
Joshua Gross Rich (1820-1897): The Life and Works of a Western Maine Pioneer and Wildlife Writer
Compiled and Introduced by William B. Krohn
ISBN: 978-0-943197-37-1, 117 pp. Illustrations, soft cover
ISBN: 978-0-943197-38-8, hardcover
Joshua Gross Rich seemingly lived several lifetimes in the nearly eight decades he spent on earth. During various times, he made a living by trapping, guiding, farming. While living in the Rangeley Lakes region, he sold his winter catch to fur traders and as scientific specimens to Harvard University. Always willing to change with the times, Rich transitioned from being a professional trapper to a trial justice for Oxford County, a pension agent for Civil War veterans, a correspondent for many newspapers, and finally Bethel's humane officer. While living in Upton, Maine, Rich owned and operated a hotel, a general store, and an early – if not the first – fishing resort on the Rangeley Lakes, "Angler's Retreat."
---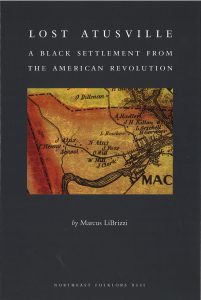 XLII: 2009
Lost Atusville: A Black Settlement from the American Revolution
by Marcus LiBrizzi
ISBN: 978-0-943197-36-4, 117 pp. Illustrations
"Tales plucked from the brink of oblivion" is how author Marcus LiBrizzi describes his new 118-page, illustrated book, recently published by the Maine Folklife Center.
Lost Atusville: A Black Settlement from the American Revolution provides a rare look at African-American life in early New England. Shedding light on the history of slavery, segregation, and integration in Maine, the book traces the rise and fall of a long-forgotten black community known as Atusville.
The book chronicles the facts, fiction, and folklore of the small community founded by London Atus, a slave who earned his freedom in part because of his role in the American Revolutionary War and the famous attack — the first naval battle of the war — on the British warship the Margaretta in Machias in 1775. While Atusville had six African-American families and its own school at one time, the last of its residents died in the mid-1960s. . Among the tales recovered are accounts of the Underground Railroad, buried treasure, and the apparitions of the dead. LiBrizzi, an associate professor of English at the University of Maine at Machias, is also the author of Dark Woods, Chill Waters, a collection of Downeast ghost stories.
---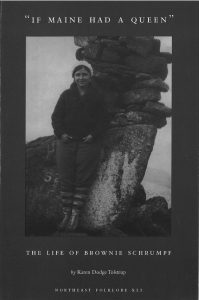 XLI: 2008
"If Maine Had a Queen:" The Life of Brownie Schrumpf 
by Karen Dodge Tolstrup
ISBN:  978-0-943197-34-0, 136 pp.
Brownie Schrumpf was a Maine institution.  She was born in Readfield, Depot, Maine, attended the University of Maine in Orono, served as a home economist and 4-H officer, wrote a column for the Bangor Daily News, and actively promoted Maine products at the eastern States Exposition every year for the Maine Department of Agriculture.
---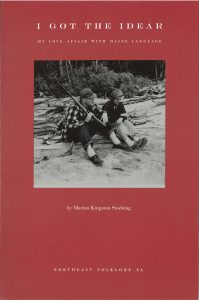 XL: 2007
I Got the Idear: My Love Affair with Maine Language
by Marion Kingston Stocking with an introduction and essay "Maine Dialects" by Pauleena MacDougall and Afterword: Dialects of Maine
ISBN:978-0-943197-33-3, 75 pp.
"At first at Orono I attacked student spelling with the missionary zeal of the new instructor. I had some success with standard American misspellings:
You wouldn't believe a lie for a minute,
But the word believe has a lie right in it.
But Maine spellings were a different matter.  A student, revising, would cross out and rewrite a problem word two or three times, and unless he went to the dictionary he often as not spelled it the way it sounded.  When I noted in the margin that I was amused by squarbell for squabble, the student was offended:  'It wasn't surposed to be funny.' The first paper in which I marked morden came back with the word "corrected" to modren. Later I was to receive mordren.  Interlectual was improved in another paper to interlectural.  A word like propaganda was infinitely misspellable.  I rather like propergander."
Marion Kingston Stocking has been an editor since 1938 when she began editing the yearbooks for the summer camp where she was counselor. In 1943 she edited student writing (aka "graded freshmen themes") in graduate school and continued as a teacher of writing even after "retirement."
From 1944 until recently she has been editing manuscripts of the Byron-Shelley circle and since 1954 the Beloit Poetry Journal, assembling A Folk-Song Chapbook for the magazine in 1955.  In 1977 she and her husband David became founders, owners, publishers and editors of the Latona Press in Lamoine, Maine.
---
XXXIX: 2006
No Flies on Bill: The Story of an Uncontrollable Old Woman, My Grandmother, Ethel "Billie" Gammon 
by Darcy G. Wakefield
ISBN:078-0-943197-32-5, 292 pp.
Billie Gammon is well known in Maine as the founder of the Washburn-Norlands Living History Center in Livermore, Maine.
"This is a fascinating reflection on the life of an accomplished public historian through a series of oral history interviews conducted by her author/historian granddaughter. It is an amazing story that illuminates the real joys and real struggles of one woman's life in Maine during the twentieth century. The author deftly crafts the story with historical narrative, quotes from her grandmother, her own reflections, and a few memories from other informants. It is written in an engaging and lively style that will be of great interest to the readers of Northeast Folklore."–Professor Martha McNamara, University of Maine.
---
 Out of print XXXVIII:  2005
The Life and Writings of Manly Hardy (1832-1910): Fur Buyer, Hunter, and Naturalist 
Compiled and Introduced by William B. Krohn
ISBN 978-0-943197-30-0, 345 pp., plus index 38 b&w illus.
---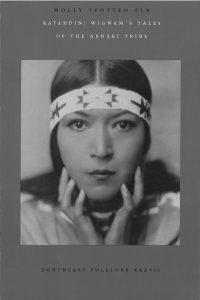 XXXVII: 2002
Katahdin Wigwam's Tales of the Abnaki Tribes
By Molly Spotted Elk
with an introduction by Bunny McBride
Edited by Pauleena MacDougall
ISBN 0-943197-29-5, 208 pp.
Molly Spotted Elk was a Penobscot from Old Town, Maine, who traveled the world as a dancer. Her greatest ambition was to be a writer, and she spent much of her time while on the road writing down the traditional stories of her people. Published here for the first time are Molly's versions of many traditional Penobscot stories, including the tale of Katahdin; the story of the origin of sweet-grass; and how the hummingbird lost his song. This volume also includes a Penobscot-French dictionary composed in France by Molly and translated to English by the editor.
---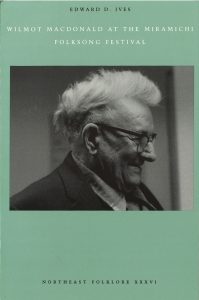 XXXVI: 2001
Wilmot MacDonald at the Miramichi Folksong Festival 
by Edward D. Ives and Margaret L. Steiner
CD produced by Bruce B. Williams and Kevin Champney
ISBN 0-943197-28-7 62 pp. 10 photographs., 62 pp. 10 photos, CD included
If you enjoy the traditional singing of the lumberwoods of Maine and the Maritimes, this is the CD for you! It features the singing of Wilmot MacDonald at the Miramichi Folksong Festival. Wilmot, a native of Glenwood, in the Miramichi region of New Brunswick, was, in the words of Sandy Ives, "unquestionably the finest singer of traditional songs I have ever heard." The book that accompanies the CD puts Wilmot's singing into cultural context by discussing his life and the history of the Festival.
---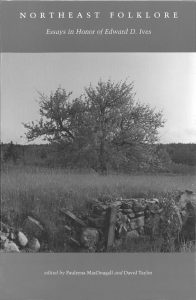 Out of Print XXXV: 2000
Northeast Folklore: Essays in Honor of Edward D. "Sandy" Ives
edited by Pauleena MacDougall and David Taylor
ISBN: 0-943197-27-9, 438 pp. 32 photographs
---
XXXIV:1999
Tales of the Maine Woods: Two Forest and Stream Essays (1891) 
by Fannie Pearson Hardy with an introduction by Pauleena MacDougall
ISBN: 0-943197-26-0, 105 pp. map included
Fannie Pearson Hardy guides the reader on a descriptive jaunt through the Maine woods, that will leave readers pining for the nature she describes. In the first essay, Hardy tells of a trip she took with her father in the region around Nicatowis in Northeastern Maine. She describes the plant life, the water, the birds and other creatures, and comments upon the men and women she met along the way. The second essay deals with the impact of Maine's new game laws. Hardy points out that the law's enforcement was biased against local people and in favor of out-of-state hunters. Those essays were printed int 1889 and 1890 in what Hardy called her "Out of Door Papers"— devoted to observations on birds—in Forest and Stream, the leading sports magazine of the time. This is a reprint of those essays.
---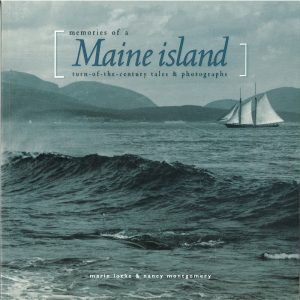 XXXIII: 1998
Memories of a Maine Island: Turn-of-the-Century Tales and Photographs 
by Marie Locke and Nancy Montgomery
ISBN: 0-943197-25-2, 112 pp. 200 photographs
The island is Little Cranberry and the photographs are from glass plates by Locke's great-grandfather. Based on interviews with "Gram" (Irene Morse Bartlett) the volume tells the lively story of Fred Morse, a fish skinner and storekeeper.
---
Out of print: XXXI: 1996
Time and Tide: The Transformation of Bear River, Nova Scotia
by Stephen J. Hornsby
ISBN: 0-943197-23-6, 79 pp.
Using mainly oral testimony & historic photographs, this book explores the major economic & social changes that affected Bear River, Nova Scotia, in the early twentieth century. Among these changes were the collapse of the traditional economies of farming, lumbering, shipbuilding, & shipping, & their replacement by tourism & government employment & welfare. Although the details & circumstances of these changes are unique to Bear River, the general story offers considerable insight into similar changes that occurred elsewhere in the Maritimes at about the same time. Much of the book is based on interviews conducted in the 1950s; they provide a fascinating glimpse into the lives of people in Bear River in the early 1900s. Most of the photographs in the book were taken by local photographer Ralph Harris, & are a remarkably fine depiction of a Nova Scotian community in the early twentieth century.
---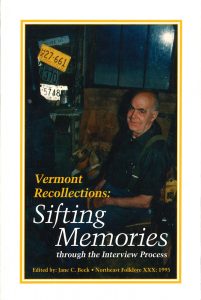 XXX: 1995
Vermont Recollections: Sifting Memories through the Interview Process
edited by Jane C. Beck
ISBN: 0-943197-22-8, 191 pp.
Taken from interviews with six individuals, Bernice Wheeler, Sophia Bielli, Marjorie Pierce, John Lamberton, George Daniels, and Dorothy Rogers, the life stories are used to highlight some aspect of the individual's life and to bring understanding to it.
---
XXIX: 1990
WHITE PINE ON THE SACO RIVER: AN ORAL HISTORY OF RIVER DRIVING IN SOUTHERN MAINE.
By Michael P. Chaney
ISBN: 978-0-943197-21-X, 88 pp.
This volume is about lumbering on the Saco River in New Hampshire and Maine from about 1920 to 1960. It tells the story of timber cruising, harvesting, river driving, and sawmill activity carried out by J.G. Deering & Son, now known as Deering Lumber Company.