Home
EET Overview
The Electrical Engineering Technology (EET) program at the University of Maine prepares students for professional electrical engineering careers in industry. The program provides students with the theory and "hands-on" experience necessary for them to quickly become productive in their jobs after graduation. The EET program offers two distinct paths to pursue the degree:
Electrical Option
This option provides students with a traditional electrical and electronic engineering curriculum with extra concentration in subject areas that are particularly important to industry in the Northeast. These subject areas are: analog electronic design, integrated motion control, electrical machinery operation and microcomputer applications. All courses in the program are taught in a way that includes a strong component of practical applications, along with basic theoretical concepts.
Information Technology Option
An increasing industry demand for engineers with basic electrical hardware knowledge along with advanced network communication and management skills has led to this option. This pathway requires students to take the basic electrical courses during the first two years of the program and then branch to information technology courses in the last two years of the program. The eight information technology electives are taken in the areas of information science, management information systems, computer science and computer engineering.
Engineering Technology Combines Engineering Theory with Practical Industrial Management Principles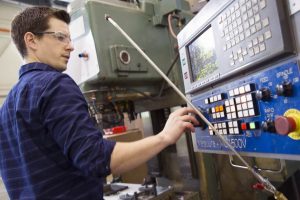 Regardless of option selection, the EET degree requires students to gain an understanding of engineering management principles. Courses in engineering economics, statistical process control and project management are required of all graduates. This highlights the program's focus on preparing graduates for entry into the work force upon graduation. The program is constantly updated in response to input from an Industrial Advisory Committee that has representatives from manufacturing, power utilities, process industries, data communications and electronics companies.