Maggie McAuliffe, EES Student Ambassador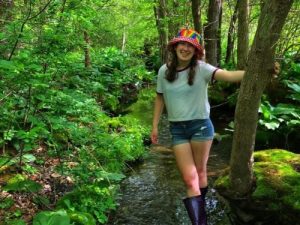 WHY DID YOU CHOOSE UMAINE AND THE EES PROGRAM?
What solidified my decision to come to UMaine was being able to sit in on a general EES class one day. I already knew I liked the location and how involved the school is in research, but when I sat in on that class, I knew this was where I wanted to go.
BEST HANDS ON EXPERIENCE?
On the last day of Soil Science Lab, we got to walk around through the University Forest looking at soil pits. We got to use all of the information we had learned throughout the semester and apply it when analyzing the pits.
FAVORITE CLASS AT UMAINE?
So far, my favorite class has been Forest Ecology with Dr. Shawn Fraver.
ANY WORDS OF WISDOM FOR INCOMING STUDENTS?
Look at the UMaine catalog or the EES course requirements and find out what academics call out to you!