Christopher Brahan, EES Student Ambassador
WHY DID YOU CHOOSE UMAINE AND THE EES PROGRAM?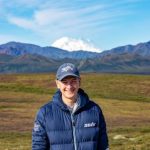 I chose UMaine's EES Program due the great value for the cost of attendance and the ability to further myself to meet my career goals. The wide selection of concentrations and classes offered in the program also is a big plus! I chose my concentration Aquatic Ecosystems and Wetlands because I have had a love for freshwater ecosystems my whole life. With the ongoing problem of aquatic invasive species (a topic I'm passionate in), I know that I needed to chose an interdisciplinary concentration which will allow me to learn more about invertebrates, fishes, plants, watershed dynamics and many other aquatic related skills so that I can be in a position to help preserve biodiversity in our precious watersheds.
BEST HANDS ON EXPERIENCE?
So far it has been field trips with EES 117 but I'm really looking forward to EES 217 in the Spring in the White Mountains of NH.
FAVORITE CLASS AT UMAINE?
There have been so many great classes. Some of my favorites have been Intro to Fisheries Science with Professor Walter Golet (He made being in class enjoyable everyday with his humor and often times his fisheries props) and KPE 286, Intro to Outdoor Facilitation and Leadership (The class allowed me to explore my leadership potential and ended up leading to an on campus job!).
ANY WORDS OF WISDOM FOR INCOMING STUDENTS?
Find activities that you enjoy on campus and dedicate time to them every week. Having something to do in between schoolwork is important in maintaining mental wellness. Many people forget that here on campus there are so many things to do in your free time! Paddle or fish on the Stillwater, ski or bike on the endless miles of the fun campus trails, rock climb at the Maine Bound gym, or participate in one of the 100s of clubs on campus, there is always something to do! Another great piece of advice for incoming freshmen is to read your syllabus, many of them have extra credit points hidden in them!