Julia Field, B.S. 2021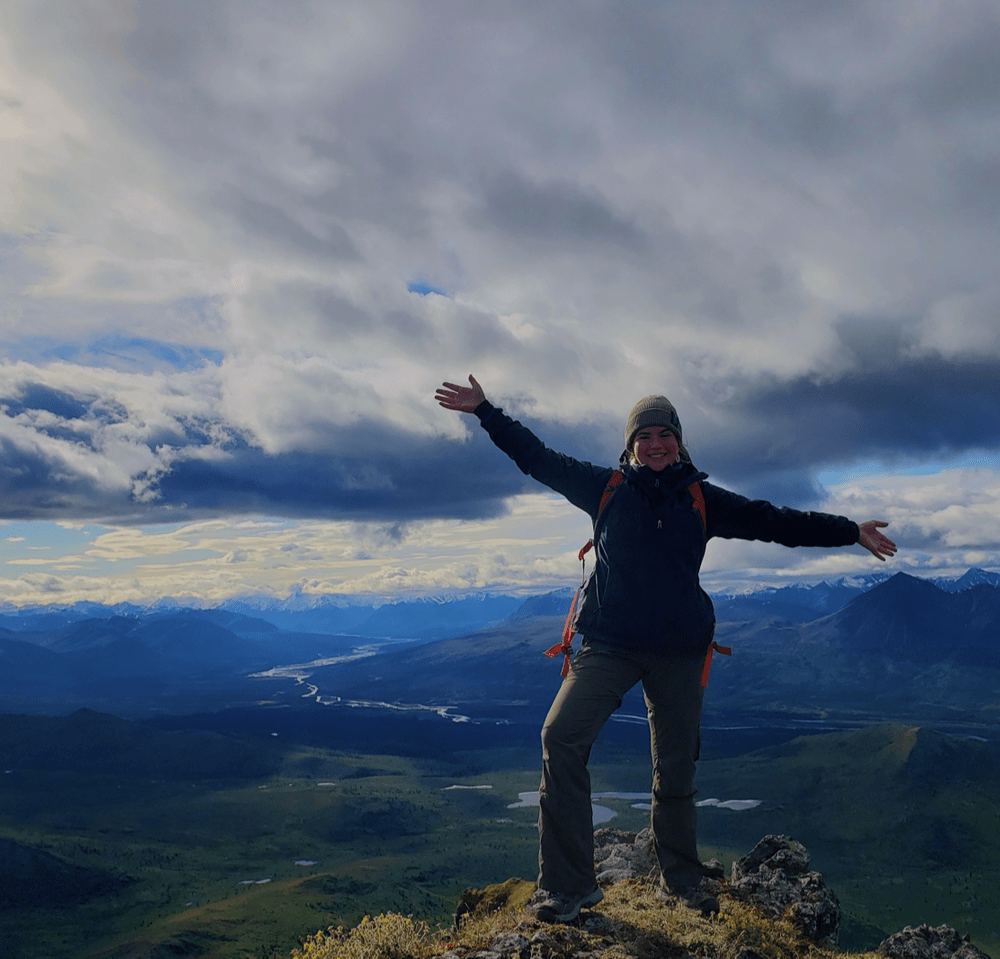 Julia received her B.S. from the UMaine Ecology and Environmental Sciences program in 2021, with a concentration in Ecosystems Ecology. She enjoys all things outdoors like hiking, climbing, and skiing, and she always brakes for frogs! She is passionate about conservation, mycology, and environmental education, all of which have roots in her undergraduate and post-graduation careers.
During her time at UMaine, Julia worked for the UMaine Alumni Association Phonathon branch, where she enjoyed talking to Alums about new things on campus and helping to raise money for the Alumni Fund. She often spent her summers working for various Maine-based conservation organizations, locally owned farms, and the Vector Biology Lab right here on campus.
As a rising sophomore, she worked as a lobsterman out of Cushing, Maine. She highlights that this opportunity was "extremely eye-opening" because she was able to see the effects of climate change and ocean warming first-hand. It also gave her a chance to connect with an integral part of Maine's history.
The following year, she worked as a conservation technician for the Waldo County Soil and Water Conservation District. Here, she participated in research to combat invasive species in Maine, with a focus on the emerald ash borer. This is an invasive beetle species that ravages ash trees, an important cultural resources for the Wabanaki community in Maine. Indigenous to the area we call Maine, the Wabanaki people use ash bark to weave baskets, which has significant economic and cultural relevance. Ash conservation is also important to overall forest health and biodiversity.  During this time, she used GIS software to map every ash tree in the city of Belfast for future monitoring. She also did a lot of work removing invasive plants such as Japanese Knotweed, Barberry, and Multiflora Rose from local parks and hiking trails in this area. In tandem with this, she also worked for a locally owned hemp farm in Unity Maine, for which she took soil samples, learned more about agriculture, and developed a lasting connection with the people she worked with.
The final summer before graduation, she was given the opportunity to work with Dr. Allie Gardner as a lab technician for the UMaine Vector Biology Lab in Deering Hall. There, she helped perform research on both tick and mosquito populations in Maine and collected samples for the Maine CDC. On her work during undergrad, Julia states, "All of the incredible experiences that I had at UMaine helped to prepare me for a future in environmental science and conservation. I am so thankful that I was able to acquire such a diverse skill set during my time as an undergrad!"
After graduation, Julia spent the summer in Alaska, where she worked as a backcountry naturalist and hiking guide. She had the opportunity to get out into the Alaskan backcountry with people and teach them about the incredible ecosystems around Denali National Park! She used her EES degree to help explain the rapid effects of climate change in the Alaskan subarctic alpine tundra, as well as the incredible geologic history of Mt. Denali and its surrounding area.
Julia highlights that one of the coolest things about her time in Alaska was the surge of the Muldrow Glacier! The Muldrow surges every 60-70 years, creating incredible disturbances in the tundra as it moves forward. For her, it was a huge privilege to be able to see the landscape around the glacier's toe change by the day. After the summer season in Alaska ended, Julia was able to get a new job with the USFWS as a traveling social science researcher and conservationist. Of her new position, Julia comments, "I will be photo journaling my research and experiences as I move around the country, and I am super excited to have been given this opportunity! A special thanks to EES announcements for emailing this position to me!"