Stephanie Shea Steps Down as EES Graduate Student Representative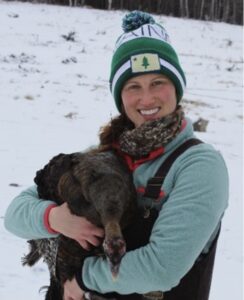 EES Ph.D. student Stephanie Shea, who has served as EES Graduate Student Representative for several semesters, has stepped down as she completes her degree. She first joined UMaine's graduate student government because she wanted to both become more involved on a day-to-day basis and to foster social and academic collaborations across different departments. During her time in this position, Shea highlighted how much she learned about the wide range of interdisciplinary work other graduate students participate in and the many ways faculty and staff assist with tailoring the program to individual needs.
While working in Pauline Kamath's Wildlife Disease Genetics Lab, Shea's research focused on wild turkey disease ecology with a specific emphasis on a retrovirus called lymphoproliferative disease virus (LPDV), which impacts wild turkeys right here in Maine. To study this issue, Shea, with the help of many volunteers from UMaine, collected samples for pathogen diagnosis from 637 live-captured and 72 hunter-harvested wild turkeys from 2017 through 2020. She found that there is an overall prevalence of 59% in Maine's wild turkey populations spanning across the state. Currently, Shea and her team are analyzing the effects LPDV has on various elements including home range, dispersal, and nest success, among others. In the next step of their research, they plan to investigate transmission dynamics through time and across state, and continental, spatial scales.
Moving forward, Shea says she would love to continue doing what she is now, a perfect combination of lab and field work that allows her to do a host of things like trap live wild turkeys out in the field and collect disease samples to process them in the lab. She also emphasizes the influential role mentors have played throughout her academic career and would love to be able to pay these experiences forward by mentoring students in a University setting. She would also be interested in working for a private organization or state or federal agency in which she can conduct research and become an active participant in conservation and disease management.
We wish her the best of luck in her future endeavors!