EES alumna CJ Langley named Schoodic Institute Chief of Staff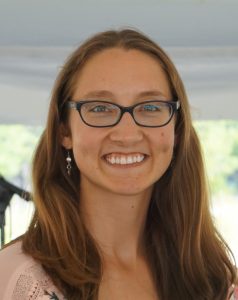 Schoodic Institute at Acadia National Park President Don Kent has announced the appointment of CJ Langley as Schoodic Institute Chief of Staff, effective September 10, 2018. In her new role, Ms. Langley will advise the President and CEO on strategies to enhance the operating efficiency of Schoodic Institute. Prior to her appointment, Ms. Langley served as Executive Assistant.
CJ received her M.S. in EES in 2017 and immediately went to work for Schoodic Institute. She credits her experience in the EES M.S. program for preparing her for her professional career. "I routinely had to manage multiple projects with shifting priorities, track progress and meet deadlines, all while communicating professionally under stress. Learning how to manage stress, stay cool, and prioritize your tasks are the types of skills and experiences that I know have had the biggest impact not only on my professional development, but on my personal growth as well."
CJ adds, "My project had me working across boundaries, bringing together various landowners, foresters, and researchers to address a common problem with real-world management implications. That directly translates into the work Schoodic Institute is engaged in. At the Institute, our researchers are working with local and regional NPS staff, community members, and various stakeholders to address questions with important management implications. Though I am not directly involved in the research, my experience has allowed me to understand the need to foster engagement, and the value in bringing these groups together in a coordinated effort to solve problems."
"The support I received from the faculty, staff, and students [at UMaine] was, and continues to be, incredible. Over the course of the program the support and encouragement continued to motivate me, provided opportunities I could not have anticipated, and has ultimately contributed to my success, both within the program and now. That gratitude extends to the faculty, staff, and students within EES, SFR, and beyond, and I am so thankful for the whole experience."
Congratulations from all of us at EES, CJ! For more information, visit the
Schoodic Institute
.