Sarah Nelson gives plenary lecture at Organization of Biological Field Stations meeting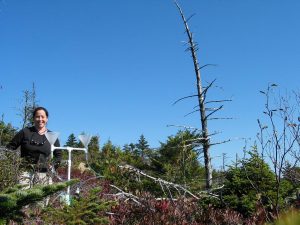 EES Director, Dr. Sarah Nelson, gave a plenary lecture at last week's meeting of the Organization of Biological Field Stations, held at the Schoodic Institute campus in Acadia National Park. The theme of the 53rd Annual Meeting was Partnerships and Collaborations. Nelson's talk, with co-authors from National Park Service, United States Geological Survey, EES Faculty affiliate Ivan Fernandez, and Hannah Webber of Schoodic Institute (as well as EES) was titled, "A legacy of pollution, a legacy of research: mercury in Acadia National Park". It described the arc of research about mercury at Acadia and its expansion to cover over 100 national parks as part of the Dragonfly Mercury Project. The story of the research involved high school teachers across New England and over 4,000 citizen scientists around the US, as well as other academic, non-profit, and agency partners. 
The photo provided is from the beginning of Dr. Nelson's career studying Acadia, around 1999, with the throughfall collectors used in her M.S. research.