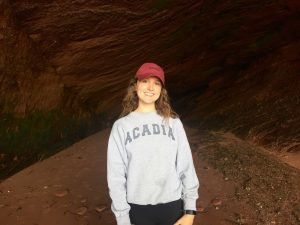 Michaela Murray, a rising senior in EES, recently attended the joint conference of the Agriculture, Food, and Human Values Society (AFHVS) and the Association for the Study of Food and Society (ASFS) in Madison, Wisconsin. This year's theme was "Agroecoprospect: The Politics of Integrating Values, Food, and Farming" and also featured dozens of presentations relating to alternative agriculture practices and food systems that promote economic viability, food security, and food sovereignty.
Murray presented with UMaine faculty members Mark Haggerty and Stephanie Welcomer on research they have done about the obstacles and opportunities associated with the Farm to Institution movement in Maine–a local food procurement network that links small Maine farmers with large institutions such as UMaine.
Murray says the conference was a valuable experience not only for sharing the Maine food systems research being done, but also for learning about the plethora of other research endeavors being done across the country that seek to promote a more sustainable global food system. Michaela's participation in this research  project and in the conference was made possible by a new Mitchell Center-funded endeavor facilitated by the UMaine Honors College's Sustainability Food System Research Collaborative (SFSRC). Michaela recently reflected on her experience in Madison on the Senator George J. Mitchell Center's website (below.)
Be sure to follow us on Facebook for updates on the work and research of EES students and faculty.
Conference Experience Adds to Sustainable Food Systems Research