Houston studies in Chile, lands sustainability job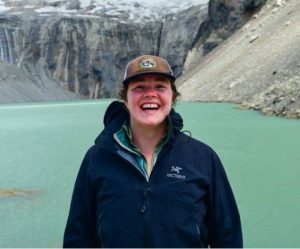 Emma Houston, B.S. 2017, spent the fall semester in Patagonia, Chile. With Round River Conservation Studies, Emma and her class learned about Patagonia's natural history and environmental conflicts (such as development of rivers for hydropower) of Patagonia, all while backpacking through this beautiful region. After graduation, Emma will be putting her environmental science degree and experience in outdoor education to work as an intern with the National Outdoor Leadership School (NOLS) in Lander, WY in their Environmental Stewardship and Sustainability department. She will be working on the school's environmental curriculum, tracking legislation affecting public lands, and mapping in GIS.
Emma shared a video blog from her experience hiking through the Aviles Valley, site of the future Patagonia National Park. Congratulations, Emma on your new position with NOLS! We look forward to hearing updates from your experiences in Wyoming and beyond.