News
Liv Glacier site 2, Mt. Mason
(Jan. 20, 2018)
The second field site for team ALGAE was at Mt. Mason, a nunatak that was a 20 minute helicopter ride north along the Ross Ice Shelf coast from our first site, the Duncan Mountains. We spent about 10 days working at this site, and celebrated the holidays and Christmas from camp!
Brenda and I collected 19 samples at Mt. Mason, most of these will be sent to Woods Hole Oceanographic Institution for radiocarbon dating, in order to determine the past positions of ice-dammed ponds higher up the valley.
John and Joel collected about 25 samples at Mt. Mason, whose surface exposure ages they will determine using beryllium-10 cosmogenic nuclide dating.
At the end of our work at this site, Brenda left to go join UMaine Masters student Allie Balter (Click here for her Antarctic blog updates!) and undergraduates Laura Mattas and Tyler Pollock for a field season in the Royal Society Range!
Liv Glacier site 1, the Duncan Mountains
(Jan. 15, 2018)
The second (and final!) field season of the Amundsen Liv Glacier Age Expedition (ALGAE) was highly successful, with the team working at all three planned sites near the coast of Liv Glacier, as well as a day trip to a fourth site. The team this year consisted of Dr. Brenda Hall, myself (Master student Jill Pelto), University of Washington's Dr. John Stone, and his PhD student Joel Gombiner.
Now that we are back in McMurdo, and have returned all of our gear (expect for our three tents, which have temporarily disappeared into the cargo vacuum), I will start sharing posts about our field season!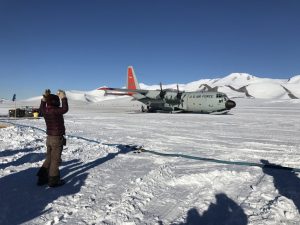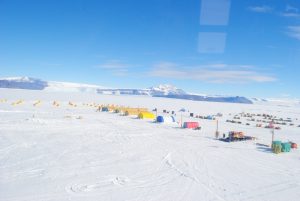 We arrived at Shackleton Camp on December 6th; the camp is in place as a field support for teams working within this region of the Transantarctic Mountains. We spent one night on the way in, enjoying the lovely company of those who work so hard to run it, as well as that of the other science teams based there. The afternoon on the 7th we were ready to go, and got a breathtaking helicopter ride over the mountains, cruising up above 13,000 ft.
Our first site was the Duncan Mountains, a series of peaks and valleys located adjacent to the mouth of Liv Glacier (on the southern side) where it flows into the Ross Ice Shelf. We set up camp in one of these valleys on the 7th, then spent the 8th through the 20th of December working.
Brenda and I are searching for and sampling ancient algae within the valley and mapping glacial geomorphologic landforms. We collected 38 samples at the Duncan Mountains, the majority of which we will send to Woods Hole Oceanographic Institute to receive radiocarbon ages on in order to determine the past positions of ice-dammed ponds higher up the valley.
John and Joel are searching for and sampling glacial erratics and glacially preserved bedrock surfaces on the ridge lines above the valley. They collected 40 samples at the Duncan Mountains, whose surface exposure ages they will determine using beryllium-10 cosmogenic nuclide dating.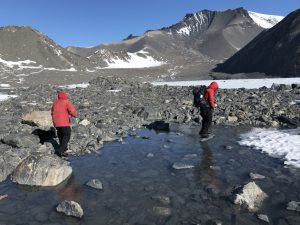 We did experience some strong wind and blowing snow in the Duncan Mountains, so we had a few tent days, but still plenty of time to finish our work before our camp move to our second site, Mt. Mason!
Liv Glacier Field Season 2017-18
(Dec. 6, 2017)
Dr. Brenda Hall and Jill Pelto connected with University of Washington's Dr. John Stone and Joel Gombiner in New Zealand, and we all made it to Antarctica on November 30.
We are awaiting the first available flight to Shackleton Glacier Camp. Once there, we will be transported by helicopter to three field sites over the course of a month, including one day trip.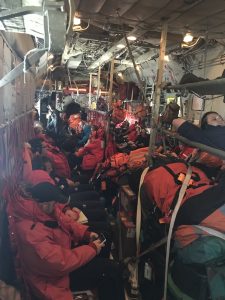 From McMurdo:
The observation tube in the sea ice is still in, so Joel and Jill went down to look for seals, fish, and jellyfish
A new requirement for working in the "deep field" is a "shakedown" where Field Safety Trainers lead the group through a camp set up and night out. We went hagglund car camping behind McMurdo and spent our first night in Scott tents for the season. We also got to view one of the radomes on base, an enclosure for a radar antenna that tracks polar satellites!
– Updates forthcoming after the field season! –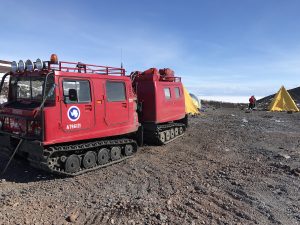 A paper led by former MS student Amanda Lusas, just came out in the Journal of Paleolimnology
(Mar. 6, 2017)
Read and download the article here.
---
Learn how Dr. Hall became interested in the research she pursues today
(Feb. 21, 2017)
Read the article published in the Portland Press Herald.

---
Jill's final update
(Jan. 18, 2017)
Field Site #2: Witalis Peak (Dec. 27 – January 10)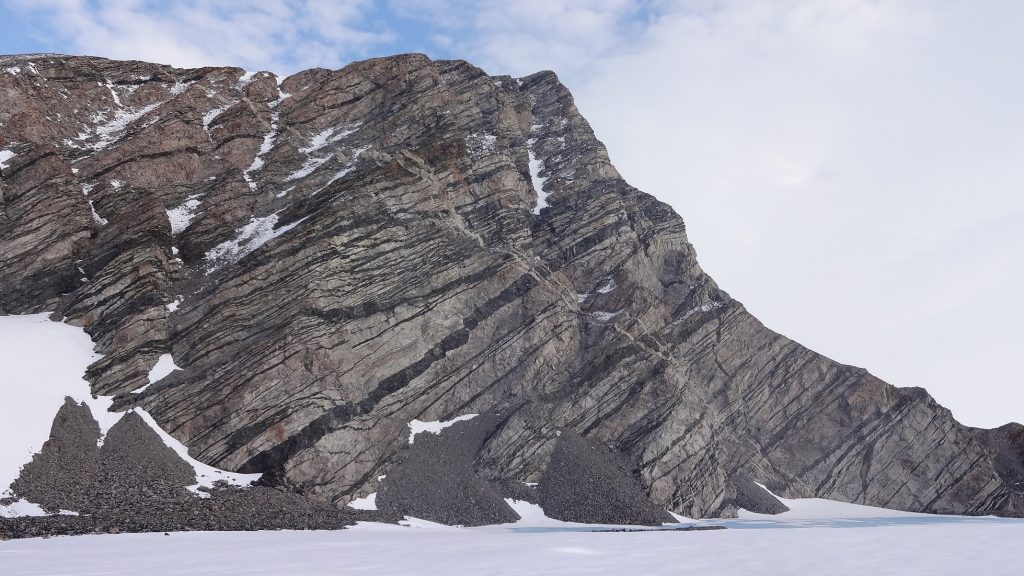 Traveling via fixed wing in the Antarctic can be difficult: multiple groups vying for the same planes, limited number of planes, weather delays, mechanical delays, etc.  Getting out to the field initially from McMurdo Station we were consistently the "5th backup" flight, and moving from Robinson Bluff to Witalis Peak we broke that record when we were initially denoted: "7th backup". But we only had to wait 1 day, and on Dec. 27th we deployed as the 5th backup, to our surprise.  The move was short, only about 10 km, and a little further downstream, closer to the Ross Ice Shelf.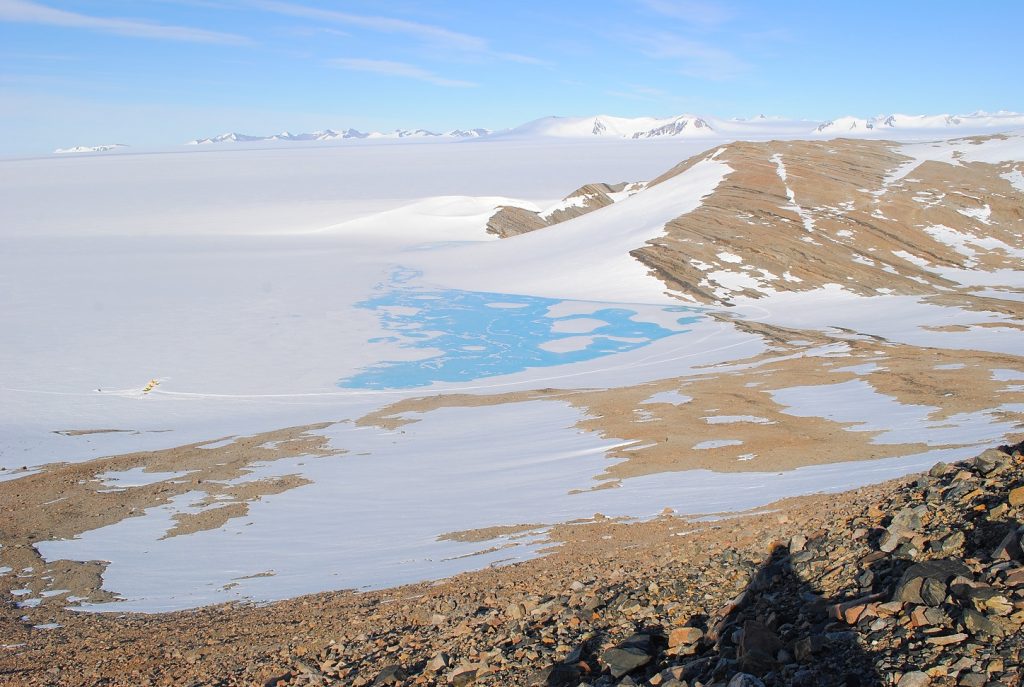 Rock Team was very successful at Witalis Peak, and were able to collect 30 erratics and 6 bedrock samples.
Algae Team was excited as we began to find ancient algae we were confident in (at Robinson Bluff it was primarily surficial, which made us concerned as to its origin). The search still had its difficulties but we were able to collect 25 samples.
Glacial deposits such as moraines and terraces were quite scarce at Witalis Peak, but drift sheets, numerous erratics, and abundant striations and polish allowed us to map the glacial history in a different way than at Robinson Bluff.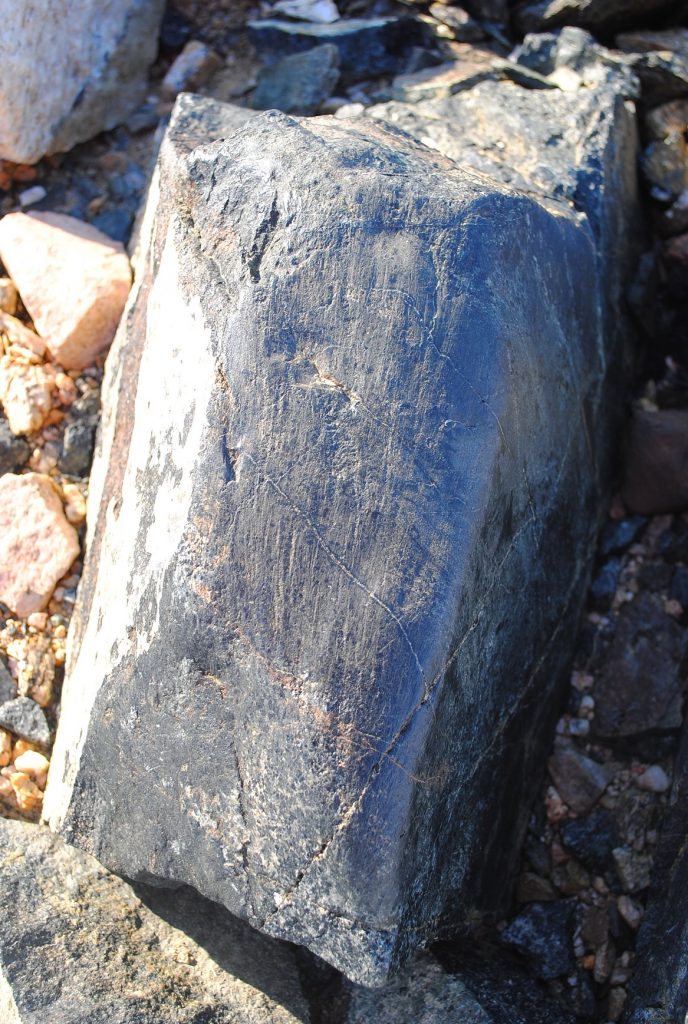 Periglacial activity was very prominent at this location as well, we saw many examples of polygon sorting, solifluction lobes, nivation hollows, past ice-cored moraines, and even what appeared to be the beginning stages of stone stripes forming.
Weather did take a turn on us at Witalis and we get hit with a few bouts of precipitation, including a rain event that began in the evening and lasted partway through the night, when it transitioned to a heavy snow.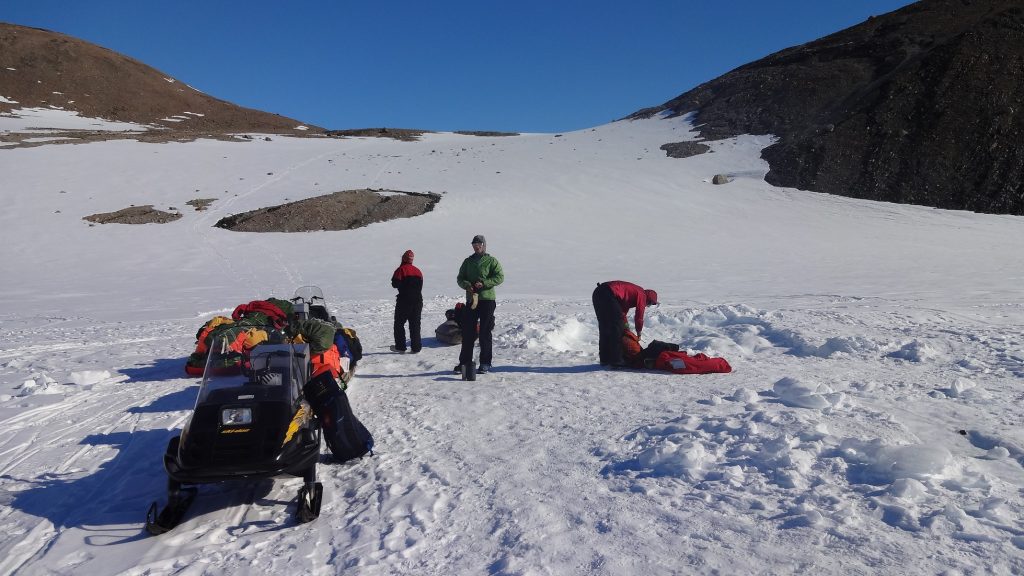 We returned to Shackleton Camp on January 10 and spent one night there with the great staff, before returning via Twin Otter (a great ride!) to McMurdo on the 11th to clean and sort our gear, ship our samples, download our photos, and copy our season's notes.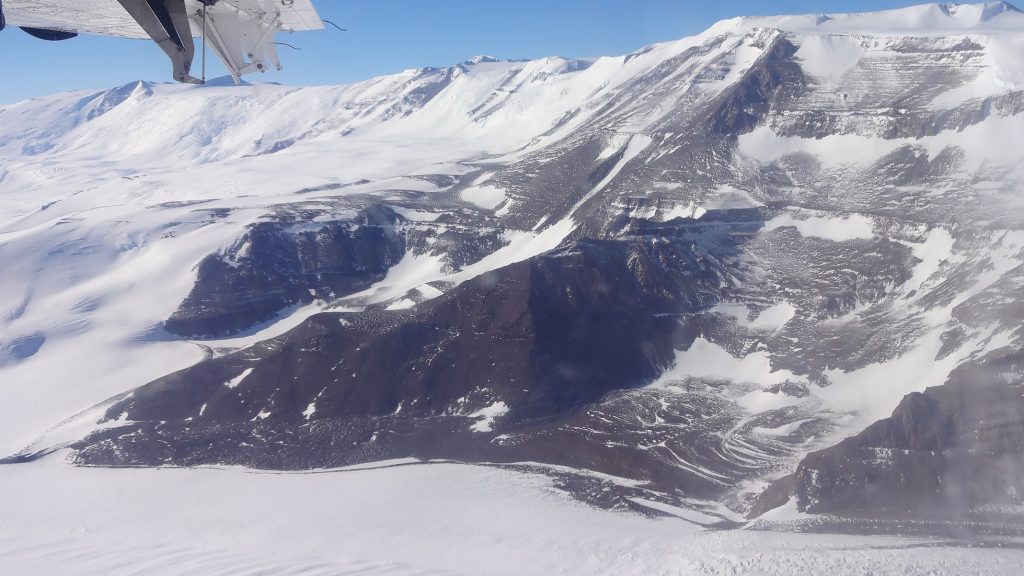 ---
Jill's back from the deep field and has sent another update!
(Jan. 13, 2017)
Team ALGAE returned to McMurdo Station on January 11th from a successful month working along Amundsen Glacier in the southern Transantarctic Mountains.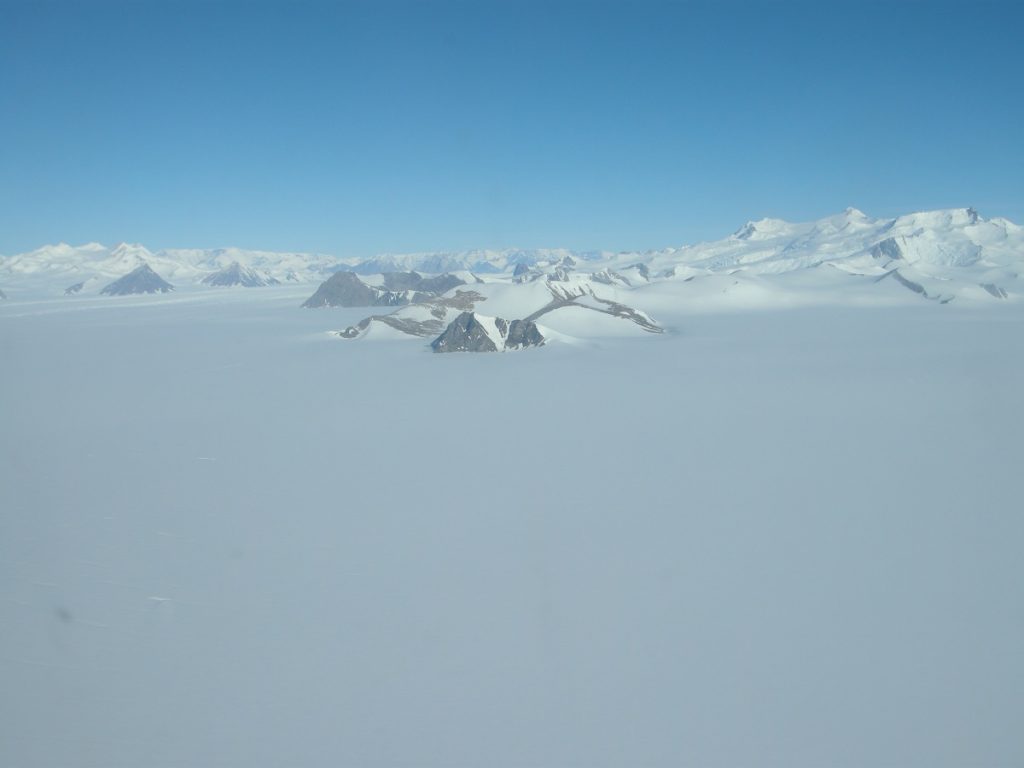 We departed for Shackleton Camp on December 14th and Dr. Brenda Hall and mountaineer Karen Hilton were able to proceed via Twin Otter flight to our first field site that same evening. Jill Pelto and UW students Joel Gombiner and Jessica Badgeley were able to join them the following morning.
Field Site #1 : Robinson Bluff (Dec. 14 – Dec. 27)
A typical day:
Breakfast around 7:30 am, ready to start the day by 9:00 am.
Algae Team (Brenda Hall, Jill Pelto) and Rock Team (Joel Gombiner, Jessica Badgeley, Karen Hilton) split up for the day.
Back at camp between 5:00 pm and 8:00 pm.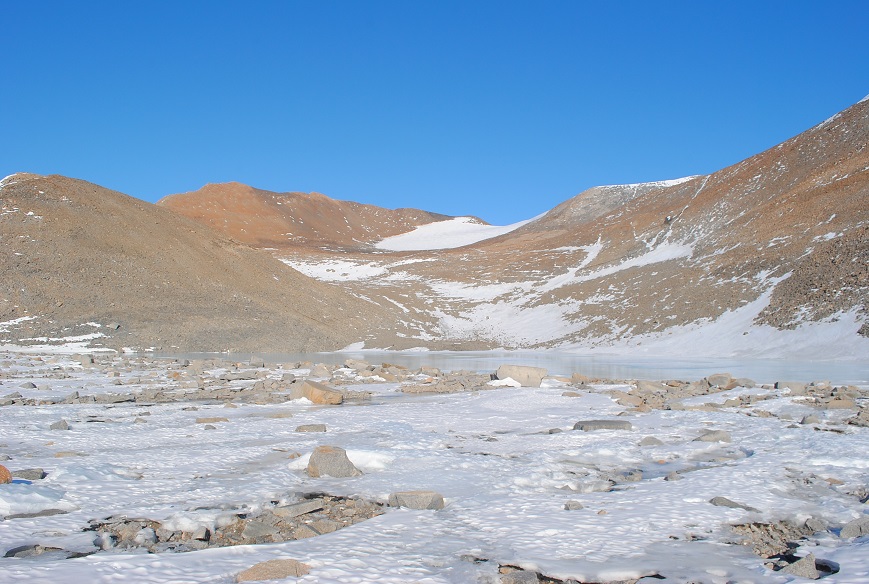 Algae Team was focused on mapping Robinson Bluff and sampling ancient algae.
We located 5 (or 6?) distinct drifts and ice marginal features (moraines, terraces, lake beds). We searched for algae up through the valley, focusing on the tops of terrace steps and in basins, where ice-dammed lakes may have been present as ice retreated. Ancient algae was quite sparse, although this does not mean it was not present in the past. Abundant evidence of slope creep via periglacial activity (solifluction lobes, nivation hollows) as well as large amount of moss and lichen, suggest this is a relatively warm, wet region where algae may break down. Additionally, we saw a lot of evidence of modern moss colonizing older algae beneath the surface. We were able to collect 10 algae samples at this location.
Rock Team kept to the high ridges surrounding the valley to search for glacial erratics. The search wasn't easy primarily because of the uncertainty of weathering rates in this region. The indication of a relatively moist climate and the quantity of stained and pitted rock implied fast weathering. The Team was able to collect 24 erratics (primarily cobble sized rocks) at this site, over an elevation range of about 500 m.
The field season was a success as we were able to work at our two principal locations, collect 23 algae samples, 58 rock samples, 3 water samples, and 2 carbonate samples. About three-quarters of the days were beautiful, sunny and warm, and our transitions in and out of field sites was relatively smooth.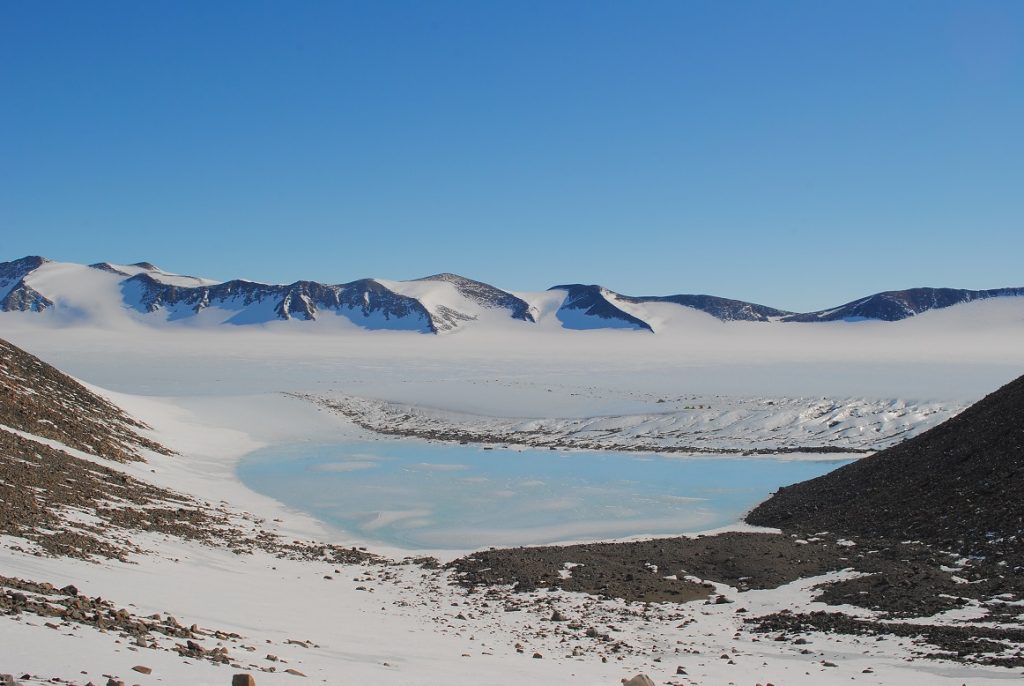 Check out these sketches highlighting our sampling methods: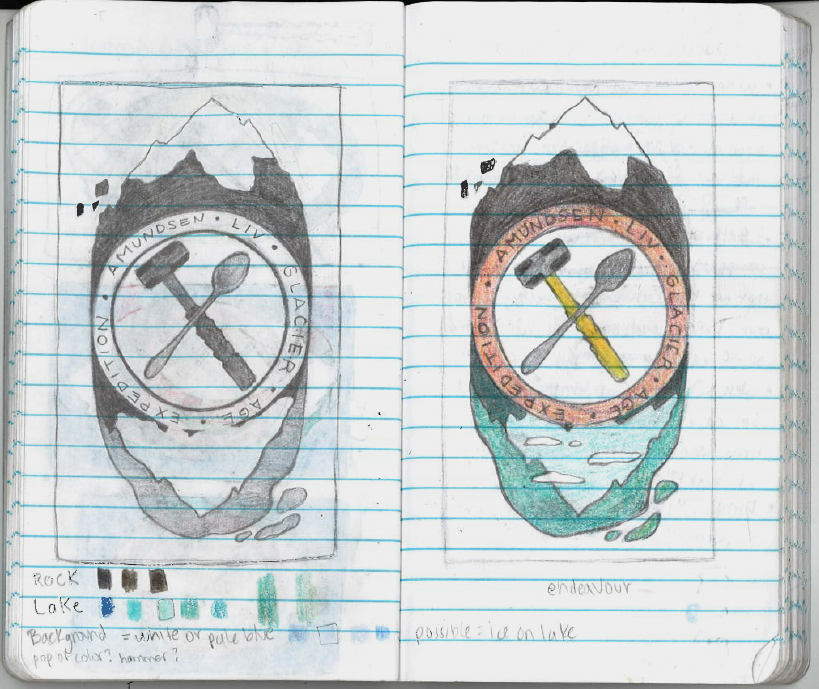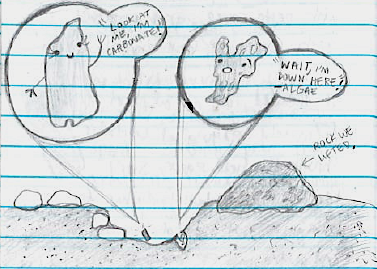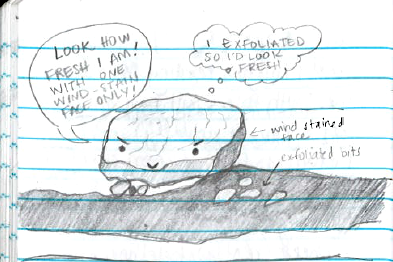 ---
Jill's second update from the field
(Dec. 8, 2016)
Some years an observation tube (Ob Tube) is put in McMurdo Sound, and this year team ALGAE got on station the weekend before it closed down for the season (it closes once the sea ice starts to weaken in the SH summer).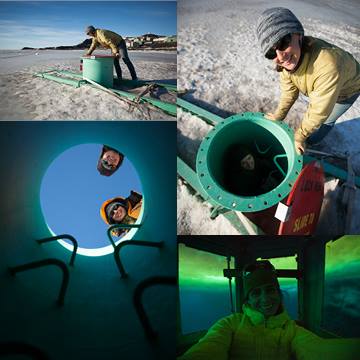 Antarctica is breathtaking above ground, but the unique, alien environment continues beneath the surface. Few people will ever have the opportunity to dive beneath the surface and glimpse an ecosystem unlike any other in the world, so putting the Ob Tube in gives the rest of us a chance to wonder at the few species who can withstand such a harsh climate. 24 countries recently came together to protect 598,000 square miles of water encompassing the Ross Sea. Because this region is relatively untouched by humans, it has been referred to as the "last ocean", with 16,000 species living in this ecological niche that allows them to persist. The Antarctic Convergence is a boundary zone where cold, dense surface waters circumnavigating the Antarctic sink and flow northward. This convergence with relatively warmer water creates a southern circulation system, allowing this key biological region to exist. Check out: https://ocean.si.edu/slideshow/trip-south-antarctica%E2%80%99s-ross-sea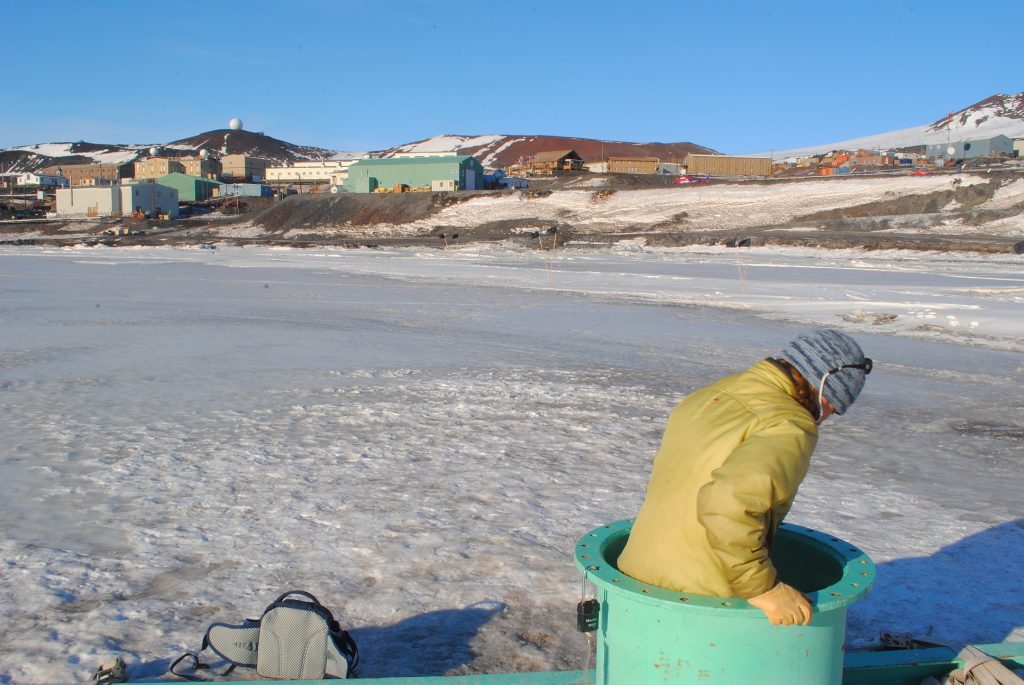 To get to the Ob Tube you head out onto the sea ice in front of McMurdo station. The tube is narrow so only one person can go down at a time. You descend about 20 ft down a ladder, and when you get to the bottom, those on the surface close the lid of the tube so that your eyes can adjust to the world beneath. Windows around the bottom of the tube give you a 360 degree view of the ocean bottom sloping away out of sight, The bottom surface of the sea ice is a bright yellow, we presumed from something like algae growing, and composed of delicate crystals that look like long, lacy hoarfrost. The first several feet below the ice, thousands of tiny fish bob with the water, only occasionally swimming. We were on the lookout for Clione limacina antarctica, or "sea angels" but if they were there, they were too small to see in the dim light. We did see a bizarre looking jellyfish, which we have yet to identify.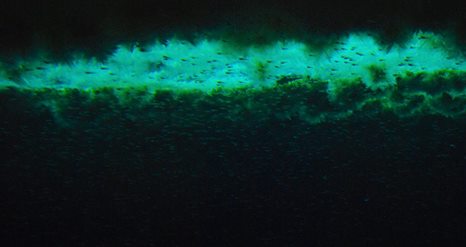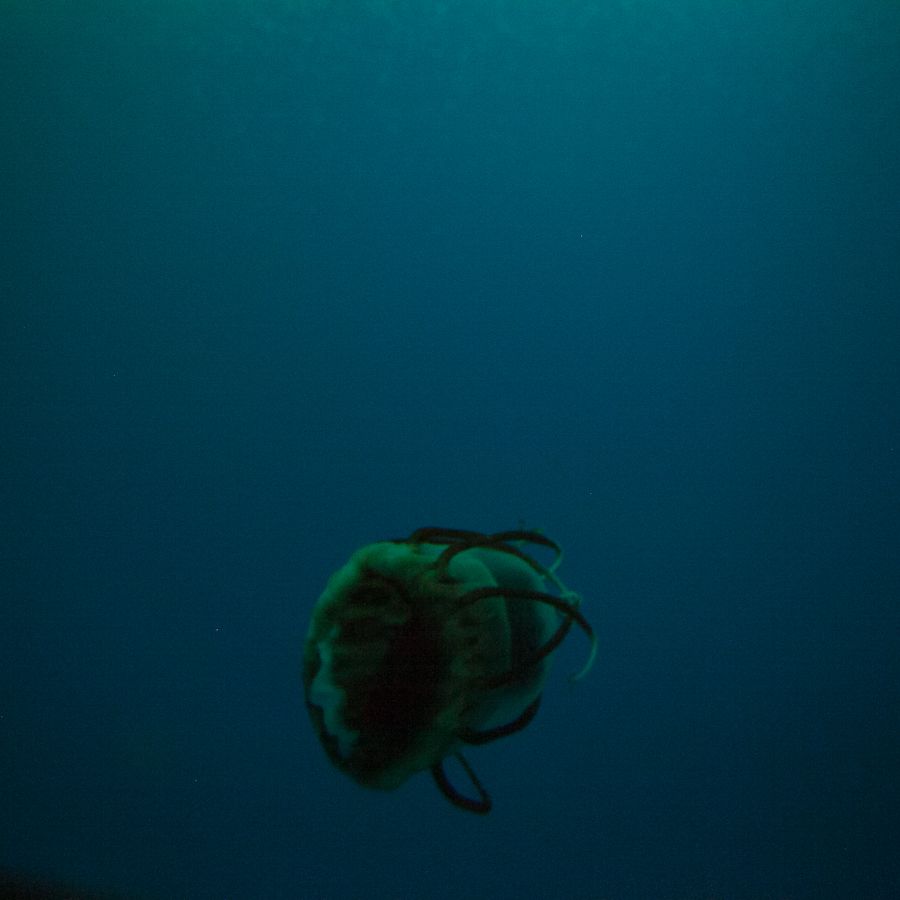 Walking across the sea ice and looking out across the Sound to the surrounding peaks and valleys, you already feel small in the vastness of Antarctica. But descending below the sea ice broadens your perspective even further: this ecosystem is massive and unique.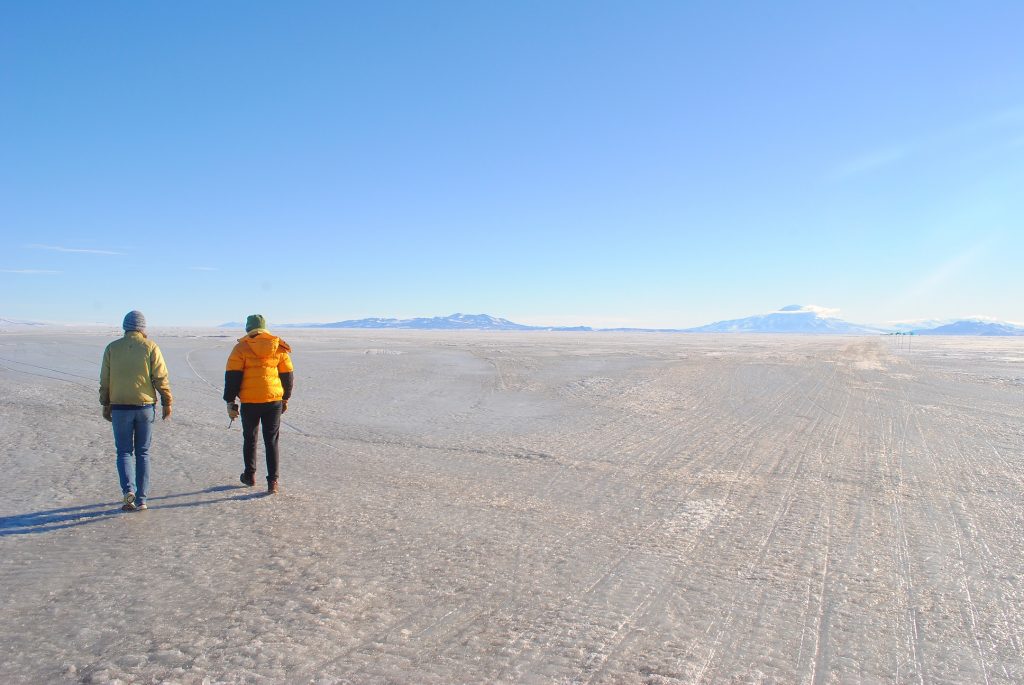 Dr. Brenda Hall's work on understanding Holocene climate in the Ross Sea by studying changes in mummified seal remains: https://antarcticsun.usap.gov/science/contenthandler.cfm?id=2987
Jill Pelto's monoprint and watercolor series from 2015, Support Marine Reserves in the Antarctic: http://www.jillpelto.com/antarctic-reserves
---
Jill's first update from the field
(Dec. 4, 2016)
It all started with 25 scientists standing in the dark at 5 a.m. outside the locked U.S. Antarctic Program building in Christchurch, New Zealand.
Well, those of us who have had (the very fortunate) opportunity to go to Antarctica know that even before this final flight to the ice we have a journey of four or so plane rides totaling about 24 hours in the air, and many more hours of layovers. During this time several days blur together, time zones jump backwards then forwards, and you forget what fresh air is like.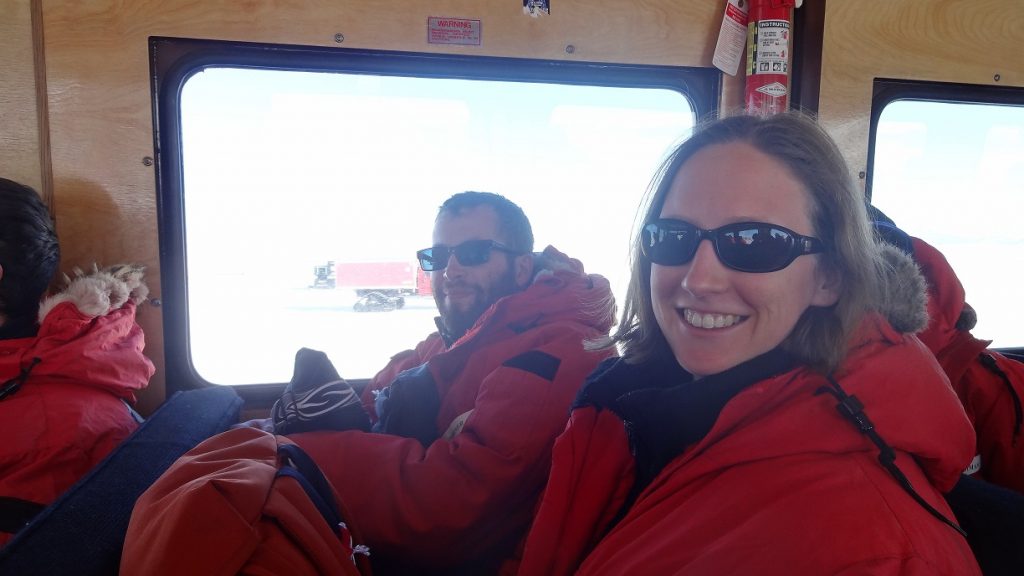 The ALGAE (Amundsen Liv Glacier Age Experiment) team is led by Dr. Brenda Hall, and Dr. John Stone of UWashington, and includes PhD candidate Joel Gombiner of UW, PhD candidate Jessica Badgeley (Dr. Stones replacement in the field while he works at WAIS Divide) of UW, UMaine Masters candidate Jill Pelto, and our wonderful mountaineer Karen Hilton. We are working in the southern Transantarctic Mountains on Amundsen Glacier (next year we will be going to Liv Glacier), and will study three locations near the mouth of the glacier, close to the Ross Ice Shelf. We will spend 3-4 weeks camping at these three sites, and at each we will be collecting algae samples (for radiocarbon dating) from past shorelines of ice-dammed ponds, collecting rock samples (for surface exposure dating using Beryllium-10) from glacial erratics, and mapping each location and its glacial geological features. We are most interested in determining the thinning history of Amundsen Glacier and the Ross Sea Ice Sheet over the past 10-5 ky.
Back to 5 a.m. in New Zealand… we had gotten up at 4 a.m. in order to make our 4:45 a.m. check-in at USAP, but unfortunately the true check in time was 6:30. As soon as we got inside things went quite smoothly, no boomerang flights (turning around part way), no huge delays, no plane problems, and good views once we made it over Antarctica.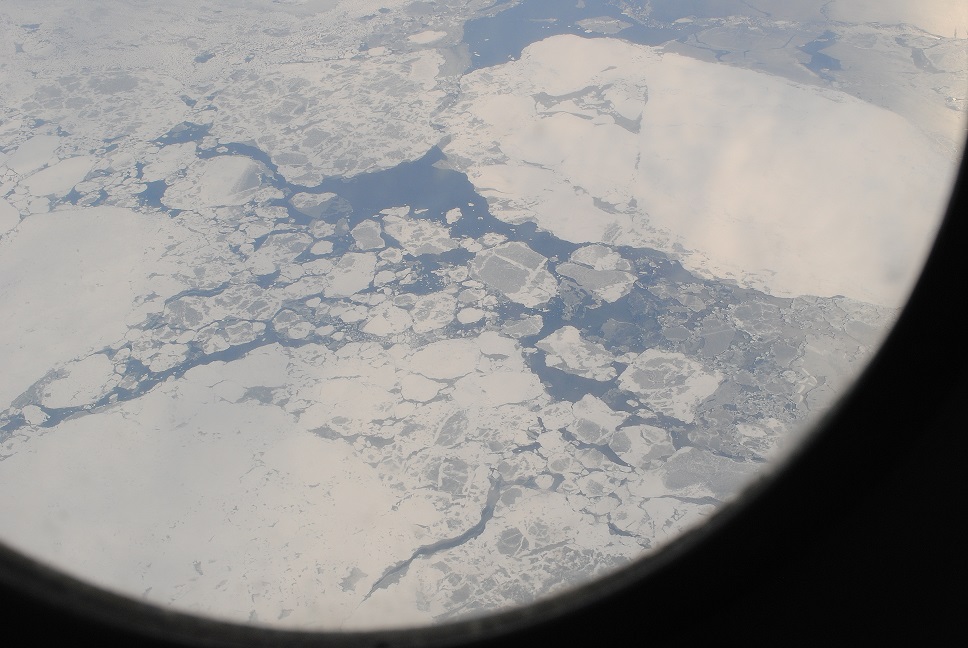 The moment you step off the plane onto the Ross Ice Shelf is unforgettable; you realize how incredible this place is and how fortunate you are to be there. The world from horizon to horizon is unbelievably vast and white, and you wonder if you're still on Earth.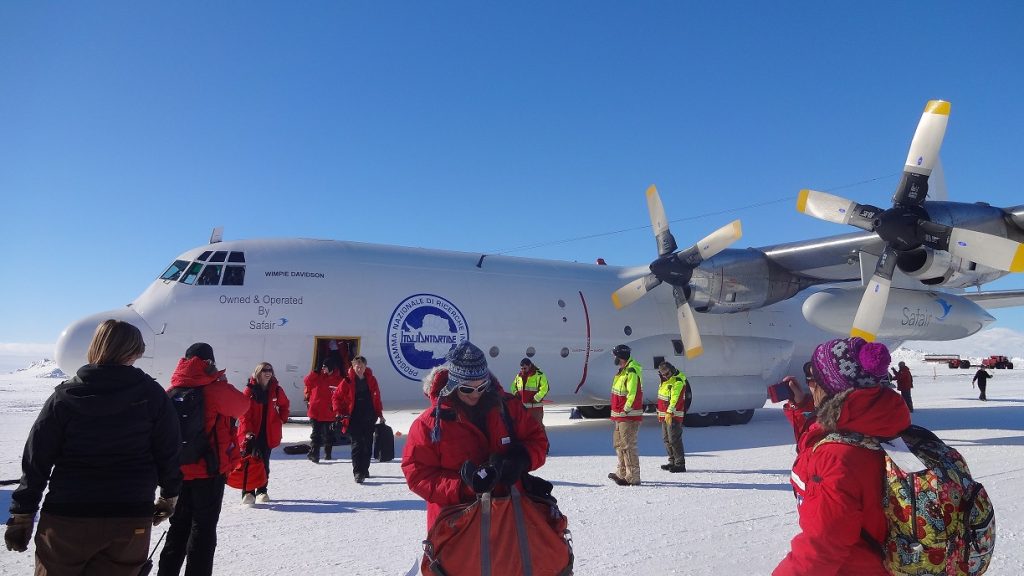 The subsequent days at McMurdo are filled with trainings, gear preps, looking over field imagery, and fitting in hikes near the base in spare moments. We met up with Dr. Gordon Bromley and his team, including UMaine Masters candidate Allie Balter. Over the next week here we will be prepping and planning in the hopes to fly out to Shackleton Glacier Camp around Dec. 8, and from there to our deep field camp.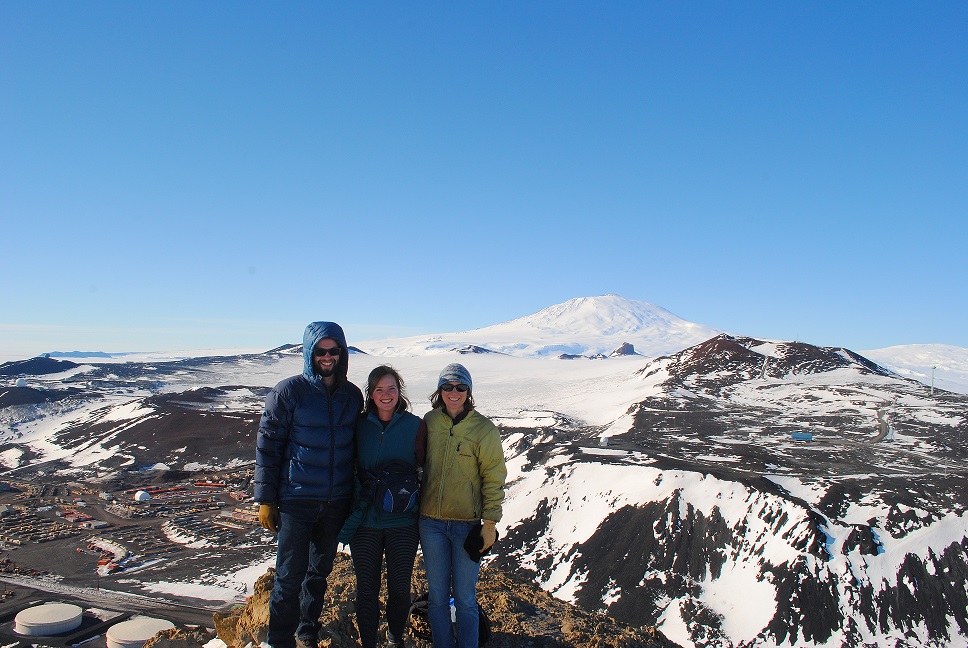 Successes: Arrived on schedule, fuel ordered ahead of time, "Make Antarctica Great Again" stickers placed inconspicuously around McMurdo, flight to Shackleton Glacier and straight on to Amundsen Glacier booked for Thursday the 8th
Fails: Any of the tea in the galley, according to Dr. Hall; there are many crevasses evident in our imagery of our glacial traverse we hope to cross between field sites (we will likely have to fly it); the price of meals in Sydney and Christchurch ($20 for continental breakfast)
---
Allie and Gordon are down on the ice!
(Nov. 25, 2016)
This season, Dr. Bromley and Allie team up with Maggie Jackson (Dartmouth) and Greg Balco (Berkeley) to collect rock samples from 'ancient moraines' in a region close to where the group went last season.  Dating these deposits will allow them to understand the past stability of the East Antarctic Ice Sheet.  Here's how to get updated on their progress throughout the season:
Read their blog
Follow and ask them questions on Twitter (@

ancientmoraines

)
---
Jill Pelto shares the inspiration behind her "Glaciogenic Art"
(Oct. 20, 2016)
View the article written by Medill journalist, Lakshmi Chandrasekaran.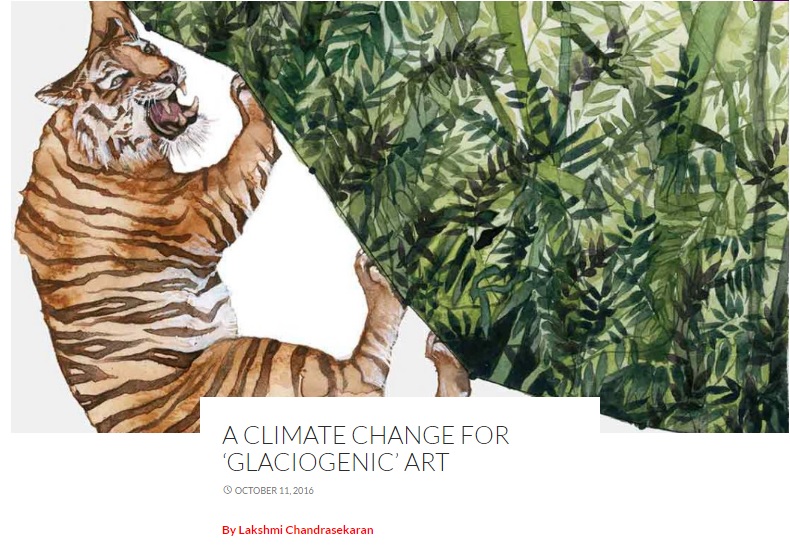 ---
Gordon Bromley's Peruvian Andes research is featured in UMaine News
(Oct. 20, 2016)
Discover what the high altitude deposits in the Peruvian Andes indicate of past behavior of ice-age glaciers.
---
Learn about Aaron, Peter and Mariah's fieldwork this past summer in the Mongolian Altai
(Updated late Oct. 2016)
Medill Reports Chicago, the Medill News Service for Northwestern University, published an article featuring the cosmogenic surface exposure dating method often used by members of our research group.  In this article, Peter and Mariah explain how the method works and also describe their use of a drone to map the geomorphology of these glacial valleys.  Many of these opportunities would not be possible without assistance and funding from the Comer Family Foundation.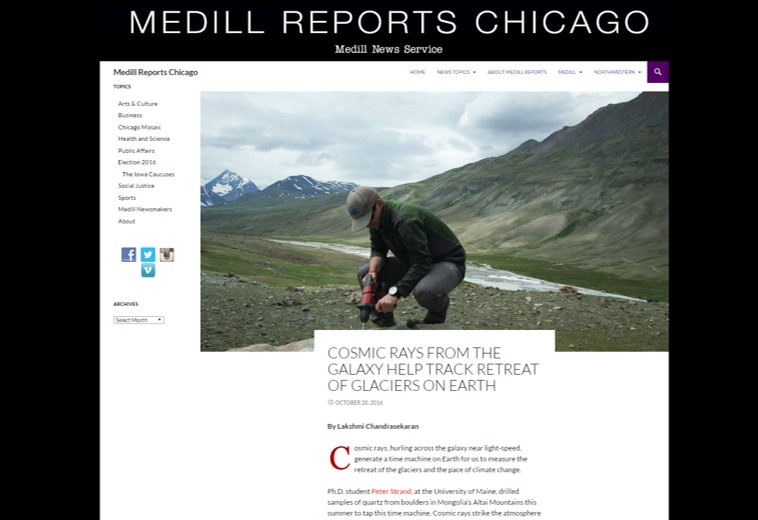 In the article titled, "A Trek to the Giant Mongolian Glacier That Holds the Secrets to Global Warming", author Kevin Stark shares the group's motivations for visiting the region.  He also describes their sampling method and what life is like in the field.
Head over to the Warm Regards Podcast: What caused the end of the Ice Age?, to hear Kevin recount his time embedded with members of our research group.
---
Jill Pelto's artwork featured on the cover of the Bulletin of the American Meteorological Society
Two pieces created by Jill will be featured in the July issue of the bulletin.  To see the descriptions behind each piece, see her website.
---
Dr. Aaron Putnam receives the NSF CAREER award!
(April 24, 2016)
Dr. Putnam is the recipient of an award from the National Science Foundation's Faculty Early Career Development (CAREER) Program (see the description on the NSF website).  This award aims to support an early-career faculty member who has exemplified outstanding research and teaching experiences, establishing the foundation for the remainder of his career.  Congrats Dr. Putnam!
Check out the UMaine press release and WABI TV5 interview with Dr. Putnam.
---
24th Annual Borns Symposium highlights Climate Change Institute Research
(April 18, 2016)
A number of our research group members presented at 24th Annual Borns Symposium.  All speaker presentations can be viewed here: Session 1; Session 2; Session 4 (Invited UMaine Alumni Speaker, Dr. Putnam); Session 5; and Session 6.  All mini-paper submissions for this year's symposium can be viewed here.
Research group members who participated in this year's symposium and where to find their presentations are listed below:
Courtney King – Session 5 (scroll to 24:35 minutes)
Peter Strand – Session 5 (34:17)
Dr. Putnam's Invited University of Maine Alumni Lecture presentation
Gordon Bromley – Session 6 (0:01)
Jill Pelto presented a poster, entitled, "Falkland Islands Research to Address the Cause of Ice-Age Terminations". (Session 3)
---
Undergraduate researcher, Zach Mason, takes 2nd place at GSM!
(updated: April 1, 2016)
GSM spring meetings aim to highlight student research in poster session or technical talk formats.  Zach presented a poster with surface exposure-ages of rock samples from Peru he's prepared, and a geormophic map of the region.  His work is focused on understanding the timing of the last glacial maximum in the tropics.
Research Associate, Dr. Kat Allen, gives the Keynote presentation at the Geological Society of Maine spring meeting
(April 1, 2016)
Dr. Allen presented her research at this year's Geological Society of Maine (GSM) spring meeting, held at the University of Maine.
---
Recent graduate, Jill Pelto, is gaining attention for her climate-influenced artwork
(February 2016)
This past December, Jill Pelto graduated from UMaine with a degree in Earth & Climate Sciences and Studio Art, and completed an Honor's thesis, entitled, "Art as a Tool to Communicate Science."  Some of her pieces featured works created while in the field in Antarctica, the Falkland Islands, and the Cascades. You can view some of these pieces in the gallery section of her website as well as in the February 22nd edition of the PBS NewsHour.  If you have any questions about her artwork, feel free to reach out to Jill directly.
---
Check out the third installment from UMaine undergraduate researcher, Holly Thomas, on her trip with Dr. Bromley to Antarctica
(January 8, 2016)
We're back! From the field that is – the journey stateside has yet to begin.
What a wonderfully successful season we've had, I'll do my best with brevity, but you can only compress 4 weeks of excellent sciencing (yes, it's a verb) so much.
Our first field site was called Ottway Massif, a small range at about 2,500 m elevation comprising a portion of the Transantarctic Mountains. One can imagine that site selection is perhaps the most integral component of deep fieldwork – while also the most difficult. The continent is so vast and unexplored that beyond satellite photography, very minimal information regarding the Massif exists. Dr. Bromley selected the location based almost purely on physical clues he was able to garner from that imagery. His aim was to select a site where Pliocene moraines, the objective of our sampling, were well preserved and clearly discernible on foot as well as aerially. The key component being a low, if not nonexistent, relief surface upon which the moraines rest. This ensures very little erosion due to gravity.
So what are these "moraines" I speak of? Simply put they are ridges of rock debris left at the terminus of a body of glacial ice, providing a very tangible indicator of former ice extent. Our goal at these sites was to traipse all about, sampling rocks from what we hope are Pliocene moraines and date them, eventually painting a cohesive picture of the evolution of the east Antarctic ice sheet during the Pliocene.
We found moraines at Ottway. Many. After being deposited in the white wilderness via twin otter (a VERY small type of aircraft Dr. Bromley fondly refers to as vomit buckets) we set up camp close to the ice margin. From our tents the ice dipped down a gentle slope to meet a vast valley chock full of rocks ripe we could sample (and then promptly lug back up the big hill to camp). Our first week here was wildly successful, much sciencing was done and many chocolate bars were consumed. In the blink of an eye it was time for the twin otters to swoop in and transport us to the next site located about 20 kilometers away and known as the Dominion range.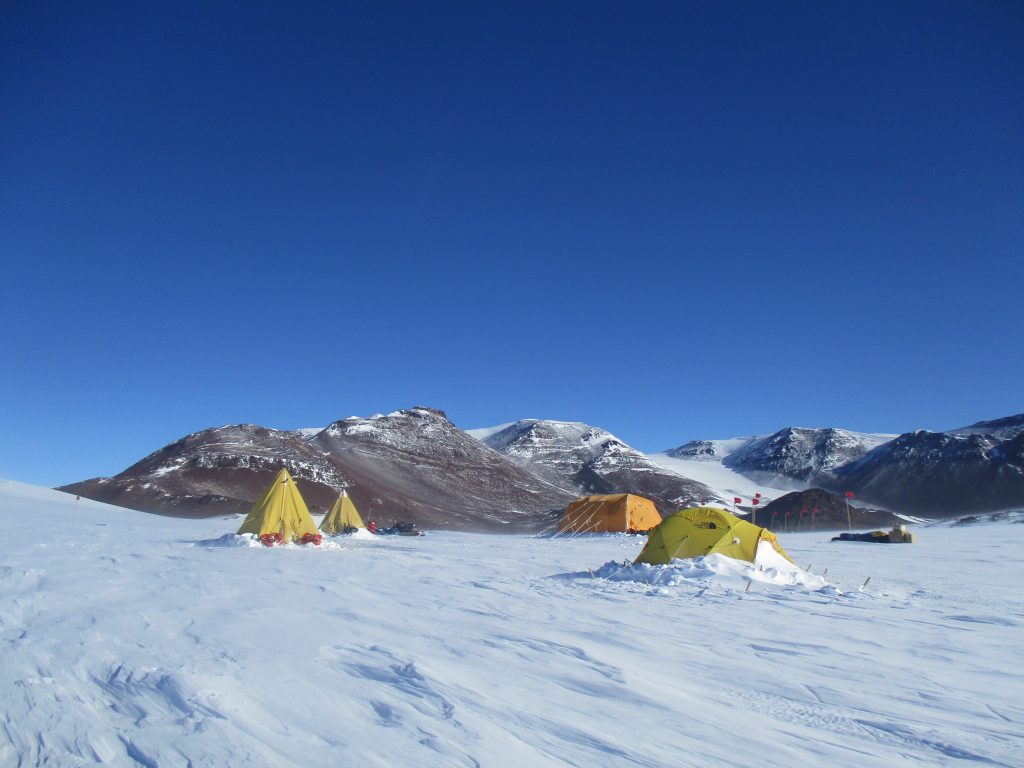 To fly a twin otter it appears three things are required; a robust beard, a thick Canadian accent and clear skies. On the day we were scheduled for transport our pilots Phil and Kelsey possessed all the above – except, unfortunately, the clear skis. Alas! we thought, such is travel in Antarctica. We'll we wait it out – surly it will get better soon. 3 days later we had strung ropes about camp to get safely from tent to tent through the magnificent winds and blowing snow. 5 days later we were running low on fresh reading material. 8 days later the chocolate supply was wearing precariously thin and we were seriously considering breaking into the emergency stash. The day finally came when we awoke to clear skies and Chris yelling "plane coming in a hour!" Horrah! To the Dominion we go!
While Dr. Bromley and I finished up taking down camp Chris and Maggie took the first flight over with the intent to scope out the location and begin camp set up. You can imagine our dismay when Chris came over the radio and said "We won't be making it to the dominion this year". Apparently after 5 attempts to land the pilots had determined it simply wasn't feasible. There was no safe stretch upon which to touch down. After a moment of mourning for our lost moraines we began to ponder alternatives. We had at least a week more of scheduled field time and intended to us it.
Where there is a will (and the weather cooperates) there is a way. We found ourselves shortly thereafter at Roberts Massif  – a site we knew very little about and were not anticipating visiting until next season. Consequently, the only map we had was a rather vague chart used by the pilots to navigate the region. What we did have was feet hungry for roaming after almost two stagnate weeks. After two days at Robert's Massif we had covered much ground and had stumbled upon some very promising moraines – which, in the days proceeding, we set out to sample. Overall our impromptu trip to Robert's was wildly successful, we collected over 80 samples, had the opportunity to explore the area for the next season and even managed to roast a fine pork loin for Christmas dinner. Such class!
The day we were finally pulled from the field was a bit surreal. The time in the field raced by like most things in life tend to do and and soon enough we were back at McMurdo station enjoying some VERY necessary showers and fresh(ish) vegetables. Now what? The sampling is only the beginning of this project. Before we can draw any conclusions they will need to be cleaned up and sent to Greg at Berkley Geochronology Center to be dated. (Temporally that is, Greg will not be wining and dining the rocks).  Next year the process will be repeated all over again! If anything, I hope this description has provided you with some sense of the scale at which scientific projects in the Antarctic operate. It is a massive and somewhat odd machine, but the US Antarctic Program has allowed us and countless others we met here an amazing opportunity.  It's been a joy to be involved and relay this experience to those reading this! Thank you from all of us on team I-177 for following the blog and you interest in our work! That's all for updates from the field, but keep an eye out for posts once we start getting dates back, yahoo!
Cheers!
Bonus Fun Facts from the Field
The average temperature ranged from -4 Fahrenheit to 2
Wind chill considered, you can bump that down to -15 to -10
The strongest wind gust recorded was 50 knots per hour, the average being about 35.
168 samples were collected in total
We spent a total of 23 days camped in the field
Immeasurable volumes of chocolate bars were consumed during said time
Green things simply do not grow here. In fact, nothing really grows here. Apparently there is some type of lichen able to withstand the conditions but the only life we saw for those 23 days were ourselves (although my socks could be considered alive by week 3)
---
Check out Holly's second update from the field
(December 2, 2015)
Greetings from the team at McMurdo! We've been here for a week at this point, enough time to ensure I'm getting lost only 20% of the times I travel between buildings. This place is quite expansive really. I mentioned in the previous entry how logistically intensive the US Antarctic program is – McMurdo base is a testament to this. Slightly more than 100 buildings comprise "town" and almost 1,000 people call it home in the summer. Contrary to what I had envisioned (one massive building with a electronic disembodied female voice directing us from task to task a la hunger games), McMurdo base feels remarkably like, well, a town – except for most small towns don't posses a helicopter pad, a fleet of 500 snowmobiles and designated dinning area where every resident is fed 3 meals a day (sometimes 4 – it's open 24/7 and has fruit loops.).
The size of town makes sense considering the volume and variety of research occurring on and off base. The scope of the science being conducted here extends far beyond glaciology and geology – this equates with a variety of scientists who happen to require a lot of support staff – around 700 to be exact.  Envision a day in the field if you will. You awake in your tent, maintained and issued to you before your trip by the friendly gear folks. After your morning radio check in with the lovely Shelly at MacOpps (the station's communication center) you whip up a pancake breakfast with a mix packed up by field center staff. After breakfast you hop on a snowmobile to head to your field site. Hm…it's running a bit funny. Luckily, you're able to pop open the hood and quickly diagnose the issue thanks to the lesson on field maintenance and service you just received from James at vehicle operations. I could go on and on but I think you may get the idea. Essentially each component of our day is in some way enabled by the team at McMurdo, and the science community is lucky to have such volumes of support from the all hardworking staff at here.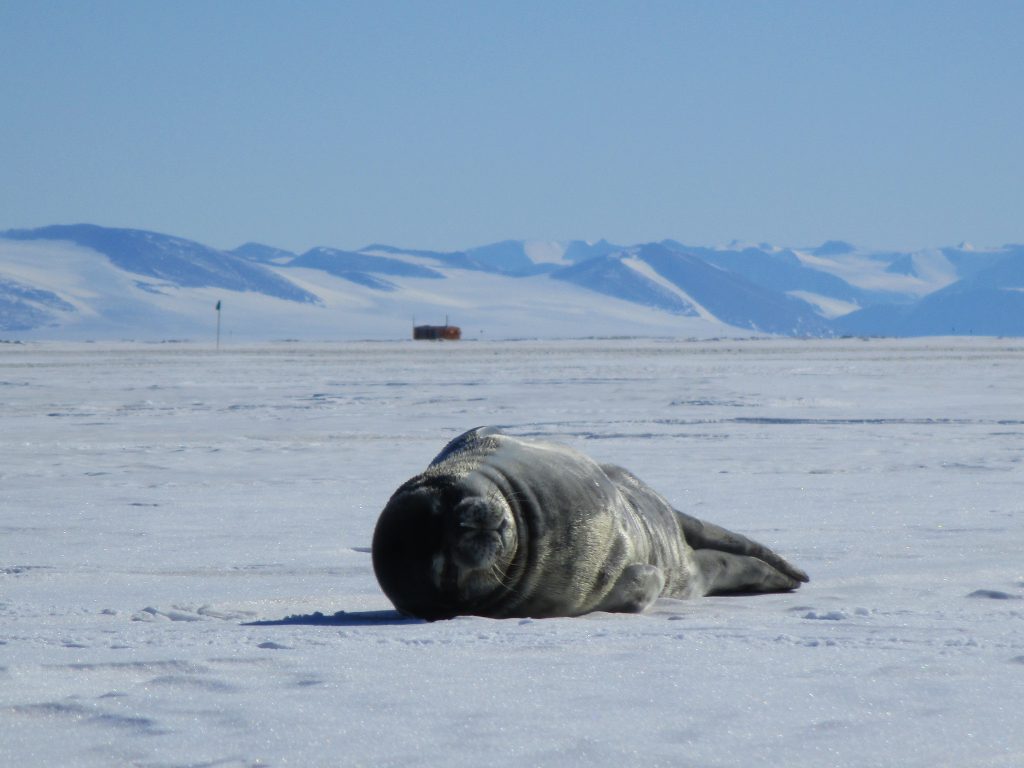 The Science though! My goodness this place houses a fascinating amalgamation of projects. Since arrival I've talked to teams analyzing lacustrine water columns in the dry valleys (a unique Antarctic region devoid of ice), a group evaluating the energy output of the female Waddell seal during each phase of reproduction and a NASA team monitoring for solar flares using a helium balloon (the size of 3 football fields!) circling the continent, snared in the circumpolar winds. (for more information on the last one check out this site – http://www.nasa.gov/home/hqnews/2010/dec/HQ_10-343_Balloon_Launch.html). Conversations over dinner have been informative to say the least.
We've finished packing up almost everything needed for our month in the field and have had a bit of time to enjoy the recreational opportunities on base. The weather has been so pleasant that we've been able to get outside nearly every day and enjoy the variety of hiking and ski trails. It's highly encouraged here to get some fresh air from time to time, and we were all able to rent skis to traipse about on the ice. Soon enough though, we'll be off to great outdoors full time! We're slotted to leave for our field camp Thursday, though that's optimistic. Transport to our field camp will be via plane, and more often than not the wacky weather down here impedes air travel. Alas, there is hope! Should the weather be ever in our favor we'll have set up camp and settled in by Saturday.
It's likely that the next time you'll hear from us will be the transition between camps around ten day in – but at that point I should have accumulated a bit more science to discuss and with any luck some lovely photo's to accompany it! All our best until then, and happiest of holidays!
---
Update from the field!
(November 26, 2015)
Undergraduate Student, Holly Thomas, has just arrived on the ice and gives us an inside look on her journey from Maine to Antarctica!
Greetings from the South! (At least we think we're in Antarctica – it's sunny and 45 °F)
Welcome to the first entry in what will hopefully be a series of updates from research party I-177. Our group is comprised of fearless PI Dr. Gordon Bromley, geochronology guru Greg Balco of UC Berkley, mountain man and safety specialist Chris Simmons, PhD candidate Margaret Jackson and excited undergraduate/designated rock carrier/hole-digger Holly Thomas. We're in Antarctica with the intent of investigating past configuration of the East Antarctic Ice sheet (EAIS) – specifically during the Pliocene, a period from approximately 5.3 – 2.5 million years ago during which climate was warmer than that of present.
You may ask "Why are you subjecting yourself to months of frigid conditions, rock smashing and powdered milk just for the sake of deducing what things used to look like – why does that matter now?" Excellent question, to which I would first say SCIENCE! But this project is also particularly exciting because an understanding what this ice sheet looked like during the warm Pliocene can help us predict how sensitive the ice sheet might be to modern warming trends – which in turn could lead to understanding the future fate of the Antarctic Ice Sheet!
Now a bit on how our journey so far:
We arrived yesterday afternoon after a cumulative 32 hours of air travel.  It's no surprise that the logistics behind traveling to the southern-most continent are extensive and complex (read: tedious). The first leg of the journey brought us to Christchurch, New Zealand home to the International Antarctic headquarters where we are issued the gear necessary to stay (somewhat) warm while on the Ice. (Insider tip; "on the Ice" appears to be the cool slang for "on the continent known to most as Antarctica"). Some highlights from said gear issue include a pair of very chic bibbed snowpants, some clunky white moonboots and a massive down coat that I'll fondly be referring to as "big red" from here on.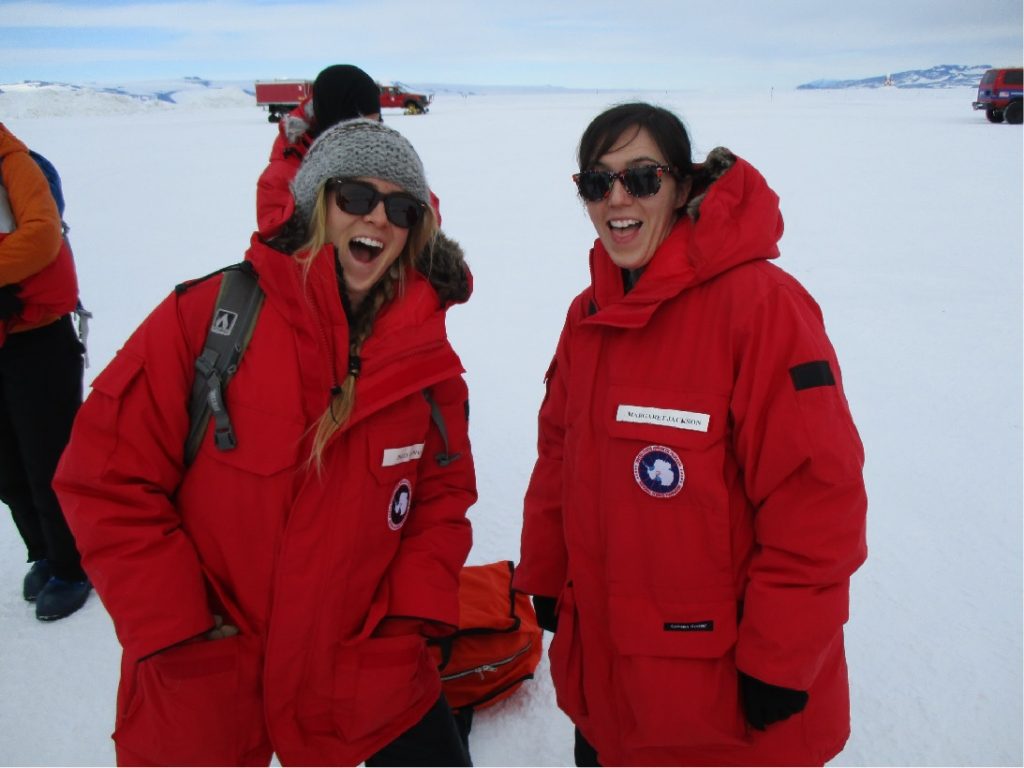 After being issued our gear we enjoyed a screening of the first 3 (3!) of what would prove to be a long and enduring video series on Antarctic protocol. We were then free to roam about the city! Those of our party who had visited the city shortly after the earthquake in 2011 were pleased to see that life was surely and steadily being breathed back into the once vibrant downtown. We strolled through a mall constructed entirely from old shipping containers and visited the impressive Christchurch Botanical gardens, enjoying some final bittersweet moments amongst any and all green plant life – which is appears to be in short supply below the Antarctic Circle. We retired to our rooms that night, not so eagerly anticipating the 5 am pickup time the next morning.
After being shuttled back to the Antarctic Center in the wee hours we were privy to yet another video and a quick briefing on the travel procedure. We were told to don all cold weather gear for the flight down in case of an unlikely emergency landing in some icy wilderness. This resulted in a rather comical parade of us all in our respective moon boots and big reds out to the awaiting LC130. After piling in we settled in for what would be the final leg of our journey south.
After 7 hours and several sandwiches later we stepped onto the ice! Though we had caught glimpses of the white expanses from the small porthole windows, nothing had prepared the first-timers for the somewhat enchanting desolation of Antarctica. Shades of white and gray stretched as far as the eye could see in all directions, punctuated only by a few tiny distant signs of human life. A cloud-swathed Mt. Erebus, one of two active volcanoes on the continent, loomed over us as we boarded the snow cat that would take us to the base and we settled in for a ride across the sea-ice super highway (a small groomed and flagged track) that would deliver us to McMurdo Station, the US base in the Ross Sea region.
Upon arrival we were greeted by Greg and Chris who had arrived a few days prior. After a quick introduction from the station director and (you guessed it) another video, we enjoyed our first meal at the station, retired to our respective rooms and finally hit the hay to prepare for a busy next few days.
We'll stay on station until (tentatively) December 5th. During this time we'll pack up the mountain of gear needed for departure to our field site, attend a few more safety trainings and hopefully squeeze in a few jaunts into the surrounding splendor! Look out for another update within the coming weeks.
---
Dr. Gordon Bromley and UMaine undergraduate student Holly Thomas head to Antarctica!
(November 2015)
Dr. Gordon Bromley and UMaine undergraduate Holly Thomas left for the Antarctic on Saturday. Along with UMaine alumni Maggie Jackson and Greg Balco, they will spend the next six weeks examining the glacial history of the Dominion Range in the Transantarctic Mountains. Stayed tuned for updates!
---
Professor George Denton received the Quaternary Geology and Geomorphology Division's Distinguished Career Award (GSA-Baltimore, Nov. 3)
(November 2015)
View the nomination process and past recipients of the award.
---
Research Assistant Professor, Gordon Bromley, interviewed for WABI News Station (TV5)
(September 2015)
In a couple months, Dr. Bromley is headed to the Transantarctic Mountains to study past behavior of the East Antarctic Ice Sheet. To learn more about his plans while down on the ice, see his interview here.
---
Dr. Hall, Dr. Denton, and former research group members are published in Nature Geoscience
(July 2015)
A radiocarbon chronology of the headland moraine along the front of the Royal Society Range, Antarctica, indicates grounded ice in the western Ross Sea 12.8-18.7 kyr BP.  Subsequently, recession began 12.8 kyr BP likely due to marine influences on the grounding line overwhelming accumulation forcing.
Download the full pdf here.
(updated Oct. 2015) Read the UMaine News coverage of the story here.
---
Follow PhD student, Peter Strand, and Dr. Putnam during their time in Mongolia
(updated: September 2015)
Medill Scholar, Sarah Kramer, joined a field party consisting of Dr. Aaron Putnam, Peter Strand, and other UMaine-affiliated researchers that traveled to the high Atali Mountains of Mongolia, reporting on their time spent collecting rock samples and other data to understand better past climate changes in the Northern Hemisphere.  See her article here.
(June 2015)
Peter and Aaron will be in Mongolia for a month to conduct field work, and while there, they will be joined by a science journalism student from Medill, Sarah Kramer.  For this expedition, the UMaine team is bringing a DeLorme InReach Satellite communicator.  During their time abroad, this unit will broadcast their location every 2 hours from anywhere in the world.  Follow the link below to view their location, follow their progress, and even send them a message!
https://share.delorme.com/PeterStrand
The password is "glacier"
Also, check out their blog: http://umglacialgeology.tumblr.com/
---
Dr. Putnam and Dr. Allen are headed to UMaine this fall!
(April 2015)
Dr. Aaron Putnam will be joining the UMaine faculty as Assistant Professor in Fall 2015. Dr. Putnam brings expertise in cosmogenic isotopes, as well as a strong field program.  He has field sites all over the world including: New Zealand, Patagonia, Mongolia, China, Scotland, Switzerland, Norway, and the mid-West and western US.  We're excited to have him as the newest member of our glacial geology group!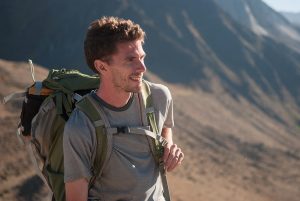 Dr. Kat Allen is coming to UMaine as a Visiting Scientist.  She is interested in the ocean's role in climate change, past, present, and future, and is currently investigating the ocean's behavior at the end of the last ice age.  Dr. Allen studies the modern ocean directly via ship- and shore-based field work, allowing her to develop new tools for probing into the past and provide insight into the impact of modern climate change on marine ecosystems.  Welcome Kat!
---
Dr. Bromley, Dr. Hall, and collaborators are published in Quaternary Research 
(March 2015)
Cosmogenic Beryllium-10 surface exposure ages from the Androscoggin moraine complex and the Little-Bethlehem moraine indicate stabilization or readvance of the Laurentide Ice Sheet ~14-13 ka.
Download full pdf here.
---
Updates from the Field!
(December 2, 2013)
Prof. Brenda Hall and Master's student Courtney King are in Antarctica to understand ice extent in the Ross Sea region following the Last Glacial Maximum.  Courtney passed along an update from McMurdo Station, and is now in the field!
After a few days of delayed flights and missed connections, I finally made it into Christchurch.  With just one full day in city, I spent the morning trying on the clothes from the Clothing Distribution Center (CDC) and the afternoon walking around the city looking at the ruined buildings and active demolition.  The next morning we boarded a C-130 Hercules in a drizzly Christchurch, flew for ~8hrs and landed in Antarctica where it was relatively warm with clear skies!  Since then, the Hatherton team composed of Dr. Brenda Hall and myself from the University of Maine, and Ph.D. student Trevor Hillebrand and Dr. John Stone from the University of Washington have been preparing for our month in the field.  Some of the many tasks that needed to be done before we leave include: going through the food list; look over all equipment needed in the field; attend Happy Camper Snow School; and review satellite images to determine our second field site.  While in the field, we plan to map the glacial geologic landforms in order to better understand the ice extent in the Darwin-Hatherton region.  Rocks samples for exposure age dating and algae samples for radiocarbon dating will be collected in order to assign time constraints to the ice extent.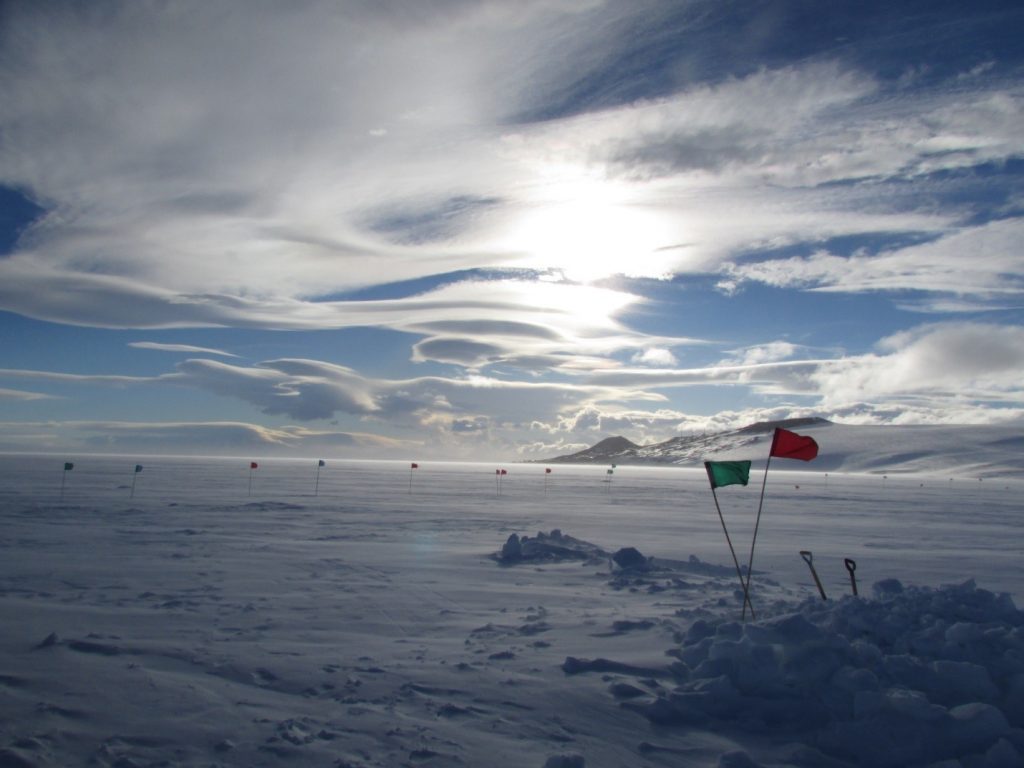 ———————–
(Jan 14, 2013)
Prof. Brenda Hall and Master's student Scott Braddock are in Antarctica to explore the history of the Ross Sea region.  Scott passed along an update from McMurdo Station, and is now in the field!
Our research team for this project includes three members from both the University of Maine (Dr. Brenda Hall, Scott Braddock, Audra Norvaisaite) and the University of California – Santa Cruz (Dr. Paul Koch, Rachel Brown, Jon Nye). We met in Los Angeles and made the long journey to Christchurch together. After several days in New Zealand, we boarded a LC-130 Hercules and flew to McMurdo Station.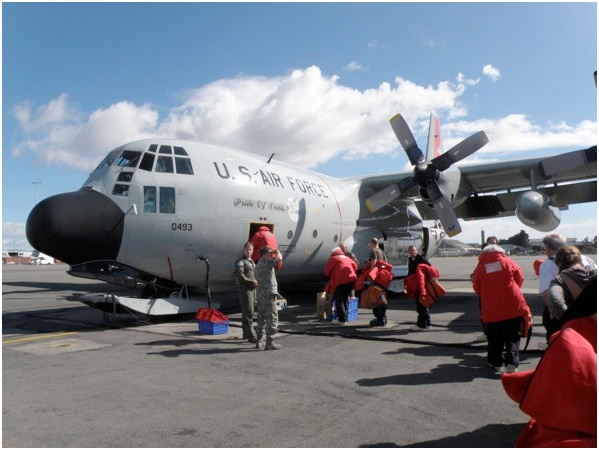 This is the first time four members of our group have travelled to the Antarctic (myself included), which meant we needed to spend a night sleeping on the sea ice for Happy Camper School. We had a chance to learn a few survival skills and enjoy some time off the base.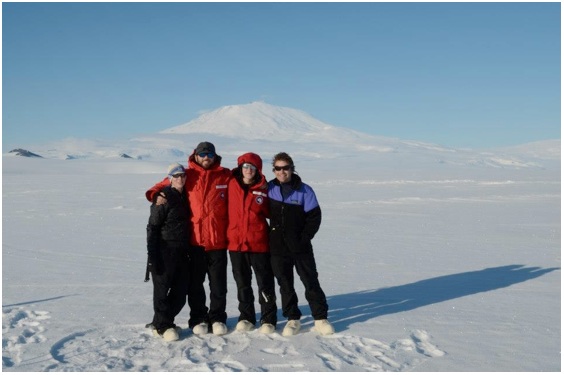 We are now waiting to head out to the field and begin our work. We have two objectives for the season. First, the group will sample the mummified seals found throughout the Dry Valleys to determine both former population sizes as well as the isotopic signature of the seal tissue. The second part of the project involves collecting mollusk shells to reconstruct of Holocene temperature variation using oxygen isotopes. Together, this information may give us details about past climatic and sea ice conditions in the Ross Sea region of Antarctica during the Holocene.