Will Manion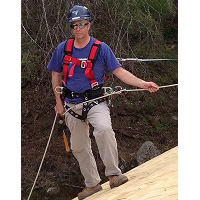 Will Manion
wmanion@maine.edu
B.S. Engineering; Wood Products, Construction and Management, State University of New York, College of Environmental Science and Forestry, in association with Syracuse University, 1989
M.S. Civil Engineering; Geotechnical, University of Maine, 1992
After finishing his M.S. in Civil Engineering at the University of Maine in 1992, Will was hired in the same department to manage laboratories and help with funded research. Some teaching of undergraduate soils and materials labs led to an official position change in 2000 with even more emphasis on teaching, including courses in graphics and project management. Along the way he has had a number of other experiences, including structural and geotechnical instrumentation, computer consulting, carpentry, charter boat captaining and construction management.
During a one-year sabbatical from the University of Maine in 2006-2007, Will worked in Sargent Corporation's regional office, then in Fredericksburg, Virginia. Sargent is a heavy earthwork contractor based in Stillwater, Maine. Duties included cost estimating, attending pre-bid meetings, delivering bids, subcontractor solicitation, procurement, safety audits and field management work all around the region from southern Pennsylvania to North Carolina, eastern Maryland to western Virginia.
From 2005 to 2007, he was involved as an owner and developer of an 11-acre infill suburban six-lot subdivision with a new road and underground utilities. Besides the actual construction, significant permit application and negotiation work with town, state and federal agencies was required.
For summer seasons 2011 and 2012 Will again worked as a project manager for Sargent Corporation. His primary job was to support and improve production and planning activities for field operations. In practice, this involved visiting projects, such as wind power, commercial site development, landfills, airports, underground utilities, box culverts and roadways, and working with the superintendents and foremen.
Even though Will, as an Instructor in Civil and Environmental Engineering, had been a cooperating Instructor in CMT for over a decade, he officially joined the CMT faculty full-time in fall 2013.
Now he is focused on building construction education, particularly sustainability, building information modeling (BIM), and management of construction operations. He enjoys building projects and working with students, and has instituted several curriculum changes, including the addition of a BIM course, more plan reading and a system of service learning projects for CET 458: Management of Construction, the senior capstone course.
In the senior capstone course sequence, students develop proposals to build an actual service project in the spring semester, and then construct it in the fall.  The goals are to give students experience managing their own projects and to demonstrate for the University and the project owners how to perform construction-based service projects safely and professionally. It's also an opportunity for graduating students to transition from academics to industry, showing what they have learned and how to implement it.  Recent projects have included three Habitat for Humanity house renovations, two phases of the Hirundo Wildlife Refuge "Trail of the Senses," parking lot and road improvements, and five different roof replacement projects at Leonard's Mills.
See the CET news blog for more information about the projects.
Will is a:
Licensed Professional Engineer in Maine
Certified Passivhaus Designer
Registered Maine Guide
Member of the American Society of Civil Engineers, and has served on a number of different national-level committees
Member of the American Society of Engineering Education, presenting papers and attending Annual Conferences
Regular attendee at the Associated Schools of Construction conferences, also presenting papers
LinkedIn: https://www.linkedin.com/in/wmanion