Welcome to the Department of Chemistry
Chemistry, the central science, is an integral part of modern life and forms the basis for advances in nearly all areas of science and technology.  Students and faculty in Chemistry at the University of Maine work together to answer questions related to major societal issues:  energy, the environment, modern materials, and health and medicine.  We invite you to explore our undergraduate and graduate programs and to learn more about our research.  If you have questions or would like to make arrangements for a tour of our department, please contact Dr. Alice Bruce, Chair, 152/271 Aubert Hall, 581-1168/ 581-1182, abruce@maine.edu
Tell me more.
Department News
Amir Rahmani competed in the Nottingham Prize Competition at the (Virtual) 2021 Physical Electronics Conference, a conference that focuses on new research results in the field of 
surface science
 and in the sub-fields of physics and chemistry of interfaces. 
This year, contestants were asked to create a 10 minute video highlighting their work at a level that can be understood by a broad audience.  Participants in the conference voted on the "People's Choice Award" and chose the video created by Amir Rahmani Chockanlu, a PhD candidate in Chemistry and FIRST, which describes the First "Direct Evidence for Sulfur Induced Deep Electron and Hole Traps in Titania" and provides new understanding of electronic states in this important class of photocatalysts.  The video that can be viewed here:
---
Research Highlights
Ahmad Ahmad, a graduate student in the Bruce Research group is a coauthor on an invited feature article that was recently published in Langmuir. Ahmad also designed the artwork for a journal cover which was selected for publication as a supplementary cover.
Ahmad A. L. Ahmad,1 Javad Basil Marutheri Parambath,2 Pavel S. Postnikov,3 Olga Guselnikova,3 Mohamed Mehdi Chehimi,4 Mitchell R. M. Bruce,1 Alice E. Bruce,1,* Ahmed A. Mohamed2, "Conceptual Developments of Aryldiazonium Salts as Modifiers for Gold Colloids and Surfaces" Langmuir, 2021, 37, 8897-8907.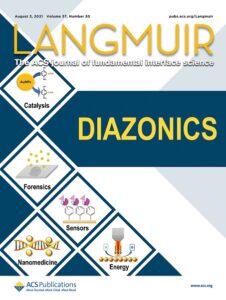 Seminar Series
Chemistry Department
2021-2022 Graduate Research Seminar Series
October 19, 2021
Dr. Christina Cooley (via Zoom)
Associate Professor
Department of Chemistry
Trinity University
San Antonio, Texas
https://maine.zoom.us/j/86820680612?pwd=UVFSL216dUF5OVlhdFhjMHV2dTNUUT09
Password: 648189