"A History of Canadian Studies at the University of Maine"
by Dr. Robert Babcock, Emeritus Professor of History
Why study Canada in Maine? First of all, a cursory look at a map of northeastern North America shows that the Pine Tree State is wedged between the Canadian provinces of Quebec and New Brunswick and lies across the Bay of Fundy from Nova Scotia.   Secondly, few maps reveal that this international border region has also been the site of human interaction for thousands of years.   Archaeologists have found ancient cultural connections in what they call the Maritime Peninsula. historians have limned growing interactions over the past four hundred years, and economists are tracing the ever-expanding trade connections that make Canada the most important business partner for Mainers today. Rarely can one pick up a Maine newspaper without a significant new cross-border interaction between Canada and Maine.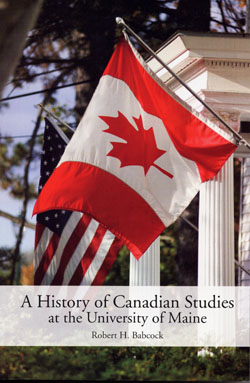 The purpose of this book is to explain the development of the Canadian Studies program at the University of Maine from its origins in the early 20th century to its position today as the most comprehensive program of its kind in the United States. Readers will learn how Maine's close proximity to Canada has spawned an ever-widening range of cross-border academic contacts rooted in mutual interests that are reinforced by collaborative academic study, which is benefiting residents on both sides of the international boundary.
Robert H. Babcock has been Emeritus Professor of History at the University of Maine since 1996. He earned AB and MA degrees from the State University of New York at Albany and his PhD. in Canadian-American history from Duke University. For more than forty years he taught courses in Canadian-American history at high school, college or university levels, and supervised many graduate students. His book, Gompers in Canada: A study in American Continentalism Before the First World War (1974), received the Albert B. Corey Prize from the American and Canadian Historical Association in 1976. Babcock has also authored numerous articles and reviews, served on the editorial boards of two journals, and edited the University of Maine Canadian-American Center's journal Canadian-American Public Policy from 1991 to 2004.