University of Maine—University of New Brunswick International Graduate Student History Conference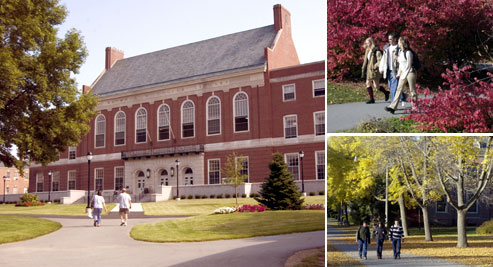 The International Graduate Student History Conference continues a long-standing relationship between the University of Maine and the University of New Brunswick. Begun in 1999 at the University of New Brunswick, the conference is intended to provide a professional, peer-group environment for graduate students to present their research and to help enhance connections between the two universities at the graduate student level.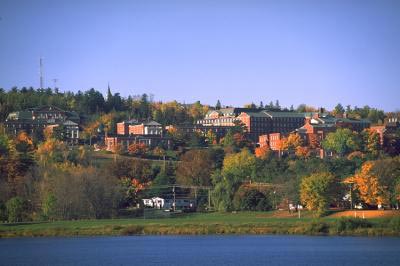 Friday, Satuday, and Sunday- October 12th-14th, 2012- University of Maine
Keynote Speaker: Dr. Gail Campbell
Dr. Campbell is a specialist in 19th century Canadian social and political history.  Her publications include "Are we going to do the most important things?" Senator Muriel McQueen Fergusson, Feminist Identities, and the Royal Commission on the Status of Women and Disfranchised but not Quiescent: Women Petitioners in New Brunswick in the Mid-19th Century, which has been reprinted in several anthologies.  Dr. Campbell served as editor of Acadiensis from 1994-1998 and is currently Chair of the Editorial Boards of Acadiensis and Acadiensis Press.
---
Friday, Saturday, and Sunday, September 28 – 30, 2007 – University of New Brunswick
Keynote Speaker : Dr. Scott W. See
Dr. Scott W. See will deliver the keynote address on 28 September 2007. Dr. See is Chair of the Department of History and Libra Professor of History at the University of Maine. He is a specialist in Canadian history, Canadian-American history, and Northeast Borderlands. His publications include The History of Canada (2001) and Riots in New Brunswick: Orange Nativism and Social Violence in the 1840s (1993; second printing, 1999), plus numerous scholarly articles.
For more information please contact Don Nerbas.
---
Friday, Saturday, and Sunday, October 20 – 22, 2006 – University of Maine
Program
Friday, October 20, 2006
3:00 pm Registration
4:00 pm Keynote Address
Dr. Linda Kealey (UNB): "The Nurse is Worth It": Revisiting Women's Caring Work"
6:00 pm Welcome Banquet Dinner
Saturday, October 21, 2006
7:30 am-8:30 am Registration and Light Breakfast
8:30 am-10.00 am Panel 1: Gender Roles in Transition: Late 19th- Early 20th Century
Mary Okin, University of Maine "The Diagnosis of Mental Disorder in Women in Quebec, 1912-1940: An Analysis of Women's Ambivalent Relationship to Culturally Prescribed Roles as Demonstrated through Expressions of 'Madness'"
Le'Trice Donaldson, University of Tennessee- Knoxville "From Triumph to Tragedy: African-American Soldiers Fight for Citizenship and Manhood in the Spanish-American-Filipino War"
Krista Chatman, University of New Brunswick "Merchant Men and Office Girls: The Experience of Female Clerical Workers in St. John's Newfoundland to Confederation"
Shannon Risk, University of Maine: "'Taxation and Representation (are) Inseparable': Early Petitions for Maine Woman Suffrage, 1872-1897"
10:00 am-10:30 am Coffee Break
10:30 am-12:00 pm Panel 2: Public Memory and Popular Discourse
Todd Spencer, University of New Brunswick, "Remembering the Firefighters: Searching for New Brunswick Memorials"
Chiara Tedaldi, University College Dublin "Prescribing Memory, Rewriting History: An Exploration of the Introduction of Italy's 'Day of Remembrance'"
Kirk Niergarth, University of New Brunswick, "The Place of Healing and the Place of Art in New Brunswick"
Gregory Jones- Katz, University of Maine, "The Paul de Man Affair"
12:00 pm-2:00 pm Lunch
2:00 pm-3:30 pm Panel 3: Cultural and Technology
Jennie Leland, University of Maine "From Superwoman to Supergirl: The Construct of Teenage Girls 'Having it All' in Buffy the Vampire Slayer"
Joy Giguere, University of Maine "A Monster for the Masses: The Rise of Zombie Cinema in the United States"
Christopher Clark, University of Saskatchewan "Early Modern Travel Writing and the Blog: Striking Similarities Across 500 Years of Print Media"
Gary Campbell, University of New Brunswick "The Duke of Kent's Telegraph System
3:30-4:00 pm Coffee Break
4:00 pm-5:30 pm Panel 4: Two Centuries of International Conflict
Tony M. Kennedy, University of New Brunswick "The Korean War and the USMC at the Chosin Reservoir"
Kelly Chaves, University of New Brunswick "Suitable Provisions are not made for their Return: The Collision of Maori Culture and British Seamanship, 1805-1825"
D. Jeannine Cole, University of Tennessee-Knoxville "Transatlantic Kinsmen: Issues of Class in British and Confederate Relations"
David Turpie, University of Maine "The Greatest of our New Possessions: National Geographic, the Philippines, and US Imperialism, 1898-1905"
Sunday, October 22, 2006
8:00 am-8:30 am Light Breakfast
8:30 am-9:45 am "Panel 5: Changing Nature of Texts: Interpreting and Reinterpreting Historical Sources"
Nathan P. Morse, University of Vermont "The Monforte Heresy: Spiritual Purge, or Financial Grab?"
Cameron Goodfellow, University of Saskatchewan, John Partridge's Books of Secrets: Trade Manual or Popular Press?"
Jennifer Farkas, James Madison University "The English Mirror: Comparing New Cultures Through English Early Modern Philosophy"
9:45-10:15 Coffee Break
10:15 pm-11:45 am Panel 6: 20th Century Social and Economic Transition in Canada
Mike Wilcox, University of New Brunswick "The United Oil Workers of Canada Strike and Labour's Postwar Settlement in New Brunswick, 1948"
Kimberly Dunphy, University of New Brunswick "Canadian Union of Public Employees Local 2464: The Bethel Nursing Home Strike, 1981-1982"
Lisa Pasolli, University of New Brunswick "The Influence of the 'Saskatchewan Mafia' on the Modernization of the New Brunswick Civil Service, 1960-1970"
Don Nerbas, University of New Brunswick "Accumulating Capital in Saint John: T. McAvity & Sons Ltd. in the 1920s"
11:45 am-12:45 pm Lunch
12:45 pm-2:00 pm Panel 7: Colonialism: 16-18th Century Britain and North America
Laura Geoghegan, University of Maine, "Henry Knox and his involvement in the Northwest Ohio Frontier, 1787-1794."
Abigail Chandler, University of Maine "From Incontinency to Fornication: York County Under Siege"
Jen Turner University of Massachusetts "Public Poor Relief in 17th Century Colonial America and England"
---
Friday, Saturday, and Sunday, October 14 – 16, 2005 – University of New Brunswick
Program
Friday, 21 October
3 pm – 3:30 pm Welcome and registration
3:30pm – 5 pm Keynote Speaker
Dr. Richard Judd (University of Maine) "North American Environmental History: A Comparative Analysis of Canada and the United States."
5 pm – 6 pm Wine and Cheese Reception
Saturday, 22 October
8:30 am – 9 am Refreshments
9 am – 10 am
1.1 20th Century Right-wing Radicals

James Brittain, University of New Brunswick, "Systemic Silencing of Political Voice: The Relevance of the National Front Agreement (1958-1974) within Contemporary Colombian Society."
Val Deacon, York University, "Cagoulard Characteristics: Defining the members of the Comité secret d'action révolutionnaire."

1.2 Acadians and Loyalists: history and commemoration

Kristy Martin, Carleton University, "Life in the "Olden Days": Representing Childhood in Heritage Villages: A Case Study of King's Landing and Acadian Village."
Roger Marsters, Dalhousie University, "Commemorating Acadia: English-Canadian historiography, biculturalism, and the creation of Grand Pré."
10 am – 10:15 am Break
10:15 am – 11:30 am
2.1 Immigration and Community Formation

Amy O'Reilly, University of New Brunswick, "Irishness in a Pre-Famine Immigrant Community: Glasgow, 1780-1845."
Gay Fanjoy, University of New Brunswick, "But the twain did meet: Community formation in New Brunswick Fundy-coast fishing villages."
Maria VandenBerg, University of New Brunswick, "PEI Migration: 1873 to 1945."
11:30 am – 12 pm Lunch
12 pm – 1:15 pm
3.1 Civil-Military relations [Tilley Hall 5]

Keith Mercer, Dalhousie University, "Bluenosers confront John Bull: The Story of British Naval Impressment in Nova Scotia, 1775-1815."
Ian Andrews, University of New Brunswick, "Military Aid to the Civil Power: The Cape Breton Coal Strike of 1909 – 1910."
Josh Peters, University of New Brunswick, "Civil-Military Relations: The Case of the Israel Defense Forces."
1:15 pm – 1:30 pm Break
1:30 pm – 2:45 pm
4.1 Military history and commemoration

Robert Harding, Dalhousie University, "Continuity and Commemoration: Newfoundland's Cultural Memory of the Battle of Beaumont Hamel."
Tony Kennedy, University of New Brunswick, "S.L.A. Marshall's Controversial Contribution to Military History and Tactics."
Deborah Bulmer, University of New Brunswick, "From Wheatfield to Battlefield: Canadian Junior Officers in the years preceding the Second World War."

4.2 Women and Twentieth Century Canadian Culture

David Bent, University of New Brunswick, "Modernity and Rural Women: The Women's Institute of Nova Scotia and the Campaign for Rural Modernization, 1918-1956."
Heather Molyneaux, University of New Brunswick, "Now She Can Cope: Sedatives, Tranquillizers and the Image of the Hysterical Housewife
2:45 pm – 3 pm Break
3 pm – 4 pm
5.1 Cultural Constructions of Forests and Trails

Abigail Smith, University of Maine, "A Culture of Walking: The Creation of Trail Landscapes and Trail Narratives along the Appalachian and Sierra Nevada Ranges, 1876-1925."
Dale Potts, University of Maine, "Henry Red Eagle and Walter MacDougall: Woods Laborers, Popular Literature and Cultural Perceptions of the Maine North Woods, 1930-1950."

5.2 Community and Modernity

Shawna Stairs, University of New Brunswick, "'Tending to the Uplift of Humanity': Inspector George Mersereau and New Brunswick Schools: 1884-1900."
Stephen MacPherson, University of New Brunswick, "Marysville after the Boss, 1922-1957: A Small Town's Quest for Empowerment."
4 pm – 4:15 pm Break
4:15 pm – 5:15 pm
6.2 Forest fires and forest exploitation

Terrence Currie, University of Ottawa, "Ottawa Valley's Great Fire of 1870: An Ecological History."
Melanie Aube, University of New Brunswick, "Assessing the historical impacts of forest exploitation on the Miramichi River watershed, New Brunswick."

6.2 North-Eastern North America's Bourgeoisie: Papers and Politics

Joy Giguere, University of Maine, "The Parsons' Papers: the archival records of a prominent Maine family."
Don Nerbas, University of New Brunswick, "The Politics of Saint John's Bourgeoisie, 1919-1927."
6:30 pm Banquet
Sunday, 23 October
9 am – 9:30 am Refreshments
9:30 am – 10:45 am
7.1 Religious Images and Objects. [Tilley Hall 5]

Dale Block, University of Calgary, "Instruments of Faith: The Religious Significance of the Telescope and the Microscope in the 17th Century."
Katie Poulin, Pennsylvania State University, "Painting Antwerp in the 16th Century: Issues of Gender, Artistic Style and Religion in the Art of Jan van Hemessen."
Emily Soldera, Carleton University, "Conduits of Faith and Knowledge: Sacred Objects in Museums."
10:45 am – 11:00 am Break
11 am – 12:15 pm
8.1 Industry and Community

Murray McEachan, University of New Brunswick, "Wooden Walls and Satanic Mills: A comparison of the Portsmouth dockyard and the cotton mills of Lancashire as industries in the early Industrial Revolution in Britain."
Joseph Gerth, University of Massachusetts, "The Vast Roles of Cincinnati's Breweries from 1800 to Prohibition."
Brian Payne, University of Maine, "'Intrusions of Strangers': Modes of Production and Defining Local Culture in the 19th Century Gulf of St. Lawrence Mackerel Fishery."
12:15 pm – 1 pm Lunch
1 pm – 2:15 pm
9.1 Modern Germany

Anthony Nardini, Villanova University, "Varieties of Nationalism and German Unification: A Brief Historiographical Survey."
Peter Mersereau, Dalhousie University, "The Phoebus Scandal: The military, the cinema, and the battle for hearts and minds in Weimar Germany."
Michael C. Wallo, Pennsylvania State University, "Centers of 'Community': Literary Expressionists and radical Weimar Conservatives in Early Twentieth-Century Germany"
2:15 pm – 2:30 pm Break
2:15 pm – 3:30 pm
10.1 Twentieth Century Politics and Diplomacy

Sami Jeskanen, University of Maine, "Trudeau and the American Presidents – Diplomatic Management of Personal Relations."
Zachary Wareham, University of New Brunswick, "The Cold War and the Spanish Concordat of 1953."
Kate Betts-Wilmott, Wilfred Laurier University, "Politics and the Army in Post-Fascist Italy during the Second World War."
3:30 pm – 4 pm Closing remarks
---
Friday, Saturday, and Sunday, October 15-17, 2004—UMaine Orono
Friday:
4:00 pm Keynote Address by Professor William Parenteau, University of New Brunswick
6:00 pm Welcome Dinner
Saturday:
8:00 am Coffee and Light Breakfast
9:00 am Panel 1: Citizenship, Nationalism, and Cultural Identity
Amanda Braden, Boston College, "Making Ends Meet: Working-Class Women and the Struggle for Affluence"
Whitney Strub, UCLA, "Arming for the Culture Wars: Pornography and the Rise of the New Right"10:30-11:00am Coffee Break
11:00 am Panel 2: Politics and the Military in the Early Republic
Gary Campbell, University of New Brunswick, "A Military Interpretation of the Maine/New Brunswick Border Controversy, 1783-1843"
Myles Beaupre, University of New Brunswick, "Antimasonic Thought: Republican Quarrel or Sociological Critique"
12:00 pm Lunch
1:00 pm Panel 3: Evolving Issues in Religion and Morality
Bethany Tanis, Boston College, "Religion, Culture, and Imperialism: The Oxford Movement in Late-Victorian and Edwardian Great Britain"
Janet Mullin, University of New Brunswick, "Parlour Games: Gaming and the Middling Sort in Eighteenth- Century England"
Adrian Ciani, University of New Brunswick, "Canada and the Vatican to 1945: The Challenges of Diplomacy in the Era of Protestant Domination"
2:45 pm Coffee Break
3:15 pm Panel 4: Land Use Policies in the Twentieth Century
Dale Potts, University of Maine, "Where Field and Forest Meet: Valuation of the Small Farm Woodlot in the Popular Literature of Maine, 1930-1959"
Joshua Dickison, University of New Brunswick, "Making New Brunswick Modern: Vocational Training in the Mactaquac Regional Development Plan, 1965-1975"
Katie Ferrar, University of New Brunswick, "The Mactaquac Hydroelectric Project's Relationship to the Construction of Large Dams"
Abigail Smith, University of Maine, "A History of Trail Use in North America: From a Path of necessity to a Trail of Diversion"
5:00 pm Dinner Banquet
Sunday:
8:00 am Coffee and Light Breakfast
9:00 am Panel 5: Political Reform Movements
Anthony Cantor, University of British Columbia, "Envisioning the Right: Caricature and the Action Française, 1920-1926"
Daniel F. Cuthbertson, University of New Brunswick, "Destined to Failure: The Attempted Reform of King Amanullah of Afghanistan, 1919-1929"
Nicolas P. Markellos, Villanova University, "The Hunt for True October: The Historiography of 1917 from Post World War II to the Present"
10:30 am Coffee Break
11:00 am Panel 6: International Forces in the World War II and Cold War Periods
Julie Root, University of New Brunswick, "Canadian-American Relations and the United Nations Temporary Commission on Korea"
Brian Clancy, University of Western Ontario, "Seven Days in July: Clifford, Vietnam, and the Rethinking of American Credibility, 1965"
Kevin Norris, University of New Brunswick, "The War Weary Project"
12:30pm Lunch
---
Friday, Saturday, & Sunday, Oct. 17-19, 2003—UNB Fredericton
Friday:
4:00pm Keynote Professor Michael Lang, University of Maine, "Global Integration in the Nineteenth Century."
Saturday:
10:00am Panel One: Revisionism and Modern Historical Methodology
Glenn Leonard, "A Match Made in ??: The Use of Organizational Theory in Diplomatic and Military
History."
Lee Windsor, "Contain the Enemy or Capture Vienna: The Language of Canadian Army Success
Measurement in Operation Olive, Italy 1944."
1:00 pm Panel Two: Urban and Environmental History
Leah Grandy, "Reconstructing the Role of the Urban Horse, Saint John, 1871-1901."
Dale Potts, "Guiding the Populace: Conservation Ideas and the Value of Place in the Maine Writings of Henry Red Eagle."
Jeremy Leblanc, "Untitled: Witty Title About Conservation Projects in New Brunswick."
Brian Payne, "The Historical Geography of the North Atlantic Fisheries."
3:30 pm Panel Three: 20th-Century Canadian Labour History
Hannah McCarthy, "Strike of the Scottish Fisher Girls, 1910: A Research Note."
Chris Gallant, "A Progressive Failure: The Education System in New Brunswick's Unemployment Relief Camps, 1934-1936."
Janis Thiessen, "Problems in Labour History: The Mennonites of Manitoba, 1945-2003."
Sunday:
10:30 am Panel Four: Early Modern European History
Timothy Pearson, "The Rhetoric of Conversion: Anti-Jansenism in The Jesuit Relations, 1640-1670."
Amy O'Reilly, "The Creation of a Public Persona: Provincial Russian Gentry Women's Education, 1764- 1861."
1:00 pm Panel Five: Immigration, Emigration, and Assimilation
Ryan O'Connor, "Making Sense of Chaos: The Symbolic Value of Charlottetown's Orange Lodge Riot, 1877."
Sharon Weaver, "Cape Breton and the Back to the Land Movement."
Heather Steele, "The Role of New Brunswick Government in Immigrant Recruitment and Settlement, 1945-1971."
3:00 pm Panel Six: North American Cultural History
Hans Carlson, "With Wishing You Good Trade and No Want of Provisions: Subsistence and the Creation of a Cultural Environment in the James Bay Fur Trade."
Josh McFadgen, "In the Shadow of the Rock: Ritual Murder and the Jew of Quebec City, 1904-1914."
Kirk Niergarth, "Fred Ross and Northrop Frye: Humanism in Canada and the Hope for Education."
---
Friday & Saturday, Oct. 18 & 19, 2002—UMaine Orono
Friday:
5:30 pm Introduction and Welcome
6:30 pm Keynote Professor
Stephen Turner, University of New Brunswick
Saturday:
9:00 am Panel One: Work, War, and Life in the Northeast
Joshua Smith, UMaine, "Privateers as Smugglers: Collusive Captures and the War of 1812 in the Bay of Fundy."
Betty P. Duff, UMaine, "Industrial Welfare and Company Towns: Corporate Attempts to Establish a New Social Order."
10:30 am Panel Two: Language and Culture in Canada
Tony Penders, UMaine, "The Thorns Posed, the Scorned Rose."
Matthew James Baglole, UNB, "Confederation of Regions Party as a Continuation of Protest in New Brunswick."
Paul Buck, UMaine, "Gérald Leblanc, Moncton Mantra, et la recherche d'une nouvelle identité acadienne."
1:00 pm Panel Three: Imagery and History
Dale Potts, UMaine, "Resistance, Reclamation, and Reversing the Outcome: Henry Red Eagle and American Popular Culture."
Nicholas Kenny, McGill, "Reading Between the Brushstrokes: Art as a Primary Source in History."
3:00 pm Panel Four: Empire and the World
David Parsons, UNB, "Colony and Empire Defined: The Royal Tour through New Brunswick, 1860."
James A. Wood, UNB, "The Origins of Canadian Participation in the First Special Service Force."
Glenn Leonard, UNB, "The Inevitable Fall: The Failure of the League of Nations: A Case Study."
---
Friday & Saturday, Oct. 12-13, 2001— UNB Fredericton
Friday:
4:00 pm Keynote Professor
Liam Riordan, University of Maine, "Doing History Across Regions and Specialties."
Saturday:
9:00 am Panel One: Women, Politics, and the Media
Heather Molyneaux, UNB, "Advertisements and the 'Beauty Myth': An Historical Analysis."
Matthew Baglole, UNB, "Living in the Right: Women's Involvement in the Confederation of Regions Party." Norm Dods, UNB, "The Importance of Newspapers and Literacy to Britian and the General WWI Generation."
11:00 am Panel Two: Land Stewardship and the Environment
Phillipe Charland, McGill, "Un Géographe au Coeur du Wananki ou Définition de la Territorialité et Reconstruction de la Carte Mentale du Wabanaki par la Toponymie Actuelle."
Kimberly Jarvis, University of New Hampshire, "'A memorial made by God': The 1925-1928 Campaign to Save Franconia Notch."
1:30 pm Panel Three: 20th-Century Military Affairs and Ideology
Aaron Plamondon, University of Calgary, "King No Longer: The Evolution of the Maritime Helicopter Project."
Andrew Theobald, UNB, "Precedent Without Warning: The United Nations Peacekeeping Operations to the Congo and Rwanda."
David Furber, SUNY Buffalo, "Nazi Nebraska: Frontier Myths and Nazi Ideology in the Warthegau."
3:30 pm Panel Four: Law, Order, and Society in the 19th Century
Scott Lanzendorf, UMaine, "Militia Officers and Collective Resistance to the Public Militia System in Maine and New Hampshire, 1790-1846: A Marxist Perspective."
Maj. James D. Campbell, UMaine, "'Training for Sport is Training for War': Sport and the Transformation of the British Army, 1860-1914."
Blake Brown, Dalhousie, "'A Delusion, a Mockery, and a Snare': Challenges to the Array and Jury Selection in the Nineteenth Century."
---
Friday & Saturday, Oct. 13 & 14, 2000—UMaine Orono
Friday:
1:15 pm Panel One: Representations, Present and Past: Photography, Nationality, and Narrative
Hans M. Carlson, UMaine, "A Reason for Stories: Nature, Natives, and the Narrative Net."
Gabrielle Kemp, Memorial University, "The Apotheosis of Sir Wilfred Grenfell: Photography and Philanthropy at the Labrador Mission."
Joseph W. Moser, University of Pennsylvania, "Determining Jewish Nationality in Poland and Lithuania from the Perspective of the Komitee für den Osten During World War I."
4:00 pm Keynote Professor
David Frank, University of New Brunswick, "Making History: The Search for J. B. McLachlan."
Saturday:
10:00am Panel Two: Canada: Region, Immigration, and Politics
Laura A. Detre, UMaine, "'Not Desirable Neighbors': Ethnic Prejudice Toward Immigrants in the Debates of the House of Commons, 1896-1914."
Corey Slumkoski, UNB, "New Brunswick, the Rowell-Sirois Commission, and the Wartime Tax Agreement."
Brian Payne, UMaine, "Nova Scotia Fishermen in the American Fishing Fleet, 1837-1854."
1:00 pm Panel Three: Native Peoples: Colonial Experience and Geographic Change
Phillipe Charland, "Une Géographie chez les Abénakis ou mejassala migakawinnoak: mécanique et dynamique de dépossession du territoire Amériquain s'atterdant à l'expérience qu'a vécue la nation Wabanaki."
Barbara J. Lindsay, UMaine, "New Perspectives on Native Americans and Christian Missionaries in the Colonial Northeast."
2:30 pm Panel Four: Economics and Everyday Life
Betty P. Duff, UMaine "Married Men Wanted: Gender Roles in the Model Company Towns of Millinocket, Maine, and Lynch, Kentucky."
Jeremy Morrison, "On the Trail of an 'Industrial Expert': Harry Hereford, the 1923 Sydney Steel & Coal Strike, and the Department of Labour's Role in Industrial Relations in Canada in the 1920s."
Sharon MacDonald, UNB, "'As the Locusts in Egypt Gather Crops': The Hooked Mat Mania and Cross-Border Shopping in the Early Twentieth Century."
---
Saturday, Oct. 30, 1999—UNB Fredericton
8:45 am Welcome
9:00 am Panel One: Regional Responses
Tim Lewis, UNB, "A Progressive Voice in an Agricultural Wilderness: The Maritime Farmer and Co-operative Dairyman, 1900-1929."
Joshua Smith, UMaine, "The 'Quoddy Hanged."
Brad Shoebotton, UNB, "Branch Lines and Politics: The Case of Albert County Railways, 1864-1918."
12:30 pm Panel Two: Native Negotiations
Micah Pawling, UMaine, "Negotiation with the Written Word: 19th Century Maliseet and Passamaquoddy Petitions."
Martha Walls, UNB, "Native Responses to the Indian Residential School at Shubenacadie, Nova Scotia, 1929-1950."
2:00 pm Panel Three: Masculine Matters
Brian Clancy, UNB, "Strike from Point Luck: An Assessment of American Performance During the Battle of Midway."
Elizabeth Hedler, UMaine, "'Never Give Up;' or, Canadian Masculinity in 19th Century Fiction."
Mark Savoie, UNB, "A Bad Night in Boston: The Ace Bailey—Eddie Shore Incident."