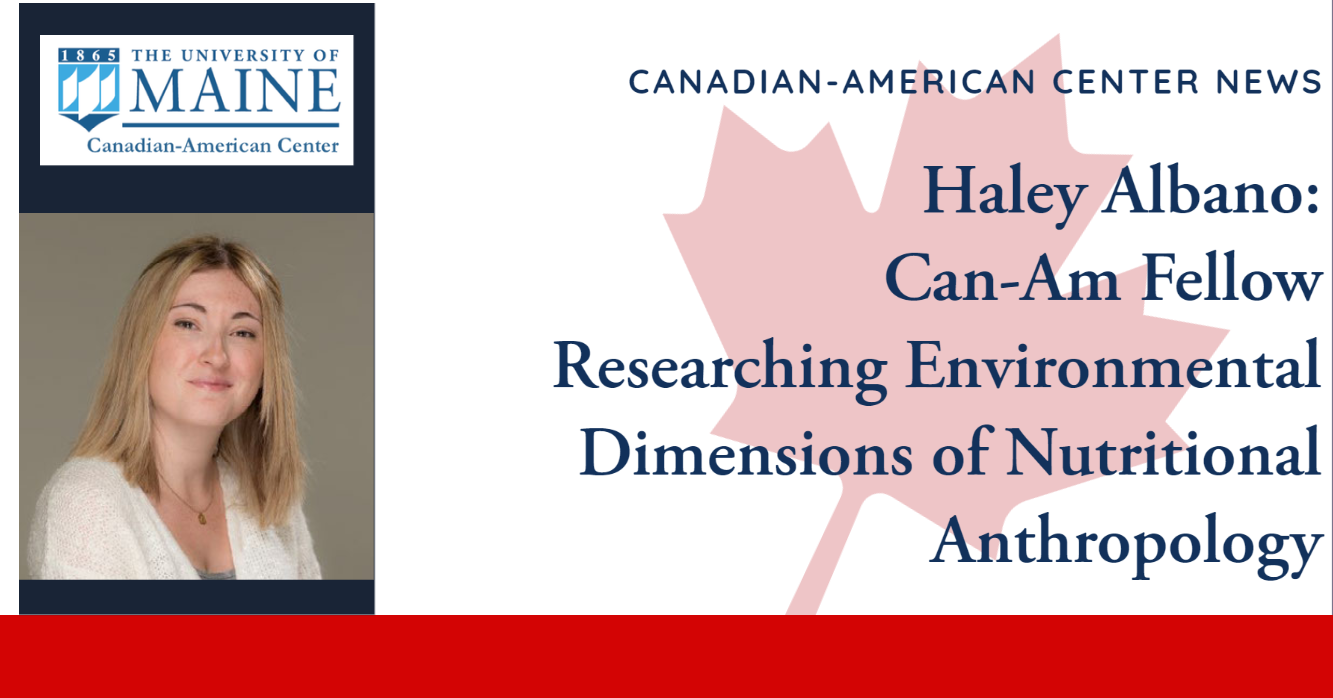 Canadian-American Fellow Feature: Haley Albano
University of Maine PhD student, Haley Albano, is a recipient of the Canadian-American Center fellowship for 2022 to 2023.
The Canadian-American Center Fellowship is offered by the Canadian-American Center and the University of Maine Graduate School. It is available to graduate students in disciplines that focus on Canada or Canada-US relations. Each academic year, the fellowship provides a $20,000 stipend, tuition waiver, and 50% of University issued health insurance. The award is available to citizens of any country.
Albano had worked with the Canadian-American Center prior to her fellowship through the Anthropology Department at UMaine. She had followed the center's research for some time, and was specifically connected with the cross-border writing on landscapes of public policy. For any future students looking to receive this fellowship, she says, "My advice to undergraduates is to reflect on the wider potentials of your interests, and to think about how your interests can open the door for others. When you follow what you care about, you will create vibrant new dimensions to share with others! The support that I have received through the Canadian-American Center has helped to shape the direction of my career, and I would encourage undergraduates to connect with the Center's long traditions of cross-border research."
According to Albano, "I'm interested in the environmental dimensions of nutritional anthropology, where I'm researching the intersections between diet-related health risk and nutritional planning policies. I hope that my research will encourage the production of more hopeful health futures." She's recently taught courses for the UMaine Department of Anthropology, and at the Mitchell Center for Sustainability Solutions.
Before beginning her studies at UMaine, Albano earned her BA in Anthropology from Bridgewater State University in 2011, and her M.S. in Ethics and Public Policy from Suffolk University in Boston in 2015. She then lived in rural Alaska for a few years, before joining UMaine in 2019.
Albano is a PhD student in the department of anthropology at UMaine. She enjoys hiking and spending time in nature, particularly in the Bangor City Forest. She also enjoys cooking, going to local farmers markets, and resistance training. After obtaining her degree, Albano would like to help foster positive, intellectual spaces focused on the next food health nexus. She hopes to continue upwards in academia as an anthropology professor, and to work with universities and research institutions interested in the creation of new ways of understanding health and health policy.