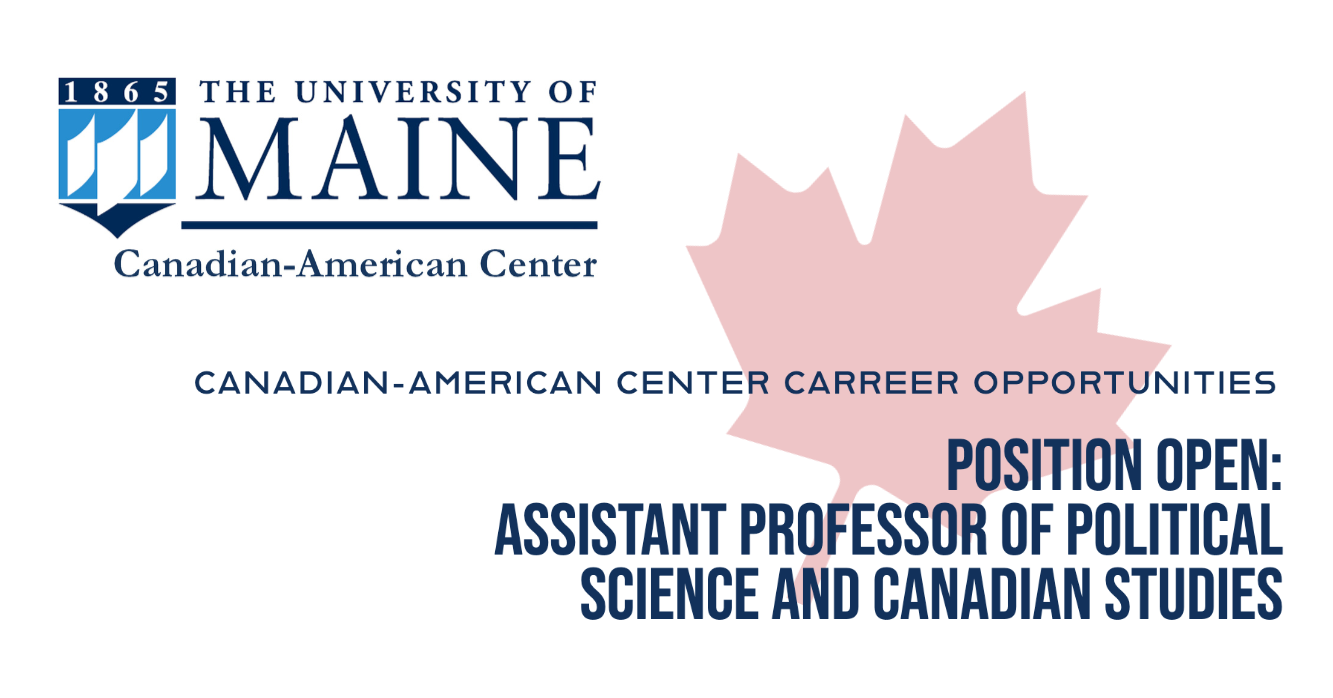 Career Opportunities: Assistant Professor of Political Science and Canadian Studies
To apply for this position, please visit the UMaine Jobs Portal.
TITLE: Assistant Professor of Political Science and Canadian Studies
DEPARTMENT:  Political Science – OPOL
BARGAINING UNIT: AFUM
SALARY BAND/WAGE BAND: N/A
LOCATION: Orono, ME
---
STATEMENT OF THE JOB:
The Department of Political Science and Canadian American Center at the University of Maine are seeking a broadly trained comparativist to fill a full-time, tenure-track academic-year faculty position in Political Science and Canadian Studies at the rank of Assistant Professor, anticipated to start August 28, 2023. This is a 50/50 joint appointment in the Political Science Department and the Canadian-American Center with a tenure home in Political Science.
This position has teaching, research, and service duties. The typical teaching assignment is five courses per year, to include the introductory course in comparative politics, other courses in comparative politics or international relations, and Canada focused courses.
Other responsibilities include, but are not limited to:
Being an active contributor to the research and outreach program of the Canadian-American Center by organizing events, symposiums, and activities at a national level
Maintaining a productive research program in Canadian studies
Developing and supervising internships for students
Mentoring undergraduate students in research
Advising students on their course of study and aiding them in the registration process, which includes maintaining regular office hours and participating in recruitment of students
Seeking external funding as appropriate to support research and other professional activities
Performing service at the Canadian-American Center, the Department of Political Science, the College of Liberal Arts and Sciences and the University community
We are a faculty that values work-life balance and maintaining a productively collegial workplace.
ABOUT THE UNIVERSITY:
The University of Maine is a community of more than 11,900 undergraduate and graduate students, and 2,500 employees located on the Orono campus, the regional campus in Machias, and throughout the state. UMaine is a land, sea and space grant university, and maintains a leadership role as the University of Maine System's flagship institution. UMaine is the state's public research university and a Carnegie R1 top-tier research institution, dedicated to providing excellent teaching, research and service for Maine, the nation and the world. More information about UMaine is at umaine.edu.
The University of Maine offers a wide range of benefits for employees including, but not limited to, tuition benefits (employee and dependent), comprehensive insurance coverage including medical, dental, vision, life insurance, and short and long term disability as well as retirement plan options. As a former NSF ADVANCE institution, the University of Maine is committed to diversity in our workforce and to dual-career couples.
UMaine is located in beautiful Central Maine. Many employees report that a primary reason for choosing to come to UMaine is quality of life. Numerous cultural activities, excellent public schools, safe neighborhoods, high quality medical care, little traffic, and a reasonable cost of living make the greater Bangor area a wonderful place to live. Learn more about what the Bangor region has to offer here.
Employees in the University of Maine System are required to comply with UMS COVID protocols which currently include, but are not limited to, being vaccinated, obtaining a qualified vaccination exemption, and/or participating in regular COVID testing. Further information can be found on our Together for Maine website.
QUALIFICATIONS:
Required:
Ph.D. in Political Science or equivalent degree
Expertise in Canadian studies
Evidence of ability to develop and teach courses in a variety of areas including Political Science courses in comparative politics or international relations and courses in Canadian studies
Record of or demonstrated potential for success in university-level teaching
A strong emerging record of publications and independent program of research
A proven record of research or professional activity in Canada.
Appropriate methodological training and analytical skill
Preferred:
Evidence of experience in organizing events
Evidence of effective commitment to the values of diversity, equity, and inclusion
Written and oral skills in French
Experience effectively mentoring and/or advising undergraduate students
Record of success in competitive funding
Area of specialization is open, although due to existing programmatic strengths, we have significant needs for expertise in Canadian politics and public policy, Canadian foreign policy, comparative constitutionalism, the politics of energy and the environment, women and politics, and the politics of multiculturalism
Other Information:
Materials must be submitted via "Apply For Position" on the UMaine Jobs Portal. You will need to create a profile and application; upload:
1.) A cover letter which describes your experience, interests, and suitability for the position as described above
2.) A resume/curriculum vitae
3.) Letters from three professional references – these should be emailed to Deborah Grant at dlgrant@maine.edu and not uploaded
3.) A journal article, conference paper, or chapter as a research sample
4.) An unofficial copy of graduate transcripts(s)
Additional materials, including available teaching evaluations and course syllabi will be requested at the second round of interviews.
You will also need to submit the affirmative action survey, the self-identification of disability form, and the self-identification of veteran status forms. Incomplete application materials cannot be considered. Materials received after the initial review date will be reviewed at the discretion of the University.
Search Timeline:
Review of applications to begin: October 18, 2022
Screening interviews to begin no earlier than: October 25, 2022
On-site interviews to begin no earlier than: November 7, 2022
Tentative start date: August 28, 2023
Specific questions may be addressed to Amy Fried, Chair, Department of Political Science, amyfried@maine.edu, 207-581-1797 or Frédéric Rondeau, Director, Canadian-American Center, frederic.rondeau@maine.edu, 207-581-4228.
Applicants must be prepared to conduct interviews remotely if circumstances require, and understand that a successful applicant may be asked to consider an offer with a deadline without having been able to make an in-person visit to campus should travel or other restrictions apply.
Appropriate background checks are required.
The University of Maine is an EEO/AA institution and does not discriminate on the grounds of race, color, religion, sex, sexual orientation, transgender status, gender expression, national origin, citizenship status, age, disability, genetic information or veteran's status in employment, education, and all other programs and activities. The following person has been designated to handle inquiries regarding non-discrimination policies: Director of Equal Opportunity, 101 Boudreau Hall, University of Maine, Orono, ME 04469-5754, 207.581.1226, TTY 711 (Maine Relay System).
Length:
Academic Year (Sept-May)
Required Documents:
Copies of Transcripts, Cover Letter, Research Sample, Resume/CV