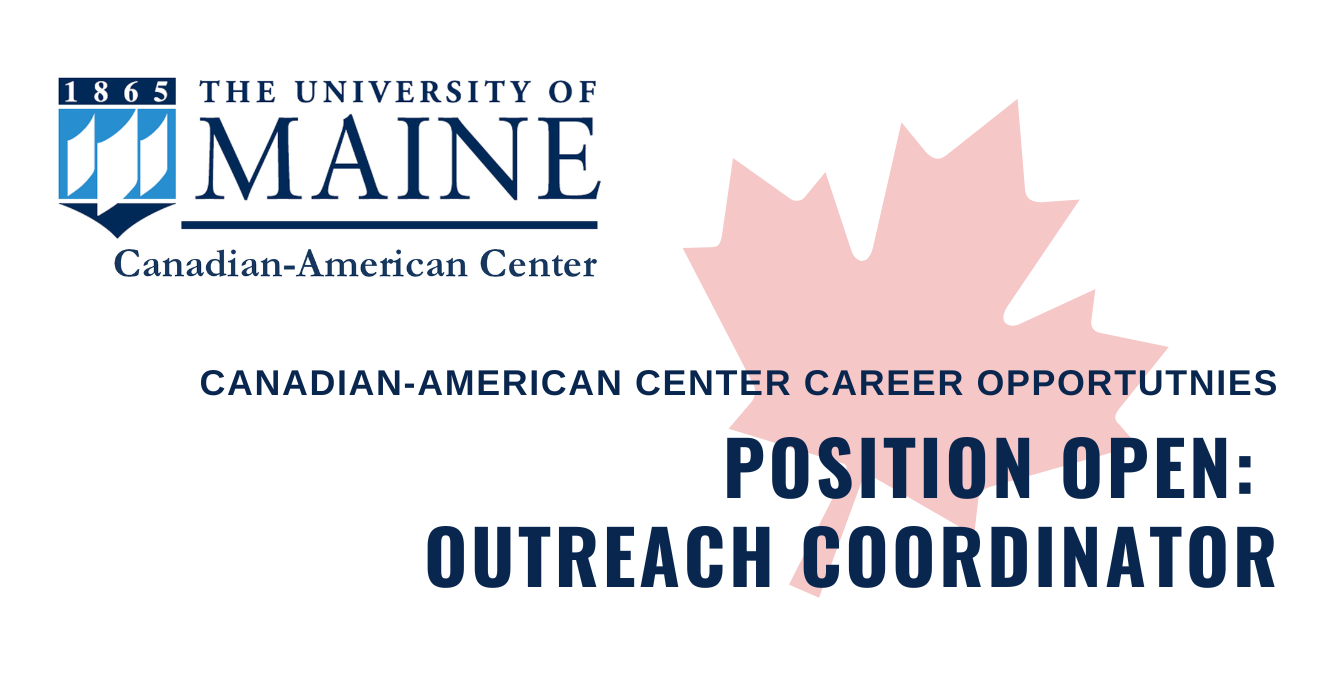 Career Opportunities: Outreach Coordinator
To apply for this position, please visit the UMaine Jobs Portal.
TITLE:                      Outreach Coordinator
DEPARTMENT:      Canadian-American Center
DATE:                       April 2022
REPORTS TO:         Director
Purpose: This position performs outreach and administrative duties within a small, close-working team in support of a complex academic unit in the College of Liberal Arts & Sciences. This position involves daily contact with a wide variety of constituents both external and internal to the University campus, including students, faculty, university administrators, teachers, business contacts, alumni, and the general public.
Essential Duties & Responsibilities:
Responsible for Canadian Studies outreach to schools (K-12) and the local business community.
Organize workshops and summer institutes in the U.S., Canada, and virtually.
Create content for K-12 educators.
Develop internship initiatives.
Write grant proposals and reports.
Participate in and present at Canadian Studies and K-12 education conferences.
Assist with Study Abroad program in Canada.
Assist with the marketing of Canadian-American Center activities – including producing newsletters, social media content, print and web content, etc.
Document and archive Canadian-American Center activities.
Assist the director with special projects.
Develop and maintain professional relationships that reflect courtesy, civility, and mutual respect.
Build productive relationships with internal and external constituencies.
Utilize coaching and mentoring methods that provide an environment that is anticipatory, supportive, and encourages constructive feedback on performance.
Commit to organizational improvement by identifying opportunities to improve, and recommending possible alternatives for a situation.
Perform other reasonably related duties as assigned.
Knowledge & Skill Qualifications:
Required:
Typically has the education associated with a Master's Degree.
Strong oral and written communication skills.
Knowledge of Canada.
Demonstrated research capabilities.
Demonstrated creativity and initiative.
Experience with Microsoft Office Suite and willingness to learn new software programs.
Ability to work efficiently in self-directed and team environments.
Ability to travel, normally requiring a valid driver's license and passport.
Preferred:
Master's Degree in Anthropology, Education, French, History, International Affairs, or Political Science.
Bilingual (French and English).
Previous experience with K-12 curriculum/education.
Supervisory Responsibility: None.
Work Environment: Work is performed both on campus and at other locations in Maine and occasionally beyond. Coordinator must respond appropriately to a variety of on- and off-campus requests.
Work Year: Full-time, 10 month appointment (September 1 – June 30).
Work Schedule: Normal University of Maine business hours are Monday through Friday 8:00 a.m. to 4:30 p.m.  Due to the nature of the position, work beyond regular hours (to include evenings and weekends) will be necessary to meet the requirements of the position.  The employee shall establish regular office hours and in consultation with the supervisor, adjust the work schedule as appropriate.
Position Type: On-going, base budgeted.
Schedule for Evaluation: In the initial six months of employment and annually thereafter in accordance with UMPSA Agreement.
Job Family/Salary Grade: 14/03.
Appropriate background checks are required.
All UMS employees are required to comply with applicable policies and procedures, as well as to complete applicable workplace related screenings, and required employee trainings, such as Information Security, Safety Training, Workplace Violence, and Sexual Harassment.