History
For the past century, the black bear has been the University of Maine mascot.
According to The History of the Maine Bear, compiled by UMaine's Sigma Xi Chapter of Alpha Phi Omega (APO) service fraternity, a small black bear cub named Jeff, born on the northeast slope of Mount Katahdin, was presented to O.B. Fernandez, a former Old Town police chief and collector of wild animals, in 1914. Fernandez loaned the bear to the university, where Jeff was introduced at a football rally. As the tiny black bear entered the auditorium, the surprised crowd applauded enthusiastically. When Jeff stood on his head, the crowd went "bananas" — giving rise to the name of all future UMaine bear mascots.
From 1915–66, Jeff was succeeded by many live bear mascots. The last was Cindy Bananas. After live mascots were outlawed in the state, UMaine adopted a "human bear." In 1969, APO took responsibility for providing a mascot as part of the service fraternity's community effort.
1969 - 76
The first Bananas suit — a paper-mache head, a pair of legs, sweater and two genuine bear paws — was made by Drapeau's Costume Shop in Lewiston, Maine. Bananas debuted at a fall football game in 1969, where it led the band, scored a pregame touchdown and performed stunts. Student Robert Smullin, who brought Bananas to life, then worked with a member of Gamma Sigma Sigma sorority to create a one-piece mascot suit in time for Homecoming. The costume allowed Bananas to join the cheerleading squad and in 1976, Larry Reynolds received the first UMaine Varsity Letter awarded for being team mascot.
1976 - 83
Years of tumbling, dancing and cheering took a toll on Bananas' paper-mache head. In 1976, APO's Sean Maguire and Gamma Sigma Sigma member Sue Corning used fiberglass resin, polyester and Styrofoam to sculpt a new bear head. Also during this time, the public appearances by Bananas expanded beyond athletics to include community outreach activities, including parades and fundraising events. With the help of APO's Pat Dunn, Bananas spent three years (1981–84) winning awards at national cheerleading camps and was ranked as one of the top 15 mascots in the country.
1984 - 1990s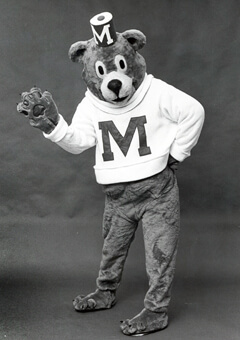 In 1984, Bananas received a makeover in an effort to better represent UMaine pride and present a friendlier image. APO's Pat Dunn and UMaine graphic designer Mike Mardosa designed a costume in one of the university's colors — light blue. The new mascot suit debuted at a UMaine hockey game, to the particular delight of small children. That academic year, Bananas also cheered on the UMaine baseball team on campus and in Omaha, Nebraska, for the Black Bears' first trip to the College World Series.
1990s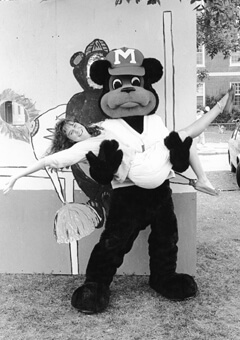 In the early 1990s, the blue suit was replaced by a black costume and fiberglass heads designed by Stagecraft. Bananas typically sported a UMaine baseball cap, and athletics jersey and shoes. It also had the option to go "bearfoot."
2000s - 2015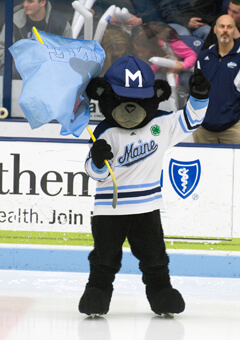 In the 2000s, new heads for the costume allowed Bananas to appear in different hats — and even a mortarboard for Commencement. Bananas also gained an expanded wardrobe of jerseys to reflect varied sporting events, and had a pair of skates for hockey games.
2015 -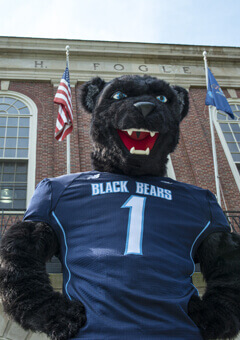 In September 2015, Bananas received his sixth makeover. He was redesigned to more accurately reflect the look of UMaine's athletics logo.