MAIER's Early Start Maine team, left to right: Shilo Goodhue, Shannon Smith, Bethan Jerome, Lauren Langtange, Brooke Getchell, Debra Rainey, Jill Hamm, Susane Boulette, Deborah Rooks-Ellis (MAIER Director) and Karen Pratt. (2018)
Early Start Maine
Early Start Maine is an initiative of the Maine Autism Institute for Education and Research. The Early Start Maine team is comprised of nationally certified Early Start Denver Model (ESDM) providers. In partnership with Maine Child Development Services, our team provides training, consultation, and ongoing support to early intervention providers statewide who are working with toddlers with autism.
What Is the Early Start Denver Model?
Developed by psychologists Geraldine Dawson, Ph.D. and Sally Rogers, Ph.D., the Early Start Denver Model (ESDM) is an early intervention program designed to promote language, learning, and engagement for young children 12-48 months of age with autism spectrum disorder (ASD). ESDM is supported by the principles of developmental psychology and applied behavior analysis (ABA). Teaching interventions are delivered within play-based, relationship-focused routines. The ESDM curriculum is designed to address all areas of the child's development using ABA based teaching strategies that involve interpersonal exchange and positive affect, shared engagement with real-life materials and activities, adult responsiveness and increasing parent sensitivity to child cues, and focus on developing the child's verbal and nonverbal communication skills.
The three primary goals of the ESDM include:
Bringing the child into social relationships,
Following the child's lead when socially engaging the child, and
Developing play activities to support a child's learning.
Who can benefit from the Early Start Denver Model?
The Early Start Denver Model is the only comprehensive early intervention model that has been validated in a randomized clinical trial for use with children with autism as young as 18 months of age. ESDM has been found to be effective for children with autism spectrum disorder (ASD) across a wide range of learning styles and abilities. Children with more significant learning challenges were found to benefit from the program as much as children without such learning challenges. A randomized clinical trial published in the journal Pediatrics showed that children who received ESDM intervention over a 2-year span showed greater improvement in cognitive and language abilities and adaptive behavior and fewer autism symptoms than did children referred for interventions commonly available in their communities.
Who is qualified to provide ESDM?
An ESDM provider may be a psychologist, behaviorist, occupational therapist, speech and language pathologist, early intervention specialist or developmental pediatrician. What's important is that they have ESDM training and certification. The Maine Autism Institute for Education and Research (MAIER) Early Start Maine Initiative includes a staff four of ESDM certified providers. Contact MAIER for more information about the Early Start Maine Initiative, ESDM intervention and staff training.
How can parents support their child's ESDM early intervention?
Parental involvement is a crucial part of the ESDM program. If your child is receiving ESDM intervention, the ESDM provider will explain and model the strategies for you to use at home. In addition, Drs. Dawson and Rogers saw the need for a separate training "manual" for parents and published An Early Start for Your Child with Autism, with coauthor Laurie Vismara, PhD. The book has useful tips and hands-on strategies that integrate smoothly into daily activities and play.
For more information about the Early Start Maine initiative, contact the Maine Autism Institute for Education and Research at 207-581-2352 or maineautisminstitute@maine.edu and visit the website for additional information: maineautisminstitute.org .
Read Maine Public Radio article on MAIER ESDM.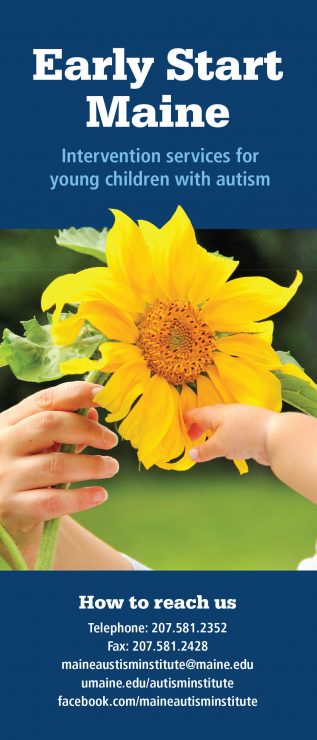 The Maine Department of Education, Office of Special Services and Child Development Services provide significant support and funding for the Early Start Maine Program. To learn more about this unique partnership, see the "About Us" tab above.