John A. Belding, P.E. – Director
207.581.2717
john.belding @ maine.edu
John has been with the Advanced Manufacturing Center since July of 2008 as Assistant Director. John became a Licensed Professional Engineer in December of 2009 and was promoted to Director. In 2018, John was also appointed Co-Director of the Center for Additive Manufacturing of Metals (CAMM).  He is responsible for all operations at the center; including supervision of all shop activities, project management, estimating project costs, time budgets, and business outreach. John's main objectives at AMC are to support economic development in Maine by creating, designing, and building unique solutions for businesses and by making the expertise and services of the AMC more accessible to Maine businesses.
John graduated from the University of Maine in 1996 with a B.S. in Mechanical Engineering Technology and has been involved with the University over the past 12 years as an Industrial Advisory board member for the Mechanical Engineering Technology Program.
Prior to coming to the University of Maine, John worked at ZF Lemforder, a high volume OEM automotive suspension supplier as a Senior Manufacturing Engineer. During his tenure at ZF, he developed numerous advanced manufacturing processes to produce suspension components, including pneumatic hydraulic and CNC automation, robotics, die casting, fatigue testing, and 3D CAD design. John is also a certified Six Sigma Greenbelt and has been trained in Process Failure Analysis, Lean Manufacturing, and Ergonomics.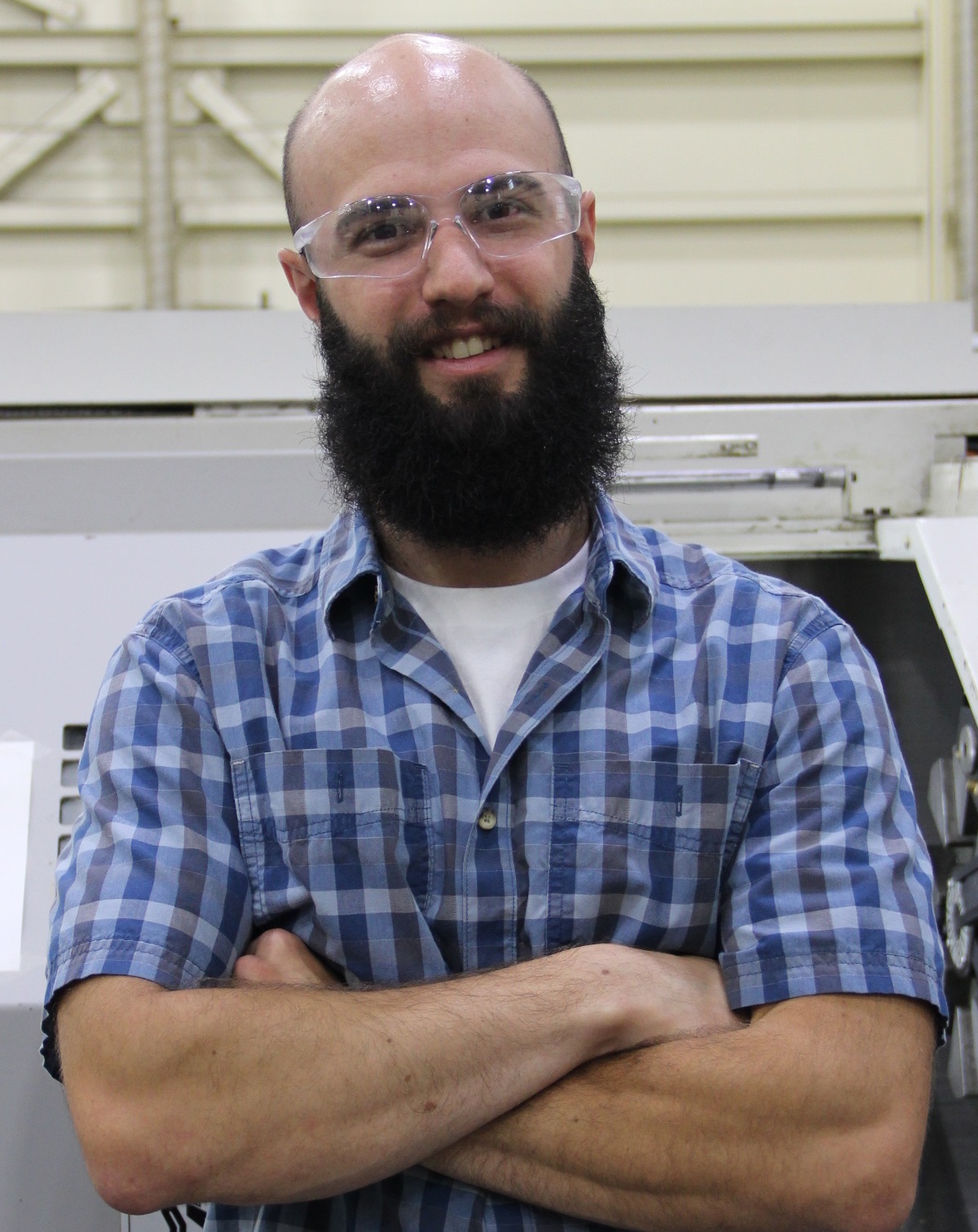 Kyle Forsythe – Project Manager
207.581.2731
kyle.forsythe @ maine.edu
Kyle Forsythe is a Project Manager and CNC Specialist for the Advanced Manufacturing Center and is the latest addition to AMC's team. He is responsible for project management at the center and oversees student and professional staff through the timely completion of work for clients. Kyle performs a variety of tasks ranging from machine maintenance and safety management to design and manufacturing with particular emphasis on CNC manufacturing.
Kyle attended the University of Maine and graduated with a B.S. in Engineering Physics. He also previously completed A.A.S. degrees in Precision Machining Technology and Automotive Technology at Central Maine Community College. He has a broad background ranging from Multi Axis CNC cutter grinding to Process Engineering in the Semiconductor Manufacturing Industry and has extensive experience in CNC machining and 3D CAD design.
Kyle Rooney – Energy Systems Engineer
kyle.rooney@maine.edu
Kyle is a graduate of UMaine's Mechanical Engineering Technology program with a minor in Mathematics. As a tutor and teaching assistant for Thermodynamics, Kyle worked with Combined Heat and Power here at the University as an Undergraduate Research Assistant for approximately a year before accepting this position. He has worked for Veolia Energy on Boston's 250 MW power generation and steam distribution system. He also has hands-on experience installing HVAC equipment in residential, commercial, and industrial sites. In addition to being the AMC's resident Energy Systems Engineer, Kyle is also Assistant Director for New England's Combined Heat and Power Technical Assistance Partnership with the Department of Energy. For more information on Combined Heat and Power, click here.
Helen Marasco – Administrative and Financial Officer
helen.marasco @ maine.edu
Helen joined the AMC in November of 2019 after working on the UMaine campus in another accounting capacity.
Helen attended the University of Maine and earned both a B.S. in Business Management and an MBA.
Helen has worked as an IT professional in the banking industry and runs a small property management business.  Helen enjoys working with staff, students, and clients and looks for ways to help the AMC meet their financial goals and obligations. Helen enjoys being in such an innovative and creative workplace.
Bradley Denholm – Electrical Engineering Project Manager
Bradley Denholm (Brad) is responsible for management of projects from concept infancy through to commissioning with a strong emphasis on student intern and industry training.
Brad performs a myriad of tasks ranging from research and system level design to programming control systems and designing human machine interface applications. Brad also runs test equipment and oversees electrical safety at the AMC.
Brad attended the University of Maine and graduated with a B.S in Electrical Engineering. Prior to joining the AMC in a professional role he worked as an Electrical Engineering Intern and IT Manager for the center. Brad is also working towards a second B.S in Computer Engineering with a concentration in Robotic systems.
Forest Wentworth – MEP/AMC Project Manager
207.581.2766
forestw @ mainemep.org
Forest Wentworth is a Project Manager for the Advanced Manufacturing Center and Maine Manufacturing Extension Partnership (MEP).  He is responsible for the timely and effective execution of projects, and acts as a liaison for the facility.  Forest performs a mix of design, research, and manufacturing efforts for clients, and leads student and professional staff members on projects. Forest applies focus on the professional development of engineering students along with making gains on project objectives.
Forest attended the University of Maine and graduated with a B.S. in Mechanical Engineering Technology. Prior to joining the AMC/MEP he worked in the Petroleum Transportation Industry as a Quality Control Manager and Design Certifying Engineer.
Forest also worked for an equipment manufacturer designing and integrating tank systems on vehicles for the petroleum and firefighting industries. Forest has extensive knowledge in 3D CAD design, CNC machining, Welding and fabrication.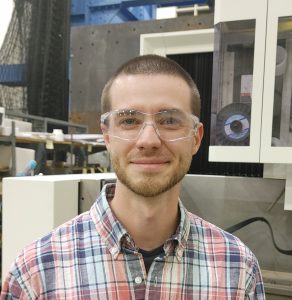 Dorian Reynolds – CNC Technician

Dorian Reynolds is the CNC Technician at the AMC, he has Years of Production CNC Operation/ Setup experience in AS9100D certified aerospace manufacturing center. His machine experience includes: 5-Axis CNC milling, multi-axis CNC turning, CNC surface grinding, EDM machining. Specialties include design and manufacture of advanced assembly fixtures, precision rework of critical aerospace parts, and in-house manufacture of tight -tolerance production gaging equipment.
Dorian provides first-contact training with students who are learning to use the AMC's wide array of manufacturing machines and processes.  Partakes in checking the safely compliance and maintenance of various shop ancillaries.   
Dorian Previously graduated from a Vermont Technical College manufacturing program with an active pursuit of a B.S. in Mechanical Engineering Technology from the University of Maine. 

Vincent Caccese, Ph.D., P.E.
Dr. Caccese is a professor of Mechanical Engineering at the University of Maine. He holds a PhD in Civil Engineering from Drexel University and professional engineering licenses in Maine and Pennsylvania. Vince's expertise includes structural mechanics, experimental mechanics, impact and fatigue testing, finite element analysis, vibration analysis and measurement, and mechanics of inflatable/deployable space structures.
Brett Ellis, Ph.D., P.E.
Dr. Brett Ellis, P.E. is an Assistant Professor in Mechanical Engineering Technology and Co-Director of the Center for Additive Manufacturing of Metals (CAMM) at the University of Maine and has worked in the mechanical engineering field for approximately 22 years, with 14 years of industrial experience. His industrial experience includes open hole testing in the oil and gas industry; failure analysis consulting; and extensive experience in the plastic processing industry, in which he designed plastic preforms and bottles, designed injection- and blow-molding tooling, designed and optimized polymer processing equipment, and led continuous improvement activities (e.g., Lean Six Sigma, SMED, and Gage R&R). Dr. Ellis's professional interests include stress analysis, solid mechanics, continuous improvement (e.g., Lean Manufacturing, Six Sigma), design, and education. He is a licensed Professional Engineer in Georgia and Maine, and a Certified Six Sigma Black Belt.