UMaine Athletics: A premiere destination for Maine
Topflight facilities to support competitive excellence and gender equity at Maine's only Division I athletic program 
The University of Maine unveiled its transformative $110 million athletic facilities master plan on February 17, 2021. The initiative, funded with a commitment of $90 million from the Harold Alfond Foundation, honors Harold Alfond's legacy of support for Maine education and athletics. It will deliver facility improvements benefitting all 17 varsity programs at Maine's only Division I athletic program. 
The vision of the athletics facilities master plan includes improving the overall UMaine student experience. It also stretches far beyond the campus community as these state-of-the-art facilities will be tailored to host a variety of youth, high school, and community events. The athletics footprint will be equipped to host high school championships, youth club sports, and other regional events as UMaine strives to be a premier destination in Maine for youth activities and statewide gathering.
Initiative leaders are working with campus committees and convening statewide discussions on how the new athletic facilities at UMaine can be used to support other UMS universities, high school athletics, persons with disabilities, athletes of all ages, and other communities that may want utilize these new facilities.  
Details, renderings, and videos honoring Harold Alfond's legacy and providing an overview of the $110 million plan are available at goblackbears.com. The website also includes opportunities for Black Bear Nation to contribute to the campaign to raise the initial $20 million match by joining the Alfond Fund administered by the University of Maine Foundation.
---
---
---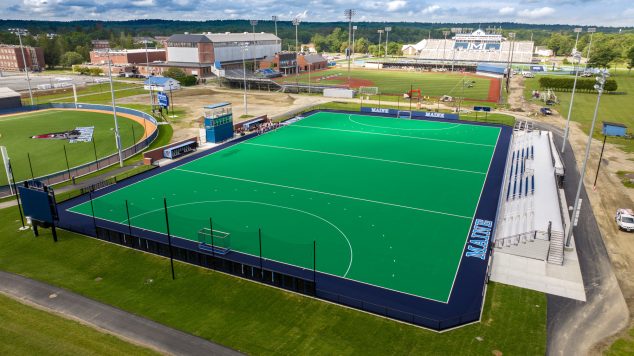 UMaine Field Hockey Complex Completed
The 70,000-square-foot, $8.3 million complex, which officially opened on Aug. 18, 2023, features a synthetic turf playing surface, bleacher seating for up to 512 patrons along with chairback seats in the center of the stadium layout, an enclosed , three-level press box at midfield with the third-level featuring a covered canopy for film, LED stadium lights, brick dugouts, two new scoreboards, and UMaine branding surrounding the stadium. Spideo cameras are installed in three locations to allow for video replay.
---
UMaine alumni Phillip and Susan Morse donate $10M for new athletics arena
University of Maine alumni donors Phillip and Susan Morse have committed $10 million for naming rights to the multipurpose arena that is part of the UMaine Athletics Master Facilities Plan.
The contribution is part of the private fundraising campaign underway to meet the $90 million challenge grant for UMaine athletics as part of UMS TRANSFORMS, funded by the Harold Alfond Foundation.
With the Morse donation, $13.2 million of the $20 million goal has been raised by the University of Maine Foundation.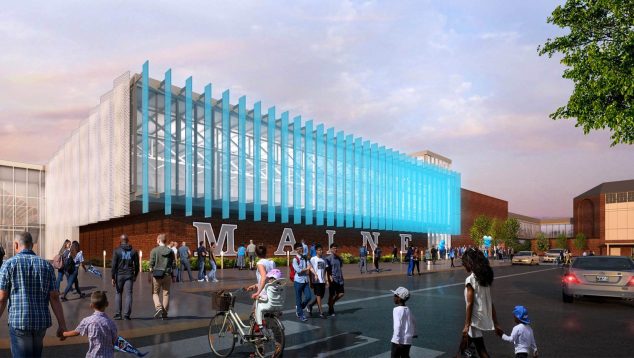 ---