UMaine UVote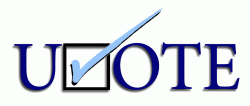 Election Day is November 6, 2018
 Tuesday, November 6th is Election Day!
You have until November 3rd to either request an absentee ballot or early vote.  Check with your town office for details.
ORONO VOTING  :  https://orono.org/DocumentCenter/View/4689
The UMaine New Balance Field House in the Memorial Gym (the building with the big M next to the Football Field)  7am – 8pm
OLD TOWN VOTING:  Knights of Columbus Hall, 5 Gilman Falls Avenue 7am – 8pm
Please Bring Photo I.D. and mail with address (not a P.O. Box) to prove your residency. Students: You should bring your MaineCard and a copy of your campus address from MaineStreet.

All Orono residents will vote on campus in 2016.  Pre-register by filling out a card in the Memorial Union, your Residence Hall, or stop by the Student Wellness Resource Center in room 235 of the Memorial Union.
Election day:
Register on Election Day  at the polls. You will need a photo ID and a piece of mail with your local address on it. For students, you may use your MaineCard and your student bill from MaineStreet
Polling location:
Orono residents (on and off campus) will vote on campus in the UM New Balance Field House.
If you live locally, you can find your polling location on the following  website.
Candidates visiting campus: 
Candidates, ballot issues, and representatives frequently visit campus to represent current issues.  The up-to-date information on candidate visits and debates can be found on the UMaine UVote Facebook page.
The University of Maine offers open and equal access to campus and facilities for issues and candidates.  Some spaces, venues and services must be reserved in advance and require rental fees.  For more information, contact Lauri Sidelko at sidelko@maine.edu.
Notice:  In honor of Constitution Day on September 17, we will be hosting a campus-wide voter registration drive.  Visit the Memorial Union or Residence Halls to get registered.
Please remember: No candidate or issue-related materials can be posted inside the New Balance Field House or within 250 feet of any entrance. Thank you for your cooperation.
For those who do not live on campus, find your polling location by visiting: http://www.rockthevote.com
For more information on voting in Maine, go to http://www.maine.gov/portal/government/edemocracy/elections_voting/
For further information about UMaine UVote, contact Lauri Sidelko on first class or in 235 Memorial Union.  Phone: 207-581-1423