UMaine UVote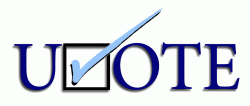 General Election is November 8, 2022
 Tuesday, November 8th is the General Election!
How to Register to Vote:
Visit the Center for Student Involvement (Memorial Union, RM 145) between 8am-4:30pm (until October 17)
Visit the Town of Orono (59 Main St)
Please provide a copy of a document to prove residency in Orono (lease, mail, utility bill, Mainestreet, etc.)
Register to vote on Election Day at the UMaine Field House
Upcoming Events
Constitution Day: Friday, September 17th
National Voter Registration Day: September 28th
**Visit our tables on these days to register to vote, earn fun giveaways, and learn about ways to become civically engaged**
Vote at Home or on Campus?
Students have a choice: You can register at your home address (typically a parent's address) or at your on-campus or off-campus address. Students who register at home will need to request an absentee ballot if they cannot return home to vote. If you register with your on-campus address, you will vote at the New Balance Field House. Off-campus students will vote at the polling site in their town.
Out-of-state students can register using their local address. Registering locally will not impact your residency status for tuition purposes or impact your federal financial aid.
Absentee Ballots
The Town of Orono highly encourages requesting an absentee ballot
Absentee Ballot requests must be received by the close of business on Thursday, October 27th.
Absentee Ballots must be received by the municipal clerk at the no later than 8:00pm on Election Day (November 8th)
DO NOT turn your absentee ballot into your Residence Hall or the Center for Student Involvement
Orono Early Voting Days:
October 25 and 26

Location: Orono Town Office (59 Main St)
Election day, November 8th:
ORONO VOTING (only on campus students or students who live in Orono)  :  UMaine Field House:  7am – 8pm
OLD TOWN VOTING : Elks Lodge 37 Fourth Street, Old Town, ME – 7am-8pm
You are able to register to vote on Election Day at the polls. You will need a photo ID and a piece of mail with your local address on it. For students, you may use your MaineCard and your student bill from MaineStreet
Polling location:
If you live outside of Orono or Old Town, you can find your polling location on the following  website.
Candidates visiting campus: 
The University of Maine offers open and equal access to campus and facilities for issues and candidates.  Some spaces, venues and services must be reserved in advance and require rental fees.  For more information, contact Lauri Sidelko at sidelko@maine.edu.
Please remember: No candidate or issue-related materials can be posted inside the New Balance Field House or within 250 feet of any entrance. Thank you for your cooperation.
Additional Resources:
For more information on voting in Maine, go to https://www.maine.gov/sos/cec/elec/voter-info/voterguide.html
Stay informed about candidates and issues with the resources provided by Fogler Library
For further information about UMaine UVote, contact Jenny Desmond in the Memorial Union, Room 145 or at 207-581-1406
Stay up to date on current voter engagement efforts on campus by following us on social media:
Facebook: UMaine UVote
Instagram: @um.uvote